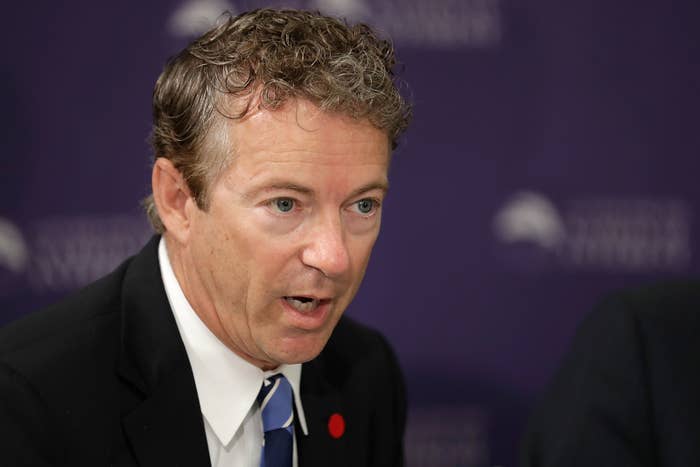 Kentucky Sen. Rand Paul said on Wednesday that Hillary Clinton should be examined for health problems other than the pneumonia her doctor said she was diagnosed with earlier this month.

Speaking to host Tom Roten of 800 WVHU radio, Paul said that the episode should be concerning even for Clinton's family members.

"I think it is troubling when we look at the reports from Clinton not just the potential health problems that she has but also sort of the dissembling, the dishonesty about it," Paul said. "And when they trotted out that diagnosis of pneumonia a couple days after the fact, America just didn't buy it because they assume the Clintons will probably lie to you anyway. And I think it is concerning really even if you're her family member and you're very concerned about her health that maybe they need to look deeper into finding an answer."

On Sept. 11, Clinton left an event early and was seen struggling to walk while getting into her car. The Clinton campaign first released a statement saying that the Democratic nominee had become overheated, before releasing later in the day a statement from Clinton's doctor that she had been diagnosed two days earlier with pneumonia, and then become dehydrated. The news came after weeks of conspiracy theories that Clinton had been hiding a serious medical condition.
On Wednesday, the Republican senator went on to say that "people with the pneumonia, who are recovering from the pneumonia, who are not, you know, febrile, and short of fluid don't go out in 79 degree morning weather and faint. So there are a lot of other possibilities they need to look into: heart, neurologic, you know, post-concussion type of syndromes in the brain. So there's a lot of things they need to look into with her health. I think it hurts her politically because she doesn't appear to be forthcoming about it."
Clinton has since released further medical information in the form of a letter from her doctor detailing the results of a recent physical exam. Last week, her opponent Donald Trump went on the TV show Dr. Oz to discuss his health.
Paul, who is running for reelection this year, also commented on the shooting of Terence Crutcher in Tulsa, Oklahoma, saying that, though it "he wasn't listening and it sounds like he might've been on drugs," police should not have used deadly force.
"Because you could also have somebody who's insane, let's say somebody who has schizophrenia, they don't listen either," Paul said. "Maybe they're homeless and walking around and not listening to commands, we don't shoot them. So the police have to do a better job at figuring out, you know, when they use deadly force. And there are a lot of things short of that that would've brought him down."