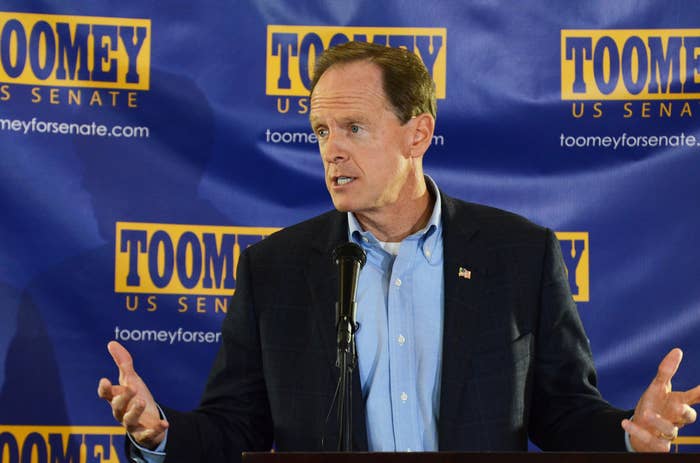 Republican Sen. Pat Toomey of Pennsylvania said on Wednesday that it's "outrageous" for his Democratic opponent Katie McGinty to tie him to Donald Trump.
Toomey, whose spot in the Senate is considered vulnerable, made the comment on the Dom Giordano Program after the host, imitating McGinty, said, "Well, it's Pat Toomey and Donald Trump, that's what we're gonna run on, and that's a bigotry ticket."
"Yeah, that's pretty outrageous actually," Toomey replied. "But Dom, you know how this presidential race has been unfolding. I supported Marco Rubio. He was my first choice. I still think he'd have been a great president and a great candidate. As of yesterday, we were down to three guys standing and I voted for Ted Cruz."
"They, you know, Katie McGinty may somehow try to tie me to Donald Trump. You know, fine. She can do whatever she's gonna feel she need to do. But the fact is, she is in lockstep with Hillary Clinton. She actually agrees with Hillary Clinton and the most liberal wing of the Democrats on everything," he said of his opponent, who became the Democratic nominee in the Senate race after defeating Joe Sestak in Tuesday's primary.
Asked what he thought about Trump being the nominee, Toomey said that the businessman's odds were "improving" and that he would support him in his campaign against Clinton.
"Well, look, you know, obviously, it looks like his odds have been improving recently," Toomey said. "Yesterday was an amazing—I had a chance to go through the numbers outside of Pennsylvania. So he does not have this wrapped up yet and we could still have an open convention, but certainly he's in a very strong position. And look, I've said all along, I intend to support the Republican nominee. Donald Trump was not my first choice. He wasn't my second choice. But, you know, I don't want to see Hillary Clinton take this country further to the left, to make the terrible policy of President Obama permanent, which she would tend to do."