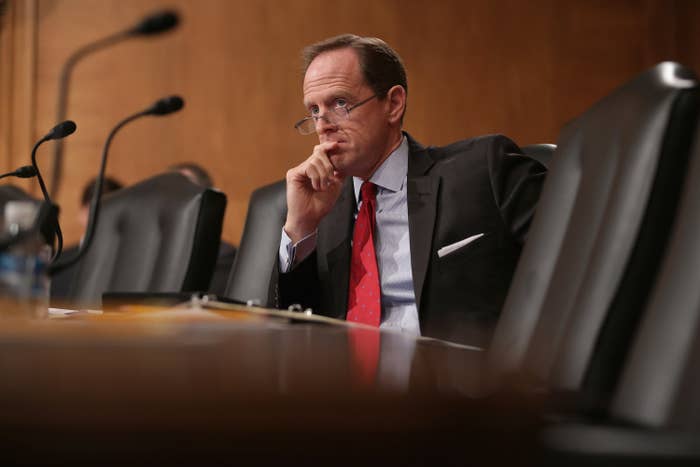 Republican Sen. Pat Toomey of Pennsylvania said on Monday that he hopes his concerns about Donald Trump don't reach a point where he decides he can't support his party's presumptive presidential nominee.
Toomey has said in recent weeks, both before and after Ted Cruz and John Kasich effectively ceded the nomination to Trump, that he would support the party's nominee, though Trump wasn't his first choice. "Look, I've said all along, I intend to support the Republican nominee," he said of Trump on April 27.
But speaking on Pennsylvania radio station 790 WAEB on Monday, Toomey elaborated on an op-ed he wrote over the weekend and suggested that his concerns about Trump could potentially lead him to choose not to support him.
"Would he govern as a conservative? I've got doubts. He's advocated a complete government takeover of healthcare, expanding government power over eminent domain, that we should be neutral as between Israel and Israel's enemies. He's called for higher taxes, it seems, for raising the minimum wage. Over the weekend, renegotiating our national debt. I don't know what that means," said Toomey, who faces what is expected to be a close race for re-election against Democratic challenger Katie McGinty.
"So I've got this set of doubts," Toomey continued. "My message to Donald Trump is: You need to unite the Republican Party if we're gonna win this general election. I hope to get to the point where I can enthusiastically support Donald Trump. I'm not there right now and I hope we don't get to a point where I decide I just can't support him."