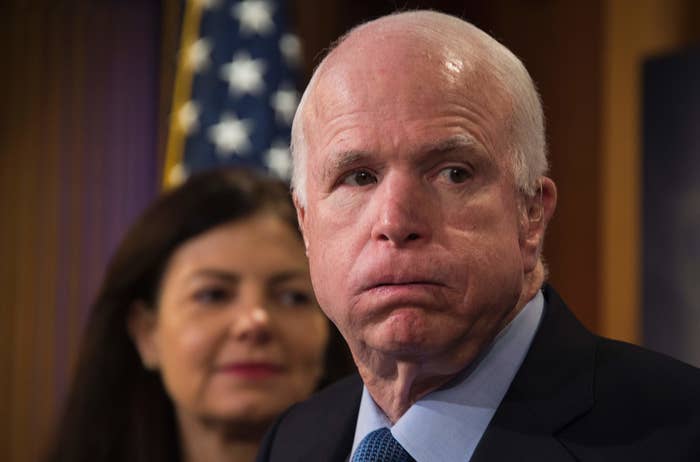 John McCain said last week that he didn't get Donald Trump's attack on Republican Gov. Susana Martinez of New Mexico.
In a Friday interview with his daughter on America Now with Meghan McCain, the Arizona senator was asked how Republican leaders can unite the party. In saying he didn't know the answer, McCain brought up Trump's criticism of Martinez, whom the presumptive Republican nominee said on Wednesday was "not doing the job."
"With ours, Meghan, I honestly don't know exactly what to say," McCain said of uniting the GOP. "When I saw that Donald Trump criticized harshly the governor of New Mexico who I happen to know and campaigned for. I mean, if there's ever a person who's what we want in the Republican party, a female Hispanic governor who is very effective and very popular, I mean, that's what we want and yet, he was harshly critical of her. I don't get it. All I can tell you is, I don't get it."
McCain, who said earlier in May that though he disagreed with Trump on some issues he would support "the nominee," went on to say that he hoped Trump would try to unite the party.
"I hope that we can unite the party. I hope that there will be that effort made by the Trump people and Trump himself, but frankly, I've never seen anything like this," he said. "I've been wrong in my predictions every time, so there's no reason in me predicting what's gonna happen."
McCain continued, "But there are divisions within our society that we haven't seen since I think the Great Depression. And a lot of that has to do with great disappointment that people have about their lives. We've never really totally recovered from the 2008 recession. There's a whole lot of reasons for it but it certainly did catch a lot of the so-called establishment by surprise, including this one."