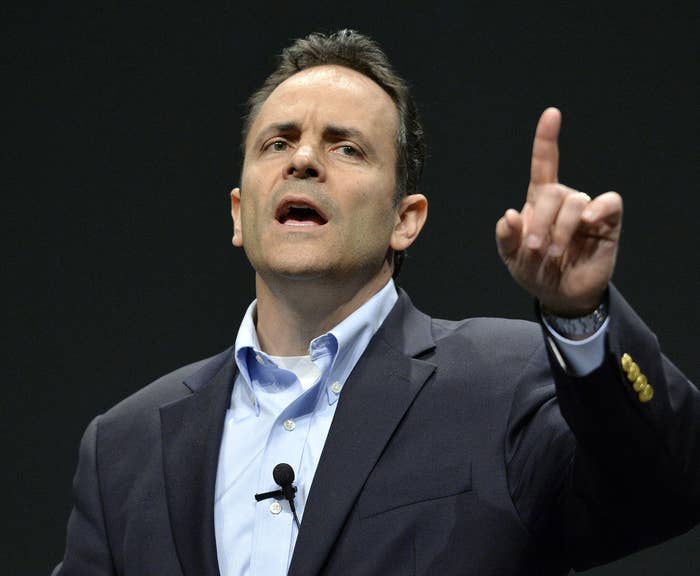 A bell-making company owned by Matt Bevin, the Republican nominee in Kentucky's upcoming gubernatorial election, paid more than $12,000 in fines for safety violations at its factory in East Hampton, Connecticut, BuzzFeed News has found.
An Occupational Safety & Health Administration inspection found the violations in December, 2011, at least four months after Bevin took over as president of the firm. According to the agency's database, the OSHA search was in response to an employee complaint and specifically looked for infractions related to "amputation." It discovered violations of eleven safety standards, including three of the highest "gravity," meaning they put employees at risk of "danger of death or extremely serious injury or illness."
After saying on Thursday afternoon he would provide a statement, a spokesman for Bevin's campaign, Ben Hartman, did not reply to repeated requests for comment.
Bevin's family has run the Bevin Brothers business since 1832. The factory where the violations occurred had stood since approximately 1880, until it burned down in 2012. Though Bevin says he became involved with the company in 2008, exactly when he took over as president is unclear: in 2013, his spokeswoman said he took over in August, 2011, but a 2008 profile lists him as president. The company became something of a political piñata during the 2014 election cycle, when Bevin ran (and lost) a primary campaign against incumbent senator Mitch McConnell.
The Senate Majority leader dubbed his opponent "Bailout Bevin" in part for taking $100,000 from the state of Connecticut to help rebuild the factory, which didn't have fire insurance.
As reported by BuzzFeed News, Bevin also failed to disclose tens of thousands of dollars in federal tax liens when he applied for the $100,000 grant.
The OSHA inspection took place five months before the fire. Though the violations it found initially resulted in $25,880 in fines, informal settlements eventually helped drop that sum to $12,575 (slightly less than the $12,600 listed in the database), according to OSHA's Bridgeport area director.
While the database does not reveal details of the violations, some of the most serious broke rules regulating "the control of hazardous energy." After an initial charge of $4,620, the company ultimately paid $3,000 for failing to comply with three of these standards, which say that employers must maintain machines and train workers to protect them from equipment unexpectedly "energizing" or releasing "stored energy."
The third maximum-gravity violation was for a breach of a rule calling for employee protections during the use of "mechanical power presses."
The company was further cited for violations of requirements for "mechanical power-transmission apparatus," communicating potential hazards, and for breaking "general requirements" for hazard assessment. It also did not use proper agency forms to record injuries and illnesses.
It wasn't the first time Bevin Brothers has been hit with fines. Two separate inspections of the Connecticut factory in May 2007, the year before Matt Bevin says he became involved in the bell-making business, ultimately cost the company over $3,000.
Bevin, for his part, has vowed to rebuild the factory.
Kentucky's gubernatorial election will be held on Nov. 3.