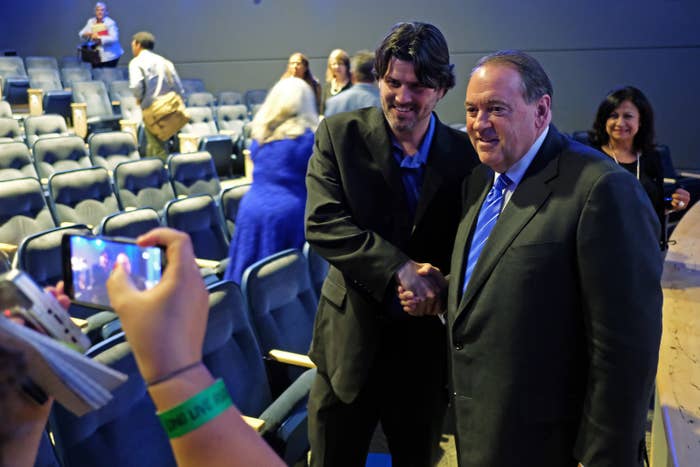 Mike Huckabee said on Thursday that instead of dropping the mic in his Wednesday night convention speech, Ted Cruz "dropped his pants."
"I think Ted Cruz thought he was gonna go in there last night and drop the mic. He went in there last night and dropped his pants," Huckabee said on Imus in the Morning.
Huckabee also likened Cruz's speech, in which the Texas senator refused to endorse Donald Trump, to peeing in the punch bowl at somebody else's party.
"Well, I thought he really embarrassed himself," the former Arkansas governor said. "I thought he really disgraced his opportunity to have a future in the party. And I think we saw that Ted Cruz last night went on that stage not for the future of the country but for the future of Ted Cruz. The irony is that I think what he did was all but commit political suicide. You don't go to somebody else's party and then basically pee in the punch bowl and that's what he did last night."
Later in the interview, Huckabee argued that Cruz's "unfiltered ambition" may contribute to the destruction of America if Hillary Clinton is elected.
"What Cruz essentially was doing last night was saying, 'Let's hope Hillary wins so I can run against her in 4 years.' And in 4 years we may have 3 or 4 Supreme Court justices that will forever change America," he said. "May in fact destroy America as we know it. And all because of Ted Cruz's just unfiltered ambition. And I just find that disgusting. And I'm being blunt about it but I'm just really livid about it."