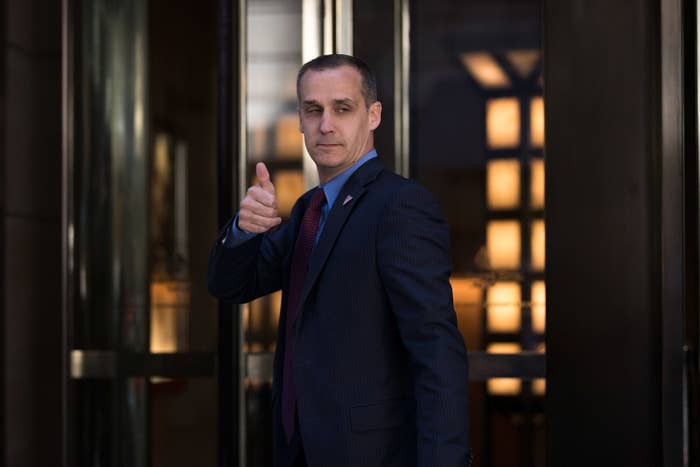 Michael Caputo, who resigned on Monday from his advisory role on Donald Trump's presidential campaign, said later in a radio interview that fired campaign manager Corey Lewandowski had been withholding his pay since March.
"He was withholding my pay," Caputo said on the Tom Bauerle Show on WBEN radio in New York. "They asked me to quit my, you know, working on WBEN to do this and so that stopped for me. And as you know Tom, you're one of the guys who brought me in there. That was my favorite thing in the world. And I couldn't do it anymore and still, I couldn't get paid. And Lewandowski sat on my invoices and never paid them. And so I've been going since March 15, gave my notice over at WBEN, without getting paid. And I'm not a wealthy guy. We live modestly in East Aurora and I've got children to feed."
Caputo resigned Monday after tweeting, "Ding dong the witch is dead!" after news broke of Lewandowski's firing. Caputo maintained in the interview he had stepped down because he knew the tweet was inappropriate, though he downplayed the difference between resigning and getting fired, calling it, "Tomato, tomahto." Caputo also said his director on the campaign told him that Trump was not happy with the tweet prior to his resignation.
"My director, the army ranger, came in and sat me down, and he called the guy who he reports to on the campaign, who is Manafort's right-hand guy and they expressed to me the problem with the tweet," he said. "So Donald Trump may or may not have lit somebody up about this but it wasn't me. I was just told that he wasn't pleased. And the day suddenly changed."
Caputo, who described himself as a "Manafort guy," said he found himself in the middle of the ongoing fight between Lewandowski and Paul Manafort. He added that life on the campaign became especially miserable after he witnessed a fight between Lewandowski and communications director Hope Hicks.
"In mid-May, I ran into and witnessed a scene between Corey Lewandowski and other members of the campaign that I shouldn't have," Caputo said. "And that was out in the media fairly soon, I was with reporters when that happened. And when that happened I became a part of the fight. I didn't go there to be a part of the fight even though I'm a Manafort guy and a Trump guy from way back. But suddenly, I was assigned a team in this flag football game. And after that, uh, after that happened, it, ever since then it's been miserable for me in that campaign. Miserable. Because I saw something I wasn't supposed to see."
"It was like going to work every day with flamethrowers," Caputo said. "And waiting out on the corner until one of them comes in and just lighting them up. That's what it was like every single day for me after that day I saw him and Hope on the street. And Donald Trump stood by me five different times. Five different times when Corey Lewandowski went after me. Five different times. I mean, that is generous. And I have no, no doubt that the reason I stuck around as long as I did, it wasn't my—you know, this flamethrower thing, it wasn't my asbestos underwear. It was Donald Trump taking care of me."