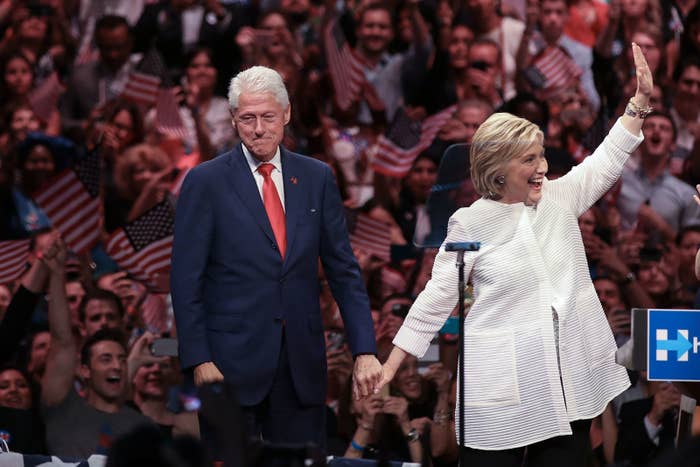 Gary Byrne, a former Secret Service agent who worked in Bill Clinton's White House, tells a dramatic story in his upcoming book about how he personally helped a White House steward dispose of towels stained by semen and lipstick to protect the president from a sex scandal.
That story, as well as another Byrne tells about walking in on Bill Clinton making out with a TV journalist, is different from what he told investigators from Kenneth Starr's Office of the Independent Counsel in 1998, a BuzzFeed News review of interviews, depositions, and grand jury testimony has found.
In the book, Crisis of Character: A White House Secret Service Officer Discloses His Firsthand Experience With Hillary, Bill, and How They Operate, Byrne writes that a White House steward named Bayani Nelvis came to him with a stained towel, asking, "Does that look like semen to you?"
"Any boy lucky enough to live past his high school years could identify the stains, translucent and white, half gooey, and already absorbing into the fabric," Byrne writes. He goes on to describe how Nelvis told him that he'd been cleaning "semen and lipstick-stained towels for weeks," not wanting the laundry personnel to see them. Byrne writes in the book that he concluded that the lipstick on the towels was not Monica Lewinsky's, but rather that of "the current West Wing receptionist."
He says that he ultimately calmed the steward, "reassuring him that I'd take care of this myself," before personally removing the towels from the White House premises.
"I placed the offending linens in the trash bag and hid them in a furniture drawer near my post," Byrne writes. "I didn't let that drawer out of my sight until my very long day was done. Getting the trash bag to my gym bag to my car involved some risky moments, but I made it. In D.C. traffic I worried, Have I just illegally destroyed evidence?"
But in a deposition on June 25, 1998, Byrne described an encounter with the steward where little was discussed explicitly and he was left to draw his own conclusions. As he told it in the testimony, Byrne was not involved in disposing of the towels.
Byrne testified that he saw Nelvis cleaning up the Oval Office study, holding towels, when the steward said, "I'm tired of having to clean up this crap, or this something, you know, to that effect." Byrne went on to say that he drew his "own conclusion that there was...some kind of possible physical contact between them and the president" and got the impression that Nelvis felt it was not right. Nelvis, he further recalled, said "something about lipstick," and he "assumed that, that it was on these towels," though the steward didn't say it. Byrne told the investigators that he did not personally see lipstick or other stains on the towels.
As for their disposal, Byrne said that he advised Nelvis "to get rid of it; in other words, to throw it out" so that the people who did the laundry wouldn't see it. After that, he said of Nelvis, "I just remember him kind of walking away, and that was it. I don't know what he did with them. That was the end of the thing."

Reached by BuzzFeed News on Tuesday, a spokesperson for Gary Byrne said that the author "will happily explain the alleged issues cited in this article when he begins his book tour - as well as his repeated efforts to protect the president from his personal misconduct and in some cases from his wife." After a series of follow-up questions, the spokesperson did not clarify why Byrne could not explain the discrepancies on Tuesday.

Byrne himself hung up the phone on a BuzzFeed reporter after being asked why he wouldn't explain the discrepancies, saying "I am working on a response to a couple things right now and I don't have time to talk on the phone for one." Reached again, he said, "We've taken care of it and you'll just have to see what it is when you read the whole book."
Another story Byrne tells in the book also contradicts what he told Starr's team. Whereas he says in the book that he witnessed Bill Clinton kissing the E! Network host Eleanor Mondale with his own eyes, he told investigators that he had merely heard the event rumored.

"There before us was E! Network host Eleanor Mondale--former vice president Walter Mondale's daughter--and President Clinton in a compromising position, that is, making out on the Map Room table," he writes in the book.
By contrast, the notes from the May 1998 interview read, "Byrne advised that he had heard a rumor that the president had been seen by a staff employee in the West Wing movie theater, with a woman other than the first lady in a compromising position. Byrne believed that the woman mentioned was Eleanor Mondale. Byrne heard this rumor in a group of USSS officers late at night."
Following publication, a spokesperson for Center Street, the book's publisher, wrote in an email, "Gary Byrne is a 29 year law enforcement veteran who has been highly praised for his performance. He stands behind his book and has our full support. Gary looks forward to the opportunity to respond to questions when he begins his media tour next week."