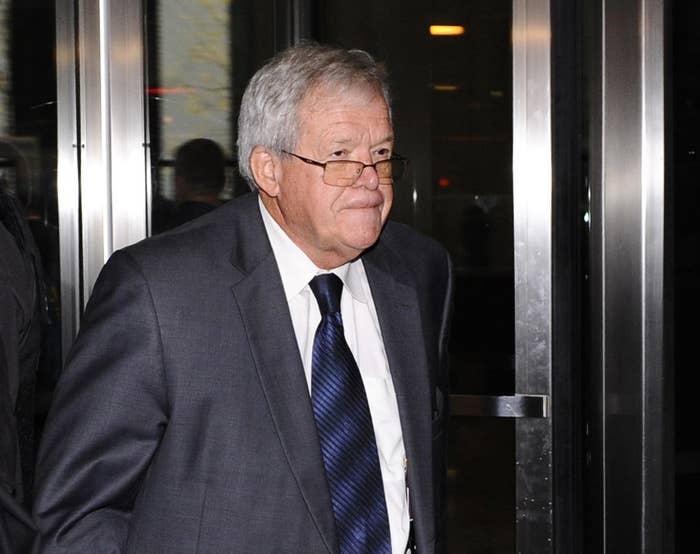 Two former members of Congress passionately defended writing letters of support for former House Speaker Dennis Hastert despite the Republican lawmaker's acknowledgement of past "wrongdoing" while he was a wrestling coach in Yorkville, Illinois in the 1970s.
On Wednesday, Hastert was sentenced to 15 months in prison after pleading guilty in October to charges that he illegally structured withdrawals of money to avoid reporting requirements in an effort to hide "prior bad acts." Four people have come forward claiming Hastert sexually abused them, while a woman, Jolene Burdge, says he abused her brother, Stephan Reinboldt, who died in 1995. Hastert publicly apologized on Wednesday, saying he was "sorry to those I have hurt and misled."
Before his sentencing, a number of Hastert supporters had written the court urging leniency, including five former members of the House.
In interviews before and after Wednesday's hearing two of Hastert's colleagues — former Republican Reps. Thomas Ewing and John Doolittle — told BuzzFeed News that they stood by their praise for Hastert's character in letters they wrote to his judge which were released last week.
"I'm speaking of the time I served with him in public office," Ewing, who represented Illinois' 15th district from 1991-2001, said on Wednesday. "And he is not accused of any wrongdoing during that period."
He added, "His community of Yorkville loved Dennis Hastert and he served in their school system. I don't know — he didn't seem to have — he certainly didn't have that reputation."
Despite this, Ewing said he approved of the sentence handed down by Judge Thomas Durkin, who referred to Hastert as "a serial child molester." Ewing said his opinion was not affected by the fact that he knew Tom Cross, a former GOP leader in the Illinois House and brother of Scott Cross, who testified at the hearing that Hastert's abuse of him in high school was his "darkest secret."
On Tuesday, John Doolittle, who spent 18 years in the House as a California Rep., was more adamant, saying he felt it would be wrong to send Hastert to prison partly due to sexual assault allegations he had never been tried for.
"I don't know anything about the people who have come forward," he said. "I know somebody was trying to extort him for money and instead of punishing that person, why I guess they've been given immunity so they can cook up some phony crime of structuring and go after Denny Hastert and try and hurt his reputation and everything. That bothers me."
Three other former U.S. congressmen who also wrote letters to the judge, former House Republican Majority Leader Tom DeLay, Florida Rep. Porter Goss, and California Rep. David Dreier, could not be reached for comment.
In a separate interview on Tuesday, Ewing vigorously rebutted the suggestion that the molestation should change his assessment that Hastert was a person of, as he put it, "honor, integrity and talent."
"I mean, what you're saying is, a person makes a mistake, we should just hang them all?" he said. "Put them all in prison forever?"
Doolittle, meanwhile, argued that Hastert should be given a lenient sentence because of his illnesses, such as his recent stroke, and because structuring was a "phony crime."
"I don't think spending one's own money, for whatever purpose, ought to be a federal crime," he said. "So I strongly object to that whole idea. The whole idea of structuring makes no sense and I would vote to repeal that crime if I were still in Congress."
Doolittle, who in his letter praised Hastert for having "always made sure" that members of Congress received the annual cost of living adjustment, further contended that past claims of sexual assault had proven both true and false.
"We don't actually know what has happened," he said. "We know that a few people, a handful of people, have come forward and made an allegation 30-some years after the event and well beyond the statute of limitations, which exists to protect people from these kinds of latent claims."
He continued, "I think it's unfair to in essence sentence him for crimes for which he was never charged and never got a trial on. That's what's going on here. The people who are making this issue want to sentence him for something that he was never tried and convicted of. And that's wrong. And I'm outraged by it."
Ewing also compared Hastert's situation to previous scandals involving powerful politicians whom he said had exploited their authority for similar purposes.
"What is the most serious thing — I mean, do you want to make allegations of behavior against John F. Kennedy?" he said. "Do you want to make allegations of behavior against Bill Clinton or Lyndon Johnson or any other president who's taken advantage of people in that regard? History's full of them."
Clarifying the comparison of Hastert to Clinton, Ewing said, "The charges are all different. But he used his authority and power over an employee, a young person. Maybe it was all consensual. I don't know. I'm not bringing Bill Clinton into it. I'm just trying to get you to be halfway reasonable."