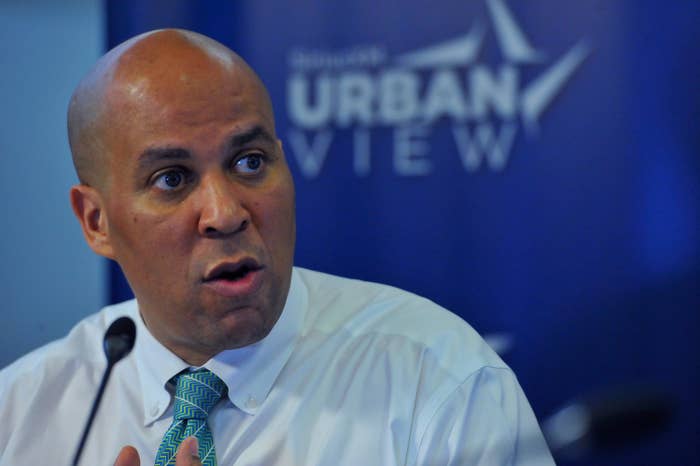 Democratic Sen. Cory Booker of New Jersey said on Thursday that the BDS movement, which calls for boycotting, divestment, and sanctions against Israel, was "anti-Jewish."
During an interview on the Michael Medved Show, Booker was confronted by a caller who said that, though he was a Bill Clinton supporter, he would never vote for Hillary Clinton because of her relationship to Sidney Blumenthal, a former Clinton administration aide and longtime adviser, and Blumenthal's son Max, a journalist who has been highly critical of Israel.
The caller asked Booker to condemn Max Blumenthal. In response, Booker didn't discuss the Blumenthals in his answer, but did criticize BDS.
"I'm gonna go even further," he said. "I think, what I'm seeing now in the BDS movement that's going around this country. What I'm seeing now in the rise of anti-Semitism in Europe. These are things that have to be condemned for what they are, which in my opinion are efforts to undermine America's most significant ally, specifically in that region. And call it for what it is. And I really do think it is an anti-Jewish movement."
Booker, who has endorsed Hillary Clinton, went on to acknowledge that his comments might be controversial.
"And I say that, and I know a lot of people are gonna rankle and get upset that I said that," he said. "But please. When people start talking about boycotting Israel, the first thing I want to know is, there's, if you look at the numbers of countries who are violating human rights—"
Earlier this week, Clinton was similarly critical about BDS movement — which she called "alarming," particularly in light of anti-Semitism in Europe — in remarks to AIPAC.
After a commercial break, the host again asked Booker to specifically comment on the Blumenthals. Booker said he was not very familiar with them, but rejected the ideas the Medved described them as having and stood by Clinton's position on Israel.
"Again, I'm not as familiar as I sort of confessed to you off the air, with these two gentlemen, but I reject that kind of thought," he said. "And I think that Hillary Clinton, I would not support her, frankly, this would be a deal-breaker for me, if she did not have a very pro-Israel stance and a vision for our alliance."
At the end of the interview, Booker also praised Paul Ryan for reneging on his use of the terms "makers" and "takers".
"That was a moment for me," Booker said.