Clinton VP Prospect Tim Kaine Supports Heller Gun Decision
A Clinton policy adviser has said Clinton believes the Supreme Court decision was "wrongly decided."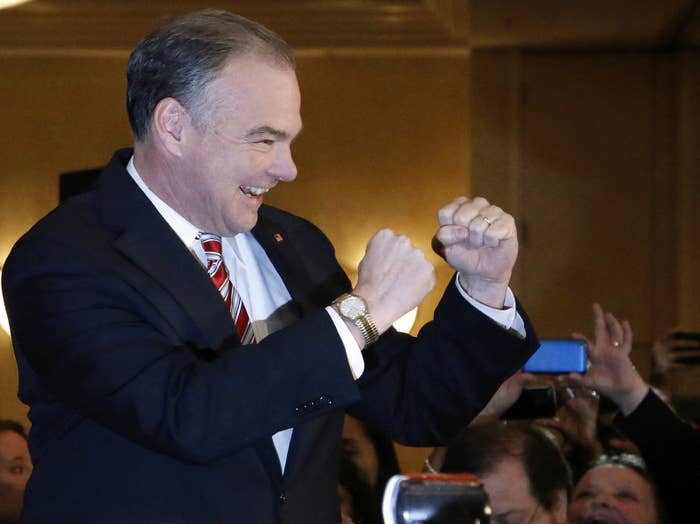 Democratic Sen. Tim Kaine of Virginia said in a radio interview this week that he supports a 2008 Supreme Court decision ruling that individuals have a right to own firearms, marking a contrast with Hillary Clinton's position on that decision.
Kaine is widely considered one of the top prospects to be the running mate of the presumptive Democratic nominee.
In an interview on Wednesday on Washington, D.C. radio station WMAL, Kaine answered a series of questions about how his position on the Second Amendment differs from Clinton's.
"There's a question there in her mind about whether or not there is a right, so where are you?" the host asked. "I mean, do you believe there is a right?"
"I do," Kaine said, before bringing up the decision in D.C. v. Heller, wherein the Court overturned a handgun ban in Washington, D.C., ruling that the Second Amendment protects the rights of individuals to own firearms.
Kaine said, "There has been a long-standing legal question about whether the Second Amendment conferred an individual right or whether it was really more about the well-regulated militias. I strongly believe that there's an individual right. I completely accept the Heller decision that says the right is individual. But the Heller decision said, like the other amendments, the First Amendment for example, there can be reasonable regulations."
A Clinton campaign spokesperson did not immediately respond to a request for comment. Asked on Sunday on ABC's "This Week" if she agreed with the Heller decision that an individual's right to bear arms is a constitutional right, Clinton didn't answer directly.
"If it is a constitutional right, then it, like every other constitutional right, is subject to reasonable regulation," she said.
Her policy advisor told Bloomberg in May that Clinton believes the case was "wrongly decided in that cities and state should have the power to craft common sense laws to keep their residents safe, like safe storage laws to prevent toddlers from accessing guns."
In the interview on Wednesday, Kaine mostly emphasized points of agreement with Clinton, saying he supported background checks. He argued that gun manufacturers should not be immune from liability, saying the ability to sue them should be governed by state law.
The Virginia Sen. also addressed the VP speculation. He said he felt his "highest and best use" was in the Senate.
"It's flattering to be mentioned but my gut tells me that my highest and best use is right here in the Senate and that's where I can be the most help," Kaine said.