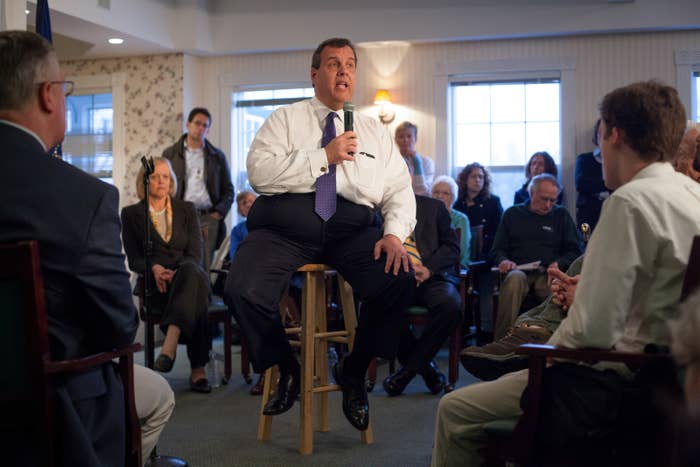 Chris Christie commented on the attractiveness of women tennis players during a four-hour-long appearance on sports talk radio on Thursday.
Co-hosting the show Boomer & Carton on WFAN radio, Christie sang along to "Tainted Love," interviewed Yankees first baseman Mark Teixeira, and discussed his opposition to the suspension of Maria Sharapova with regular host Craig Carton.
"They're all in phenomenal aerobic shape," Carton said.
"Yes, she is," Christie agreed of Sharapova, who failed a drug test.
"At the end of the day, tennis needs that," the host went on.
"We need Sharapova," Christie concurred.
The host continued, "You need attractive European tennis players so that you have something to do other than watch the... Listen, I love the Williams sisters; they're American and they win all the time. But for the sport, you need some of—"
Christie cut the host off, saying, "You need Wozniacki," referring to Danish star Caroline Wozniacki.
Christie, however, drew the line when the host suggested that he would "go right to Victoria's Secret and put a tennis racket in their hands."
"No, see, that's not right," the New Jersey governor said.
Later, Carton rattled off a list of women's tennis players he found attractive.
"We watch women's tennis and we fell in love with Chris Evert and we loved Anna Kournikova, and Maria Sharapova, and Tracy Austin, and for a small time, Jennifer Capriati," he said. "You know why? Because they looked good and they were great tennis players. There's nothing wrong with that."
"I liked Martina," Christie said, referring either to Martina Hingis or retired star Martina Navratilova.
UPDATE
Christie again co-hosted Boomer & Carton on Tuesday morning and commented on the reaction to the previous week's discussion of the attractiveness of women tennis players. Christie also said that, in saying "I liked Martina," he was talking about Martina Navratilova, not Martina Hingis.
"I don't mind getting in trouble on my own, but I don't need any help, and you—I was the calming influence in that conversation, the sober voice, and it gets written like I said any of that stuff," Christie said on Tuesday's show. "I say something nice about Martina Navratilova and they think I'm talking about Martina Hingis."
"They weren't sure," Craig Carton said.
"Yeah, they weren't sure. And they didn't want to be sure," the New Jersey Gov. said. He later added, "I don't care."