Carly Fiorina In 2000: It's Unfortunate Some Have Chosen To "Demonize China"
The Republican presidential candidate has called for pushback against "new Chinese aggression" this election cycle, but as CEO of Hewlett-Packard, Fiorina advocated "building bridges instead of walls."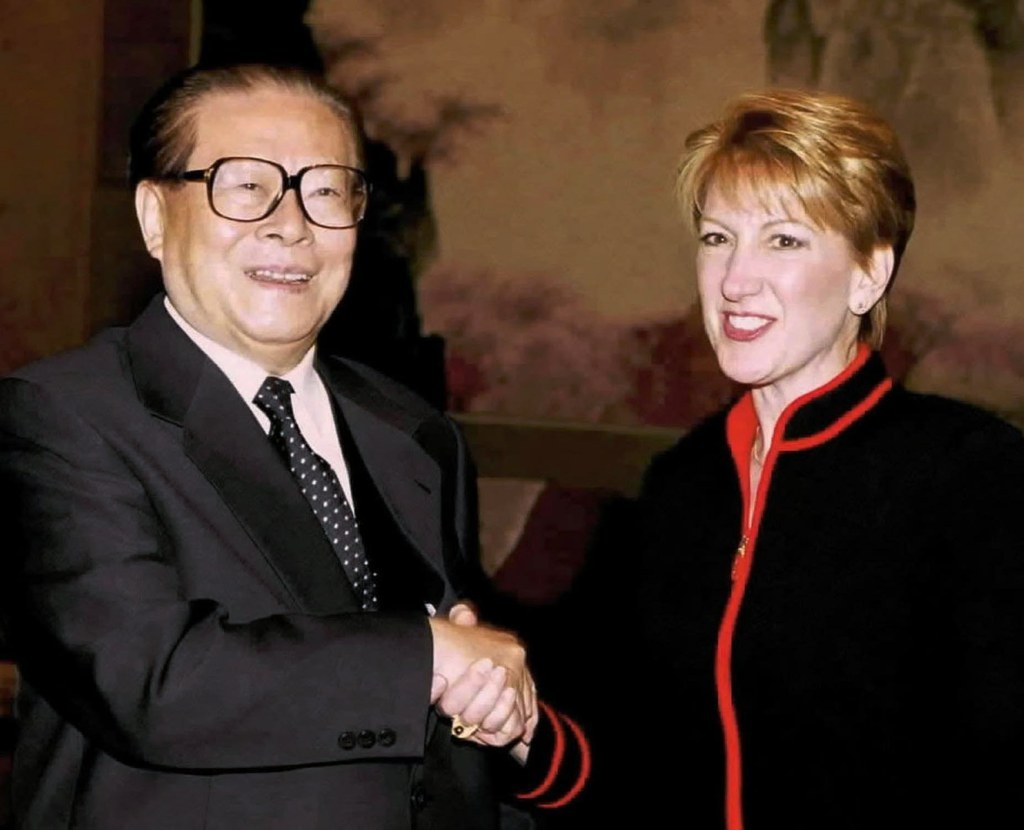 During her bid for the Republican presidential nomination, Carly Fiorina has had some tough words for China, arguing that the US should view the country as a "rising adversary."
"There's no question that China is a rising adversary. There is no question they have cheated on trade agreements. There's no question they have engaged in cyber espionage and cyber attacks for a long time," Fiorina told FOX Business in early September.
Earlier this year, Fiorina was critical of the Chinese education system, saying as a result the Chinese people were "not terribly imaginative" and "not entrepreneurial," saying that, while they "can take a test," "they don't innovate, that is why they are stealing our intellectual property."
As CEO of Hewlett-Packard, however, Fiorina took a much more favorable approach when talking about China and its people. In May of 2000, in a syndicated column urging Congress to pass a bill to permanently normalize trade relations with China, Fiorina said it was "unfortunate" that opponents of trade normalization "have chosen to demonize China," citing HP co-founder David Packard's "love for China" and his "deep respect for its people."
Packard "understood the importance of building bridges instead of walls between the United States and China," she wrote.
Fiorina argued that "defeating trade with China" would not "free a single prisoner or make Taiwan or the United States any safer."
"Many human-rights and religious leaders agree that increasing US presence in China will encourage greater positive reform faster and more effectively than would a policy of isolation," she wrote.
This election cycle, Fiorina has focused on what she calls "new Chinese aggression," and criticized the country for it's "repressive totalitarian regime."
"China has made a bargain with their people. Their people have accepted a repressive totalitarian regime in exchange for economic growth," Fiorina told "CBS This Morning" in August. "I would say first that we are going to be more aggressive in helping our allies in that region push back against new Chinese aggression, whether those allies are Australia, or Japan, or the Philippines."
She says she would conduct "flyovers" in the South China Sea to prevent China from taking control of the trade route. Fiorina also said she would use our trade relationship with China as leverage.
"We are their largest market. That gives us huge leverage," said Fiorina in September.
In response to a request for comment, Fiorina's deputy campaign manager Sarah Isgur Flores told BuzzFeed News in an email that much has changed since the Clinton administration.
"Since then, the Chinese government has shown again and again that they are more interested in engaging in cyber espionage, stealing our intellectual property and personal information, cheating on trade agreements, and dominating trade routes," wrote Flores.
Fiorina also boasted in her column of the benefits that doing business in China had brought to Hewlett-Packard, noting that the company established its roots there in the 1980s and had since grown its presence to "nearly 20 sites and 1,800 employees throughout China."
"The success of bridging HP's American culture with the unique Chinese culture is a contrast to the sweatshop images and disregard for individual liberties highlighted by those opposing normalized trade with China," Fiorina wrote. HP's employment of Chinese workers was used against Fiorina in her 2010 California senate campaign, when an ad for her opponent Barbara Boxer slammed the ex-CEO for having "laid off 30,000 workers" and "shipped jobs to China."
Fiorina concluded her 2000 column by quoting Wang Juntao, a Chinese dissident who led the Tiananmen Square protests, as arguing that "the more the relationship" between the US and China "expands, the more space there will be for independent forces to grow in China."