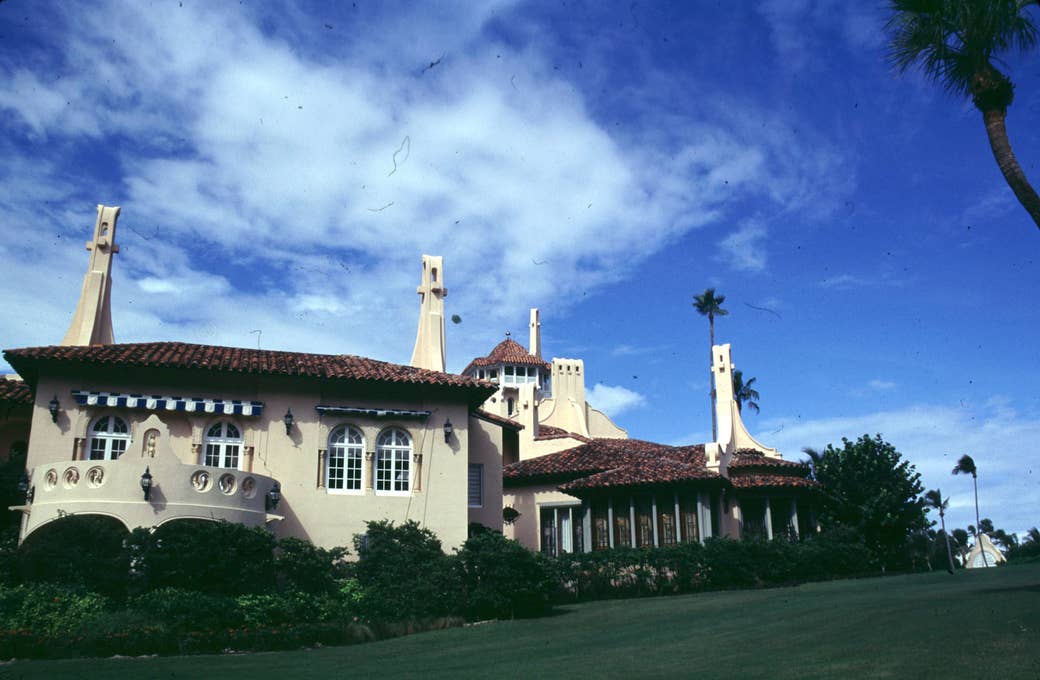 Lavish galas and balls are a hallmark of the social scene in Palm Beach, Florida — and often all put on to raise money for big-name charities. One of the largest and most popular venues for these events is Donald Trump's Mar-a-Lago club, where money is raised each year for charities like the American Heart Association.
Trump has pointed to the money raised at the club as evidence of his own philanthropy, telling CNBC in 2011, "I believe there is more money in that club for charity than any other place in Florida. I mean, the place has been amazing, the kind of money we raise on a weekly basis, and I just believe that you have to give back and if you don't give back, you're not being honest with yourself."
As the owner of Mar-a-lago, Trump brings in millions of dollars in revenue for his company by hosting these major charity events each year. Though a Mar-a-Lago employee said she could not share pricing information with a non-member, a BuzzFeed News review of charity tax records and local fundraising permits shows that the price tag to hold events there usually ranges between $200,000 and $350,000, depending on factors like the number of attendees. Smaller events, like luncheons and receptions, tend to run outside groups under $100,000. The fees for services provided by Mar-a-Lago — the venue, food, and drinks — can comprise more than half the total price for the major events.
While Trump has often bragged about the money he personally donates, investigations by BuzzFeed News and the Washington Post have raised questions about his claims of charitable giving. A Washington Post investigation was only able find $10,000 in personal charity donations from Trump over the last seven years. Most donations from Trump to charity are through his namesake Trump Foundation, to which he hasn't donated since 2008.
Mar-a-Lago is appealing for charities looking to host big events in part due to its size. Other than The Breakers, a resort, it is the only venue in town capable of holding 600-plus guests, according to a spokesperson for the Dana-Farber Cancer Institute, which has held its annual gala at Mar-a-Lago every year since 2011.
One of the charities most loyal to Trump's club, the Palm Beach Police Foundation, which supports the local police department, has spent an average of $261,777 each year on its annual ball, held at Trump's club every year since the charity was founded in 2006. Where the organization's tax records show fees for the price of the facility, those range from $125,000 in 2007 to $235,362 in 2012 to $276,463 in 2013.
Asked whether he agrees with the Republican nominee's suggestion that hosting charity events at Mar-a-Lago is part of how he gives back, John Scarpa, the foundation's president, said in an interview with BuzzFeed News that the resort has granted his organizations what he estimates is a 10 to 12% discount on food. He says the club also provides some free amenities, such as heaters for the pre-dinner poolside cocktails (the Policeman's Ball is in January). Trump, Scarpa said, donates a private helicopter trip to his Doral Golf Course to be sold at the event's auction, an item that he called a "really good money-maker for us."
During at least three years, the Palm Beach Police Foundation has lost money at Mar-a-Lago, losing more than $278,000 between its dinners in 2006, 2007, and 2010. Roger Craver, a charity expert who spoke with BuzzFeed News, said that losing money as a new charity was not uncommon. Scarpa, who said he considered the events a success, did not respond to a follow-up request for comment on the lost money.
Trump is frequently involved with events hosted at his club, donating his time and celebrity by acting as event chairman or serving as a charity's sponsoring member (charity events must have a member sponsor them in order to be held at the private club).
He has also sometimes pledged money, like when he pledged $50,000 during a live auction at one 2012 American Heart Association event. Trump's foundation tax record from that year shows a donation to the American Heart Association of $65,000.
Even after he stopped putting his own money into his charitable organization, Trump has made large donations from the Donald J. Trump Foundation to groups which host events at Mar-a-Lago. The Dana-Farber Cancer Institute has received $386,000 from Trump's foundation since 2008, when it first held its gala at Mar-a-Lago, including donations in 2009 and 2010, when it moved to The Breakers, before returning the following year. The Trump foundation has also been particularly generous to the Palm Beach Police Foundation, with records showing total contributions of $250,000.
Trump's foundation has also donated $203,500 over the years to the American Cancer Society, which has held its annual ball at Mar-a-lago every year since 2007. While the charity's 990s don't show the price of that event, a 2008 article in the Sun Sentinel reported that they value around $300,000, a number that is approximately in line with price estimates on town fundraising permits from other years. In one year, Trump served as the ball's honorary chairman.
A spokesperson for Trump's campaign did not return repeated requests for comment on this story.
Though some charities contacted by BuzzFeed News would not provide detailed statements on their events at Mar-a-Lago or Trump's presence at them, Scarpa of the Palm Beach Police Foundation said that when Trump and his wife Melania attend the Policeman's Ball, it generates excitement.
"A lot of people love to have their picture taken with him," Scarpa said.
He added, though, that he doesn't think Trump's presence has much of an impact on attendance.
For at least one of Palm Beach's big charity events, it seems that the downsides of Trump's presence came to outweigh the benefits. In 2013, the Red Cross moved its annual ball to a competing venue, The Breakers. Asked why they moved the event, that year's chairwoman Mary Ourisman, a former ambassador to Barbados and Republican fundraiser, told The Washington Post, "It had really become more about Donald Trump than about the Red Cross."