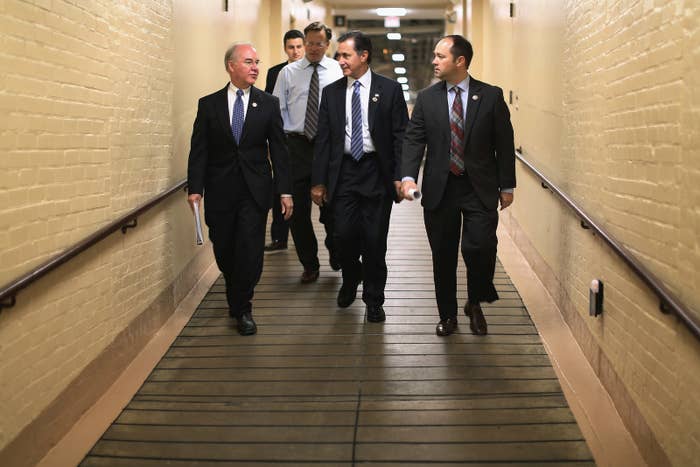 Republican Rep. Gary Palmer of Alabama said on Monday that he doubts whether Hillary Clinton's campaign is being honest when they revealed on Sunday that the Democratic nominee has pneumonia.

Bloomberg reported on Sunday that Republican nominee Donald Trump planned to keep quiet on Clinton's health, but that didn't stop others, including Palmer, from speculating about her condition.
"I've got serious doubts as to whether or not it's pneumonia," Palmer told the Matt and Aunie Show on Talk 99.5 FM. "But I can't say. I mean, if it, in my opinion, just my observation, if it were pneumonia, I would've thought they would've come out and said that very early on. You know, she's disappeared for a few days and if I'd been her adviser, I would've said, 'You need to get out there and let people know what's wrong with you, get treatment, get a few days' rest, get back on your feet.'"
Palmer then referred to times Clinton has been seen coughing during public events, incidents that provoked rampant conspiracy theories about her health leading up to her early departure from a 9/11 ceremony on Sunday, when she was filmed struggling to walk.

"They've tried to attribute the cough to bronchitis, they've tried to attribute it to pneumonia, but I sat in the Benghazi hearing for three hours," Palmer said. "And she sat there and coughed her way through that. You know, again, you just look at the pattern and it just begs the question, are we being lied to again?"
Clinton campaign spokesman Brian Fallon said on Monday that Clinton has "no other undisclosed condition" and that she will resume campaigning later this week.
Palmer added in his interview said that he didn't wish Clinton ill, but added that, "if lying were a disease, she'd be terminal."
"We need to separate our political views from the woman's health," he said. "I think it's pretty serious. Whatever it is. It's pretty serious. I don't wish her ill. I want her to lose the election obviously, but I think we need to be careful, but I do think there is a tremendous amount of disinformation out there. I think we were being lied to. And in some respects, if lying were a disease, she'd be terminal."