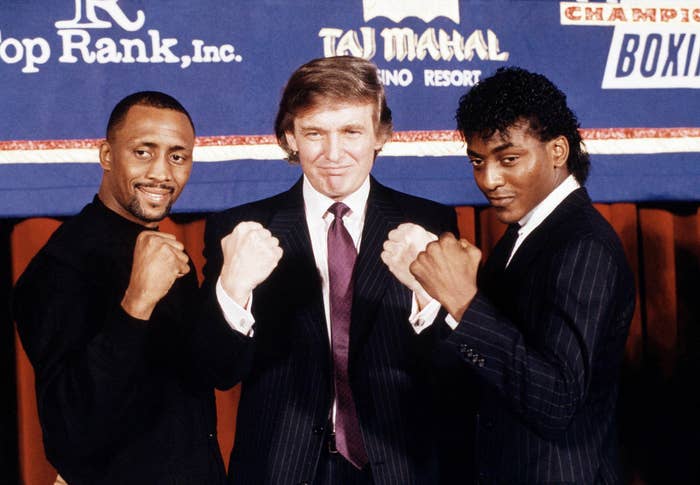 Donald Trump has placed unprecedented restrictions on members of the press covering his presidential bid — blacklisting organizations who cover him critically, dictating camera angles to major television networks, and confining credentialed reporters to a fenced-in pen at his events.
His disdain for the press can be traced back to the days when he was a mainstay on the cover of New York City tabloids. At Trump's 44th birthday party in 1990, Village Voice reporter Wayne Barrett, who had been writing muckraking stories on him for over a decade, was arrested and put in jail for defiant trespass.
"If he thinks you've done him wrong in a particular kind of way, there are very few limits," Barrett told BuzzFeed News, describing how, when he first interviewed Trump in the late 1970s, the young mogul warned him that he had caused a reporter to go broke. "I think he was making it up at the time," Barrett said, though he took it as a veiled threat. (Before the Village Voice ran the series of stories Barrett was working on, Roy Cohn, the infamous former Joseph McCarthy aide whom Trump adopted as his own attorney, wrote a letter to the paper threatening a libel suit.)
Trump's 1990 birthday party, held in the Crystal Ballroom at Trump's Castle, one of his three financially declining Atlantic City casinos, was a show of happiness and social clout in the midst of the first major spate of critical media coverage of Trump's career. As news of his divorce from Ivana, his affair with Marla Maples, and his failure to make scheduled debt payments turned a previously fawning press negative, Trump allowed entertainment reporters to cover the sycophantic festivities. But Barrett was blacklisted.
After being denied entry to the party, Barrett staked out a spot in Trump's path as he approached the ballroom to ask him directly to let him in. The tycoon ignored the personal appeal and his bodyguard blocked Barrett from getting any closer.
Barrett's third try was to sneak in, climbing the steps of a nearby stairwell, which he found led to a balcony connected to the ballroom. Thirty seconds later, he recalls, he was in handcuffs, under arrest by a sergeant from the Atlantic City Police Department on a charge of defiant trespass.
Meanwhile, Timothy O'Brien, Barrett's research assistant for his 1991 book Trump: The Deals and the Downfall, was sitting in the crowd, taking notes on the cultish celebration of Trump. Dressed up in a jacket and tie, O'Brien, now the editor of Bloomberg View, had been standing in the lobby when a waiter offered him a glass of champagne, mistaking him for a casino patron. The staff was eager to fill up the ballroom (which O'Brien said remained ⅓ empty the whole night), so he took the champagne and walked right in.
Not yet on the magnate's radar, nobody questioned O'Brien as he watched the show, observing Trump express gratitude to his father, who briefly joined him onstage, then receive televised birthday messages from Dolly Parton and Elton John. Also featured was Robin Leach, the host of "Lifestyles of the Rich and Famous," who stepped out of a giant replica of Trump's soon-to-be-bankrupted airline, Trump Shuttle, and a performance from comedian Andrew Dice Clay. Joe Piscopo of Saturday Night Live sang "Happy Birthday" to Donald Trump in the voice of Frank Sinatra.
Years later, O'Brien found himself on the receiving end of Trump's wrath.
While O'Brien was working on his 2005 book, TrumpNation, Trump bragged that, if he didn't like the final product, he could always go on TV and claim that the author "loves men" and "loves boys."
So it was no surprise that, when the book argued that Trump's net worth was far lower than the $4 billion he personally estimated, placing it at closer to $250 million, Trump lashed out. Trump sent a legal team to film one of O'Brien's book readings and put people in the audience to ask why the reporter had set out to hurt Trump. O'Brien told BuzzFeed News that one of Trump's lawyers approached him to say he was a "very good fiction writer."
In 2006, Trump sued O'Brien for libel. Though O'Brien won, the lawsuit dragged on for years, not ending until a New Jersey judge dismissed the case in 2009.
"I think he fancies himself to be a sort of tough, street-wise guy when in fact he's really more of a bully than anything else," O'Brien said. "And I think he thinks of these sort of moments when he has bodyguards or private detectives or lawyers or other tough guys that he can put out on the street to intimidate people, he sees that as a show of force. When he actually just looks sort of silly when he does it."
On the night of the birthday party, while Trump was basking in the adulation of his celebrity friends, Barrett was in jail, handcuffed to the wall. While he doesn't remember how big a fine he ultimately paid, he said two things stuck in his mind from the evening. One is the sensation of being handcuffed.
"It depresses you," he said. "It's almost this instant very down feeling because somebody else controls your movement. And I think it really does teach you how important our freedoms are, because when you don't have it even for just a short period of time, it's very sobering."
The other is his bloody cellmate, whom he said masturbated for hours on end.
"He never came, that I can tell you" Barrett said. "And he didn't stop trying."