Ukrainian police are investigating the killing of an American woman who was employed at the US Embassy in Kyiv, a police spokesperson told BuzzFeed News Wednesday.

The woman, who had suffered a large head injury, was found by a passerby on a street near Kyiv's Nyvky Park outside the city center, Artem Shevchenko, a spokesperson for Ukraine's Interior Ministry, said. The US Embassy sits on the eastern edge of the park and is only a half-mile away from where the woman was found.
Shevchenko said police were working to track down at least one male suspect they believe to be responsible for what he called a "deliberate murder."
Shevchenko said the woman, who has not yet been officially identified, was wearing jogging clothes and earbuds when she was found.
"The unconscious woman was admitted to a hospital where she subsequently died. During the examination of the victim's belongings, an identity card of an employee of the US Embassy in her name was found," a Kyiv Police statement said.
The embassy confirmed the death but said it did not have any new information about what had happened. "We are heartbroken to report the death of an American member of the U.S. Embassy Kyiv community. Officials from U.S. Embassy Kyiv are currently working with authorities to determine the circumstances of the death," the embassy said in a statement to BuzzFeed News.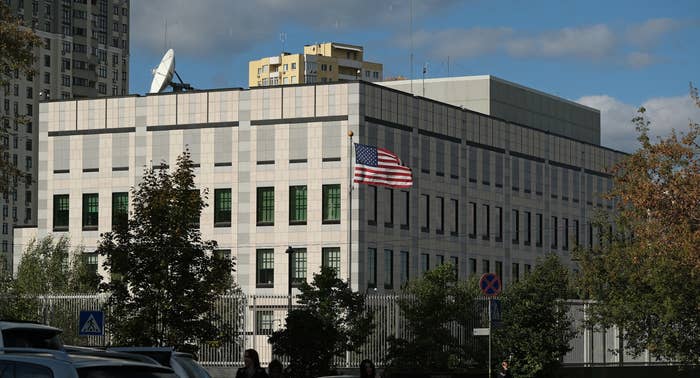 The Kyiv Police said they were looking for a dark-haired man roughly 30-40 years old, around 6 feet tall, and dressed in black shorts, dark blue sneakers, and a t-shirt.
The US Embassy in Kyiv employs hundreds of American diplomats and local staff at its compound. The facility is heavily guarded, with blast-proof walls, tall security fencing, and 24-hour guards on duty. The neighborhood around it is heavily patrolled by the Ukrainian police. In recent years, there have been only a few disturbances at the compound caused by small protests outside its walls.
This is a developing story. Check back for updates and follow BuzzFeed News on Twitter.‏