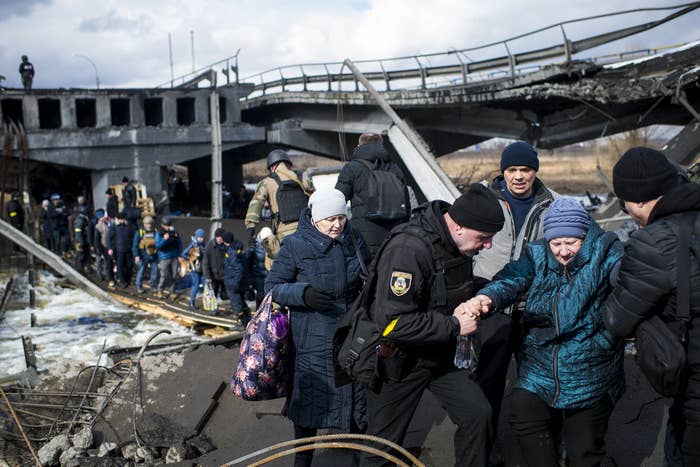 IRPIN, Ukraine — They scrambled over wooden planks as water rushed over their feet, desperate to escape before Russian bombs flattened their homes with them inside.
In the endless column of civilians, there were old women in headscarves being helped along by soldiers, young mothers dragging children who wore tiny backpacks and clenched stuffed bears, and wounded people being carried on stretchers. Their cries were punctuated by the booms of artillery shells exploding all around. Their faces wore the shock and pain of a war none of them had ever thought would blow into their town with such devastating fury.
They had survived — though some of their neighbors had not — with no power, no heating, no water, and no communication with the outside world while huddling in basements during 12 days of Russian air strikes and artillery fire.
Even as they fled, they weren't safe.
"Rockets! Get down!" a Ukrainian soldier barked at the endless queue of fleeing people. Some of them dropped to the ground, but many were just too exhausted to move in any direction other than another step forward.
An old man whose legs crumpled upon hearing the soldier's order looked like he might die of fear. A police officer knelt down and told him, "Breathe, grandpa, breathe."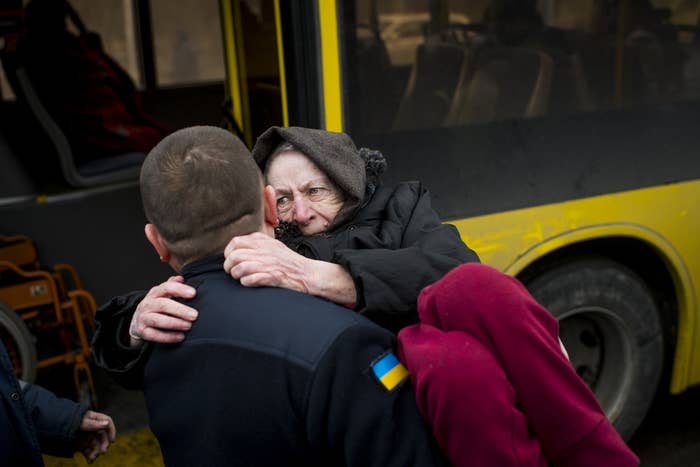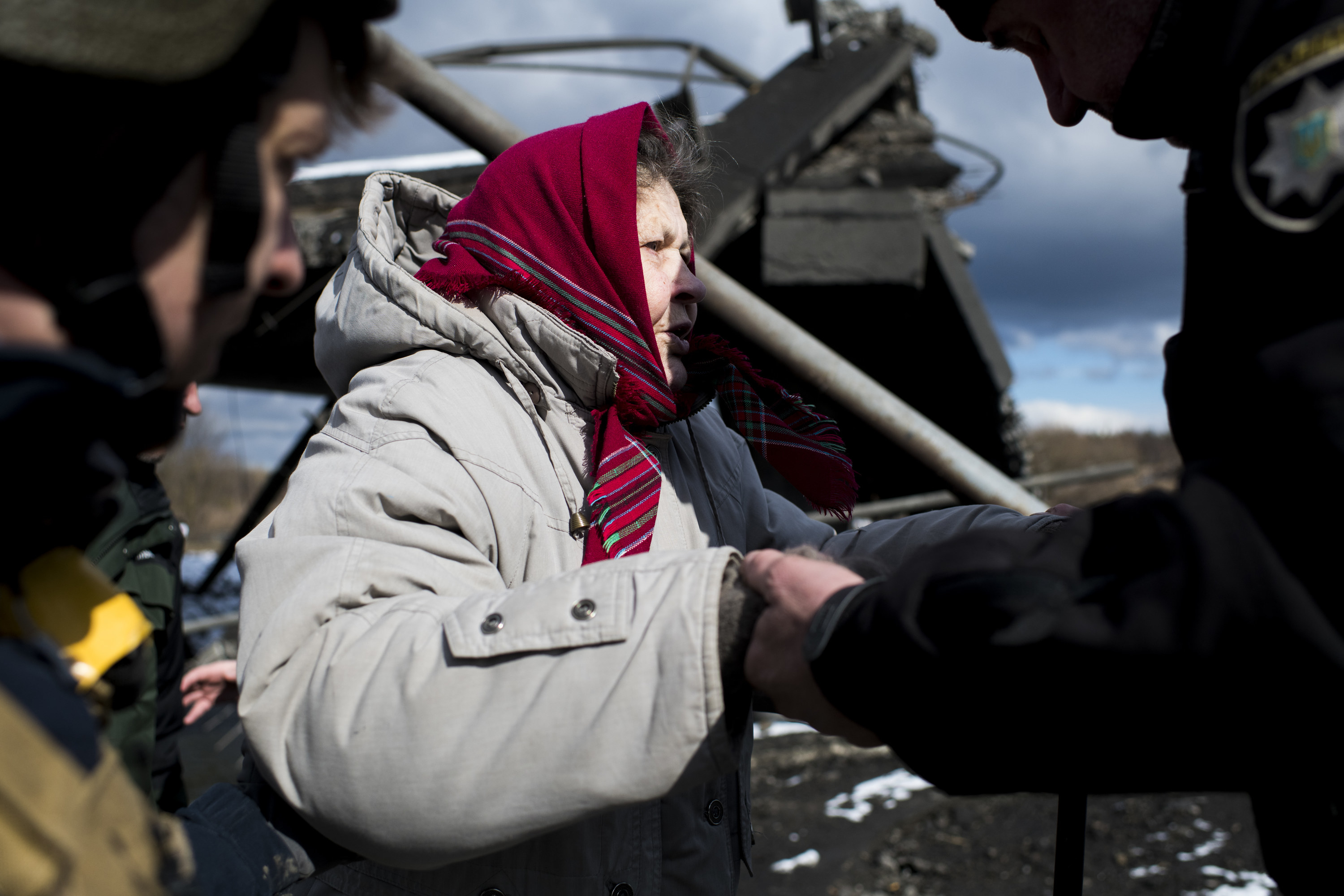 A brief reprieve came in the early afternoon, when the Ukrainians went on the offensive.
"We're hitting them because they've run out of artillery shells," Anatoli, a 19-year-old Ukrainian soldier, told BuzzFeed News. "We can say that Irpin is theirs. But we will cut them off now that the people are out."
Kyiv has tried to agree with Moscow on safe evacuation routes out of cities encircled by Russian forces where shelling is heaviest. But the agreements largely haven't stuck, and civilians have been deliberately targeted by the Russian military as they try to flee.
There has been no agreement between the warring sides for a safe corridor out of Irpin, which is in northern Ukraine near the capital of Kyiv.
Until Sunday, residents were able to leave the town by train. But then the Russians bombed the tracks, destroying the safest and easiest escape route. On Tuesday, the only way out was through the rubble of a bridge blown up by the Ukrainian army to stop Russian forces from advancing with tanks and armored vehicles into Kyiv just 15 miles to the east.
Ukrainian soldiers told BuzzFeed News that thousands of residents were being urged to leave immediately because Russian forces were not only pulverizing Irpin but were also moving in — stealing food, gas, and other supplies — and occupying whatever is left of it.
Anna, a woman in her 60s, told BuzzFeed News that if it weren't for enemy soldiers breaking into her family's home, "we wouldn't have left."
Russian President Vladimir Putin thought his military would roll through Ukraine in a matter of days and force Kyiv to surrender, but he underestimated Ukrainians' fierce resistance and resilience. Now his so-called "special military operation" appears to have become one of terror that's aimed at breaking Ukrainians' will by laying siege to their cities and firing on them indiscriminately with rockets named after destructive weather events like tornado, hurricane, and hail.
But in the face of the worst fighting Europe has seen in decades, Ukrainians have been defiant.
Oleksandr Markushyn, Irpin's mayor, said Russian forces had sent him a death threat and a demand to surrender the city to them Monday.
"I am surprised that these monsters still don't understand that Irpin doesn't surrender, Irpin is not for sale, Irpin is fighting!" he wrote on Telegram on Tuesday.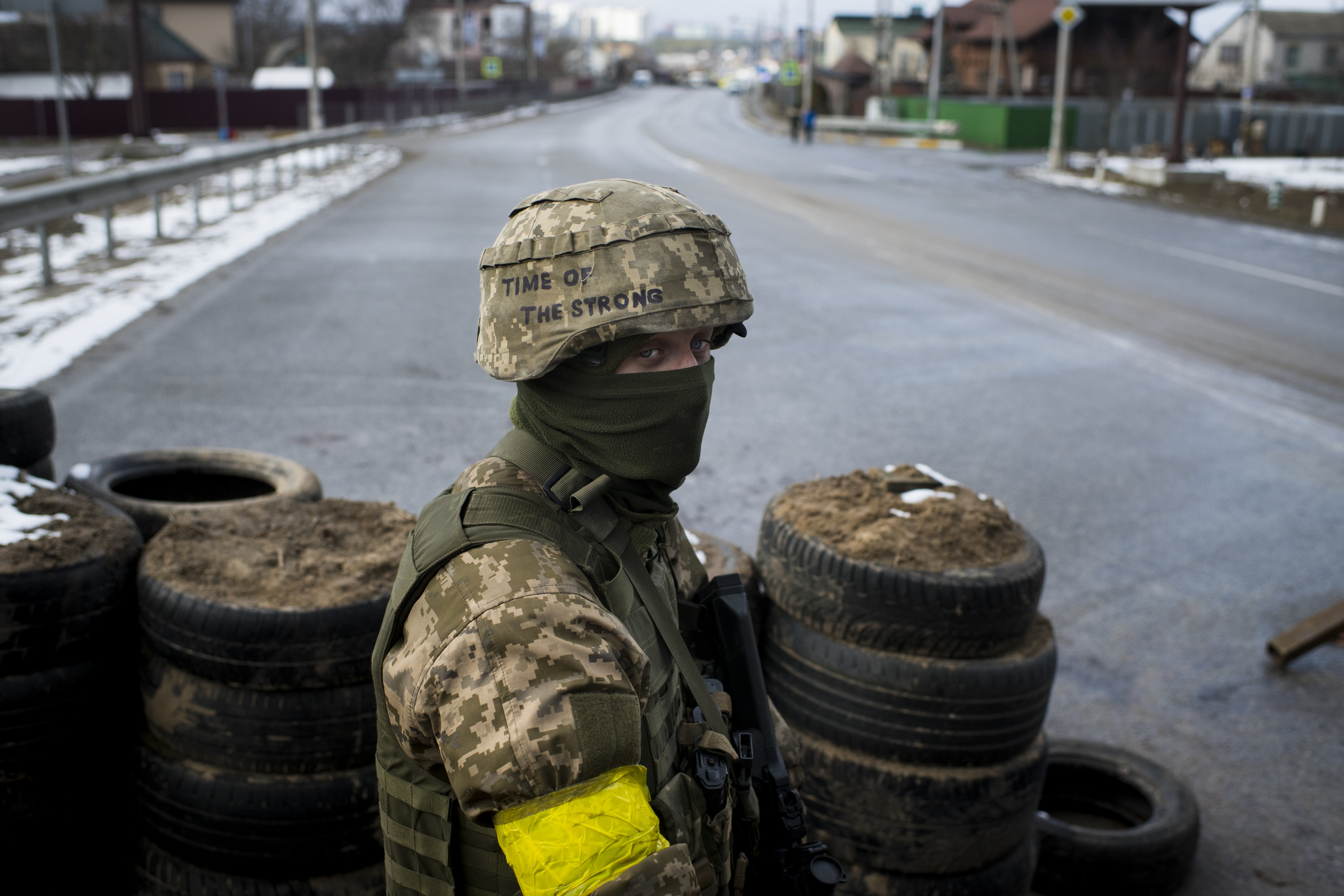 Oleksandr Irvanets, a prominent Ukrainian writer and poet who was among the crowd leaving Irpin, said his fellow citizens would fight for every inch of Ukrainian land. The former Fulbright scholar, who lived in Philadelphia in 2005 and 2006, was joined by his partner Oksana Tsyupa, a textile artist, and their cat Matsuo Bashō, named after the famous Japanese haiku poet. Tsyupa said they didn't know where they would go because they'd never thought they would need to run away.
They left behind their sixth-floor apartment where they lived with Tsyupa's 92-year-old mother, who has dementia. She had been brought out by a rescue team two hours before them and was taken to a Kyiv hospital.
"Did I think about war? No. For many years, Russians tell us, 'We're brothers! We're one people!' But look — they're killing us!" Irvanets said. "They're mad. This is terrible. They want to take us into Russia. But we won't go! We want to be independent. We don't want to be with this fucking Putin!"
Confined to his apartment while a battle raged outside, Irvanets spent his time last weekend contributing his part to the fight — composing what he hopes won't be the last poem written in the couple's home. He said it was for his country.
It read, in part:
From a city shattered by missiles,
I will shout to the whole world:
This year on Forgiveness Sunday
I won't forgive anyone!
World-world, well, you left us!
But in the hell of these sufferings, patience
Still stands the golden-domed Kyiv,
Bucha, and Hostomel, and Irpin.
We will overcome everything and endure!