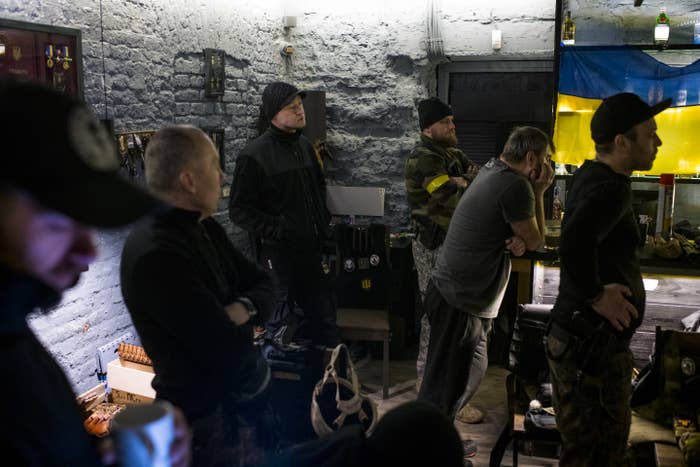 Andriy Khlyvnyuk is one of Ukraine's biggest rock stars. As the front man for BoomBox, one of Ukraine's biggest bands, he had a hectic March lined up, playing 10 concerts in four countries over 25 days.
"I have a weekend in Miami. The day before I was in LA, and some days before in San Francisco. I'm on tour in the US and Canada right now," Khlyvnyuk said one morning in Kyiv last week, rattling off the places where he should have been.
But that was before the Russian bombs started falling on his country.
Instead, Khlyvnyuk has swapped his microphone for a high-powered assault rifle, and his leather jacket for an armored vest, and is now fighting side by side with his Ukrainian compatriots against invading Russian forces who are pounding the country with airstrikes and heavy artillery.
"This is my duty. Ukraine is my home," the 42-year-old Khlyvnyuk said. "And it's not that easy to push me out of my home."
Many other Ukrainian celebrities, including pop icons, tennis stars, ballet dancers, playwrights, and top chefs, have also pushed pause on their old lives and joined their country's fight for freedom. Some have taken up arms, while others are helping with humanitarian and fundraising efforts. But in one way or another, they are all now playing major roles on the front line of the biggest war in Europe since World War II.
"Used to be rackets and strings, now this," 33-year-old retired Ukrainian tennis player Alexandr Dolgopolov tweeted, alongside a photograph showing a Soviet-designed AK-74 assault rifle, a magazine, a large knife, an armored vest, and a helmet.
"We are no longer businessmen, bar owners, rock stars for the next I don't know how many days," Khlyvnyuk said. "We are soldiers. Some of us are police officers."
One prominent film actor and TV presenter has already paid with his life while defending Ukraine. Pasha Li, 33, was killed during a Russian artillery bombardment on March 6, just days after joining the Territorial Defense Forces. A resident of Irpin, the heavily damaged city west of Kyiv where many civilians and four journalists were also killed, Li starred in several films and did voiceovers in the dubbed Ukrainian versions of The Lion King and The Hobbit.
Khlyvnyuk, who is tall and bald and wears a single hoop earring that dangles from his left ear, said he was in shock when Russian President Vladimir Putin launched a full-scale invasion Feb. 24.
"After a day or two, you accept reality," he said. For him, that meant joining the fight.
Khlyvnyuk, who is originally from the central Ukrainian city of Cherkasy but now calls Kyiv home, sent his wife and daughter someplace safe in the west and stayed behind to defend the capital. After grabbing an assault rifle he bought himself, he linked up with Leonid Ostaltsev, a Ukrainian military veteran who owns a national pizza chain that employs other veterans of the war in the country's east.
Their unit is now part of Kyiv's Patrol Police, which aids in humanitarian missions but also patrols the streets hunting for Russian saboteurs and backs up frontline soldiers with anti-tank weaponry.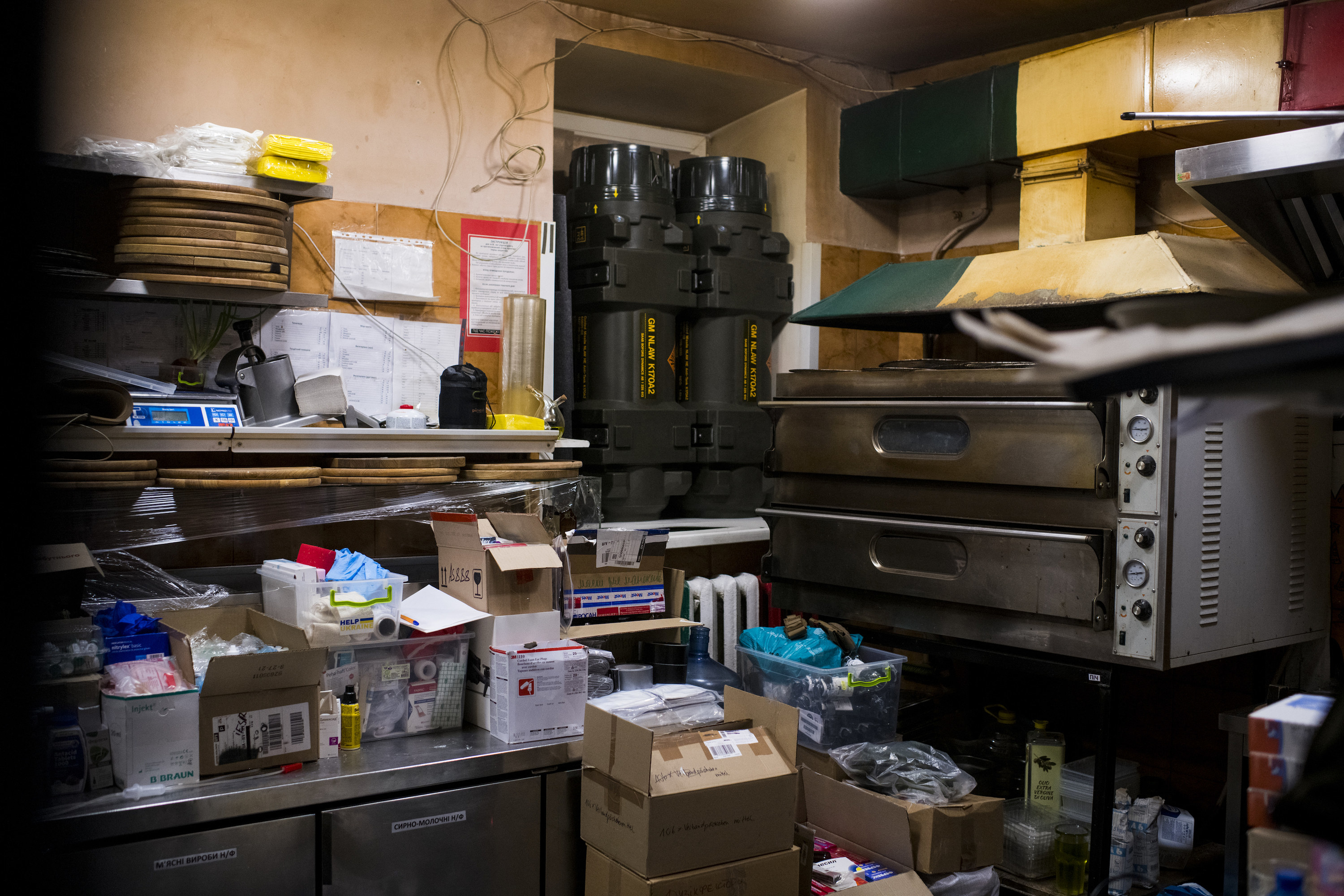 Khlyvnyuk laughed at the fact that he is now an official badge-carrying police officer, considering some past run-ins. After he and a friend were caught urinating on a monument of Soviet Union leader Vladimir Lenin many years ago, police detained them and he wrote a song bashing the cops.
"I did a remake of 'I Shot the Sheriff' in a sarcastic way, and it was called 'I Shit in a Police Car,'" he said. "And now I'm a sheriff driving a police car."
Something Khlyvnyuk also chuckles about is that his unit's base is housed in Ostaltsev's Kyiv pizzeria.
The pizzas are gone, for now.
"We have NLAWs here," Ostaltsev boasted, puffing on a cigarette in his storage room turned office and bunk. Stacked outside in the hallway and the kitchen wasn't pizza dough or delivery boxes, but several light anti-tank weapons recently delivered to Ukraine by the British government.
Khlyvnyuk declined to speak about the combat missions he's taken part in but was happy to talk about his music, which he said he still finds some time for.
In what has been the only performance he's done since the invasion began, Khlyvnyuk sang a battle hymn about Ukrainian freedom in the same place he said another Ukrainian freedom fighter sang it a century ago. A video of Khlyvnyuk's haunting rendition shows him in his new combat uniform, rifle slung over his shoulder, and wearing a New York Yankees cap. Standing beside the ancient St. Sofia Cathedral, he belts out lines calling for Ukraine to rise up that were written about the Sich Riflemen, Ukrainian soldiers of the Austro-Hungarian army who fought in the Ukrainian War of Independence from 1917 to 1921.
"They were participants of World War I and the struggle for independence 100 years ago. So now we have the same situation," Khlyvnyuk said.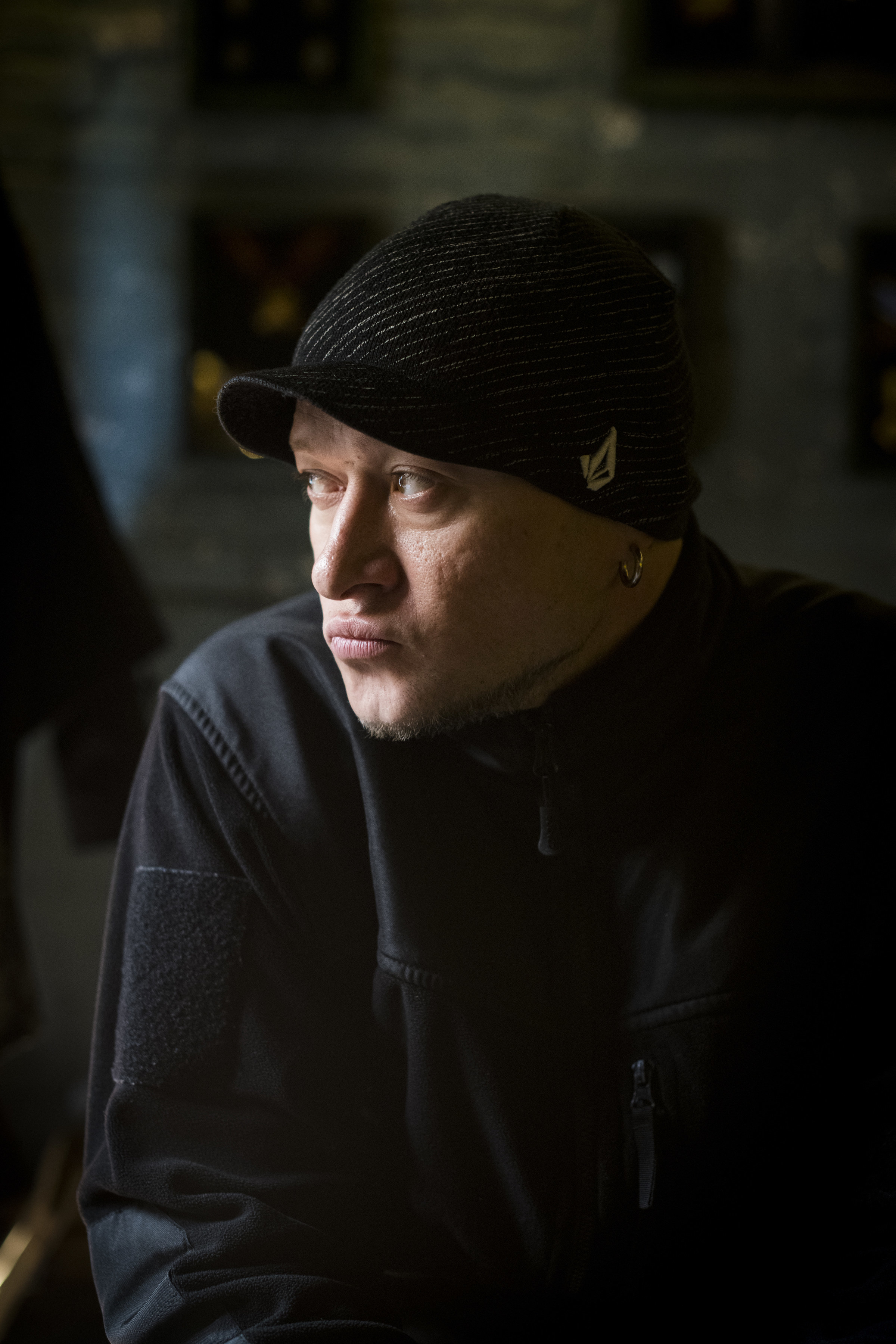 On Feb. 27, the third day of the war and his first day as a soldier, Khlyvnyuk posted the video on Instagram, where it had more than 400,000 views at the time this story was published. Ukraine's armed forces shared the video the next day on Twitter, where it went viral.
Khlyvnyuk stopped performing in Russia and began singing only in Ukrainian and English after Putin launched his first invasion in 2014, forcibly annexing Crimea and occupying a New Jersey–sized swath of territory in the eastern Ukrainian regions of Donetsk and Luhansk.
"I was one of the top live bands in Russia. I got two of the top three Russian music awards, and I had a platinum album in Russia. [Russians] sang my songs across the country," Khlyvnyuk said.
"Now they say I'm a Nazi," he added, referring to Putin's bogus claim of "denazifying" Ukraine as the reason for his invasion.
"Some Russians have reached out to show support. Some say they are ashamed," Khlyvnyuk said. "But I don't need this feeling of shame. I need things to change. Shame does not bring back kids and schools…," he trailed off, rubbing his eyes as he referred to the more than 100 children killed in Russia's war and the dozens of school buildings decimated by rockets.
Khlyvnyuk said he hopes the war will come to an end and he'll be able to go back to performing music.
"If the war ends in time, I've got a show in London this month," he said. "I'll give you backstage passes."