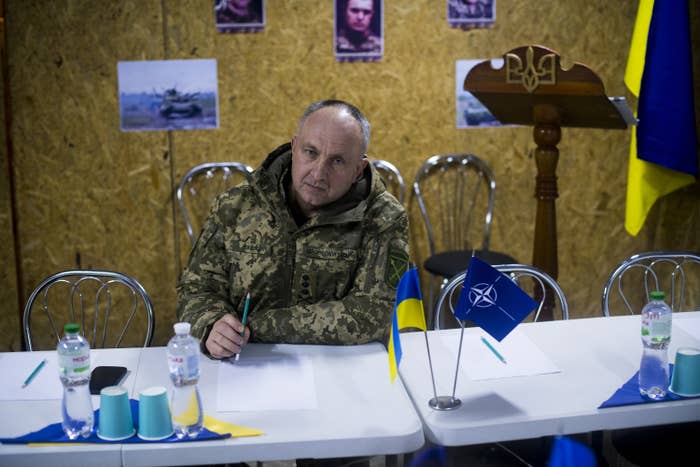 BAKHMUT, Ukraine — Lt. Gen. Oleksandr Pavliuk, the top military commander on Ukraine's eastern front, is used to getting what he asks for. So when he and his fellow military brass were asked by their American partners to provide a wish list of weapons needed to defend Ukraine against a potential large-scale Russian military offensive, he was sure he'd at least get a response.
But after weeks with no reply, he said, he now fears that he may have been ghosted by the Biden administration.
"We already declared to our partners which weapons we need … and we did it more than once," Pavliuk, the head of Ukraine's Joint Forces Operation in the eastern Donbas region, told BuzzFeed News in an interview inside a military base. "We are still waiting for a response."
Pavliuk specified what exactly he would like to get from the US.
"We need weapons now," Pavliuk said. "First of all it's anti-aircraft equipment because we will need to fight back air attacks and ballistic cruise missiles."
"Of course, we have some of our own such weapons but in the event of a massive attack from Russia we need more support," he said. "And if we are able to fight back an air attack they will have very little opportunity to be successful over land."
Pavliuk would not say who from the US sent the request or what channel he used to respond to them, saying it was sensitive information.
The US Department of Defense did not respond when asked specifically about Pavliuk's comments. But a spokesperson referred BuzzFeed News to Pentagon press secretary John Kirby's remarks on Thursday.
"We talked about the fact that we had an air and missile defense assessment team [in Ukraine] not long ago — in the last month or so. And they had extensive conversations with their Ukrainian counterparts about those very kinds of capability concerns," he said. "This is an iterative process, it's ongoing."
To be sure, the US has sent $2.7 billion of security assistance to Ukraine over nearly eight years. It's also sent $200 million worth of aid, including lethal weapons, this month alone. The latest shipment arrived in Kyiv on Friday with more than 81 tons of military supplies, Defense Minister Oleksiy Reznikov tweeted.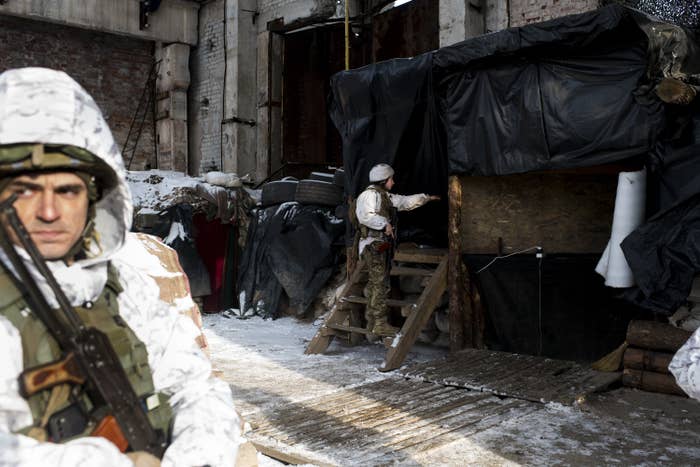 As the US proclaims that Russian President Vladimir Putin is preparing for a new incursion into Ukraine — and that it is likely to happen in the coming weeks — Ukrainian leaders say that Washington should put up or hush up.

President Volodymyr Zelensky on Friday had sharp words for the country's US and European allies, telling foreign reporters that Western powers were making loud pronouncements of impending war but, in his opinion, not helping Ukraine to the extent that they could. That, he said, only serves the Kremlin's purposes and risks sowing panic and chaos when calm and unity are needed.
"We have to be very careful in how we speak out every day, every minute, when we are trying to say the war will happen tomorrow. We are getting ready for any scenario and we have several," Zelensky said. "I think it has to be quiet military preparation and quiet diplomacy."
The president also took a swipe at the West for threatening sanctions only after a new Russian attack, saying those "are not designed to help our country" but instead meant to help the European Union."
Zelensky underscored that he and President Joe Biden, with whom he spoke by phone on Thursday, didn't disagree on the seriousness of the threat posed by Moscow. But he said they each employ different tactics when speaking about it publicly.
"We don't have any misunderstanding with the president, but I just deeply understand what is going on in my country, just as he understands what is going on in his country," Zelensky said of Biden. "I'm the president of Ukraine and I'm based here, and I think I know the details better here."
Zelensky conceded that the Russian threat "is imminent. The threat is constant." But he emphasized that's how it has been in Ukraine since 2014, long before Moscow's latest decision to move more than 100,000 troops along with heavy weapons to Ukraine's borders.
While Zelensky told the US to cool down the rhetoric, he asked for more military assistance to help his soldiers fighting the larger and more powerful Russian army and its separatist proxies in the snow-covered trenches of the Donbas. They may soon, he said, face tens of thousands more streaming across the border.
Ukraine's military is much bigger, better trained, and more equipped than it was when Russia first invaded in 2014.
With just 6,000 battle-ready soldiers, it folded quickly when undercover Russian troops covertly invaded Crimea and then spilled into the Donbas, where they used pro-Russian separatist proxies to fill out an army and occupying force.
Today, Ukraine's military is equipped with state-of-the-art Ukrainian-made weaponry, as well as top-notch lethal aid from the US, the UK, and other NATO countries, including anti-tank missiles, so-called bunker busters, and armed Turkish drones.
But it's still no match for Russia's massive military.
Nevertheless, Ukrainian military leaders and independent experts say, it could inflict serious costs against Russian forces should they begin streaming over the border.
In an interview in Kyiv on Friday, the secretary of the National Security and Defense Council of Ukraine, Oleksiy Danilov, said the Ukrainian army is composed of some 260,000 active-duty troops and an even larger community of some 400,000 battle-hardened veterans who have done stints at the front line over the course of Russia's eight-year-long war. Then there are the National Guard, National Police, newly formed Territorial Defense Forces, and, Danilov noted, "1 million registered hunting gun owners."
"The Russian Federation can have several plans and we do understand them fully," Danilov said. The possibilities, he added, included a full-scale, multipronged invasion of Ukraine; a combination of cyberwar, conventional war, and a limited incursion into some area of the country; an escalation of hostilities in the Donbas war zone; and several other potential and complex scenarios. "But as of today, the full-scale invasion of our country, with the resources they have on our borders, will definitely be insufficient."
"Only time will tell what happens," he added. "But we are the bulwark for Europe against authoritarianism. And if this bulwark folds, other countries will fold."