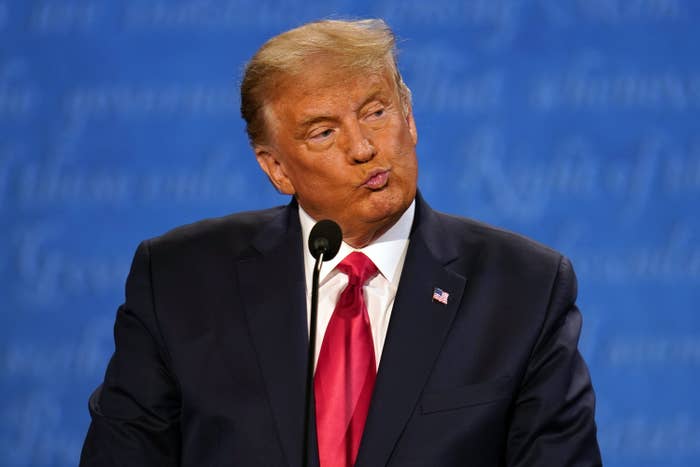 President Donald Trump, behind in the polls and running out of time and opportunities to directly hit his challenger Joe Biden, resorted to a convoluted tale of misinformation and baseless conspiracy theories at Thursday night's debate involving the former vice president's record on Ukraine and his son's work with an energy company there.
For two weeks Trump and his supporters have latched on with new vigor to the narrative — enabled in part by the opinion sections of Rupert Murdoch's two main US newspapers — that involves stolen emails and screenshots of DMs of questionable provenance. To give an idea of just how confused the narrative is, hours after the Wall Street Journal's op-ed section published a piece blasting Biden Thursday night, its news division essentially published a debunk.
One would need to live in the minute-to-minute nitty-gritty and questionable details — spread mostly on Twitter and on far-right websites — to make any sense of the allegations. Trump, however, tried to mainstream the claims during the final presidential debate of 2020, using the accusations to insinuate that the Biden family is deeply corrupt.
The claims are a hallmark of Trump's political style: They take accusations frequently lobbed at him (in this case, corruption) and flip them onto his opponent, while serving as a distraction from reality (in this case, his administration's failure to contain the coronavirus pandemic).
Trump has seen millions of dollars flow into his companies from those effectively lobbying him, as reported by the New York Times, something there's no comparable evidence for with Biden. Trump and his allies ran a similar playbook against Hillary Clinton and her emails in 2016, but with a narrative that didn't require a character map to begin to understand.
Still, Trump's strategy of going after Biden via his son has not worked beyond his base, despite his best efforts over the past year and a half and despite early concerns from Democratic voters that this could turn into the "lock her up" of 2020. The stories have gained little traction outside the far-right bubble, and the Trump campaign itself veered away from these attacks over the summer.
On Thursday, Trump again claimed Biden, as vice president, fired the prosecutor general of Ukraine in order to save his son Hunter and the Ukrainian energy company, Burisma, from legal troubles. He blamed the Obama–Biden administration for Ukraine losing the Crimean Peninsula to Russia. And he stated that he had been tougher on Russia than any prior president.
Trump's attacks are false.
Trump said that Burisma, the Ukrainian energy company on whose board Hunter sat, does not have the best reputation in the world — and he's right there: The company has faced allegations of corruption for years. But he's very wrong in claiming that Biden ordered then–Ukrainian president Petro Poroshenko to fire then–prosecutor general Viktor Shokin in order to keep Burisma and Hunter from facing corruption charges. In fact, in addition to Biden, the rest of the US political establishment, the European Union, the International Monetary Fund, Ukrainian anti-corruption organizations — and just about every civil society organization working on pro-democracy reforms — wanted Shokin, who served from February 2015 to March 2016, fired.
As Daria Kaleniuk, executive director of Ukraine's Anticorruption Action Center (AntAC), and former Ukrainian prosecutors have pointed out, investigations into Burisma and its owner Mykola Zlochevsky were actually obstructed and shelved by Shokin.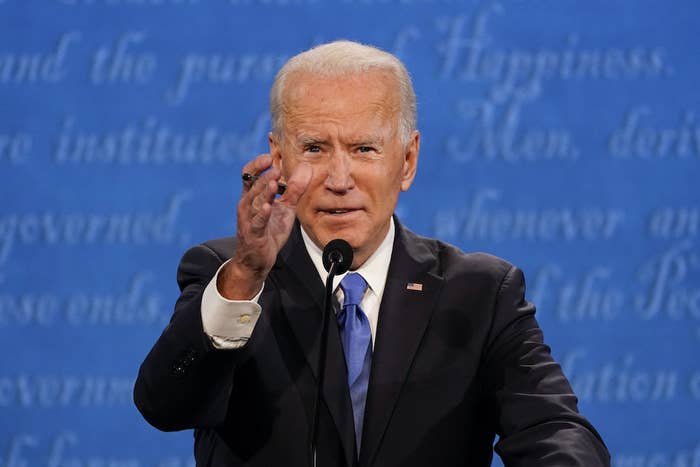 The president also said during Thursday's debate that Biden personally had received $3.5 million from the wife of Moscow's former mayor. Trump's campaign and Senate Republicans have alleged that $3.5 million was transferred from the former Moscow mayor's wife to a company connected to Hunter Biden, not the former vice president. But the alleged money transfer has not been verified and there's no evidence that any money from the Russians went to Hunter Biden, much less his father.
Trump also claimed former president Barack Obama and Biden "allowed" Crimea to be annexed by Russia. In fact, Russia covertly invaded the Black Sea peninsula with special operations and military forces, plunging Europe into one of its deepest crises since the end of the Cold War. Within weeks, it forced Crimea's residents to vote in a tainted referendum under threat of armed forces.
Trump himself said during the 2016 campaign that he would consider recognizing Russia's invasion and illegal annexation of Crimea because he believed the vote — even under Russian occupation — was legitimate, a move that would have upended US policy. He never did, but his disdain for Ukraine and its people would be exposed during last year's impeachment saga, which stemmed from Trump pressuring Ukaininan President Volodymyr Zelensky to open investigations into the Bidens' Ukraine work.
According to Kurt Volker, the former US envoy for Ukraine who testified in the House of Representatives' impeachment investigation into the president, Trump said that Ukraine was "a corrupt country, full of terrible people."
During Thursday's debate, Trump also claimed for the umpteenth time that he has been tougher on Russia than any previous president, pointing to US sanctions against Russian individuals and entities, as well as arms sales to Ukraine.
Indeed, Trump broke with Obama-era policy in sending lethal Javelin anti-tank missile systems and missiles to Ukraine. But it was his decision to link nearly $400 million in security assistance to Ukraine to his request for a favor from Zelensky to help his reelection, which ultimately led to the impeachment saga.
Moreover, Ukrainian soldiers on the front line of the country's war against Russia and its separatist proxies told BuzzFeed News last November that the Javelins have not been used in their fight. What has made a major difference, they said, were counter-battery radar systems, night vision goggles, and other nonlethal equipment sent by the Obama administration.
Trump raised Hunter Biden and Ukraine again in an unrelated segment of the debate, which was intended to focus on race in America.
"They're calling you a corrupt politician," he said to Biden.
"Nobody's calling me that," Biden snapped back at Trump.
"I want to stay on the issue of race," moderator Kristen Welker interrupted, after several minutes of this back-and-forth.
Last fall and in the lead-up to the Democratic primaries, the Trump campaign relentlessly brought up Hunter Biden's time working in Ukraine and their allegations that the former vice president had acted inappropriately on his son's behalf.
Those attacks initially appeared to be making some dents, with even Democratic voters on the campaign trail questioning Biden about how he would handle the allegations effectively if Trump was determined to continue with them through the general election. Biden initially struggled to respond calmly when reporters and voters raised questions about his son, but even his vehement defenses of his son did not seem to play badly among Democratic voters.
The Hunter-centric attacks dropped off by the time Biden won the Democratic nomination, the Trump campaign focusing instead on trying to paint Biden as slow and senile. Trump had all but abandoned that strategy over the summer, only to resurrect it about a month out from Election Day, as Ukrainian operatives close to his personal lawyer Rudy Giuliani pushed new allegations and after Senate Republicans released a report rehashing unsubstantiated claims.
Trump's Republican allies have complained that the media is ignoring the allegations — but in the lead-up to the first presidential debate, Republican strategists questioned the effectiveness of focusing on Hunter Biden when they saw a clearer opportunity for Trump to hit Biden on law enforcement, taxes, and the Supreme Court.