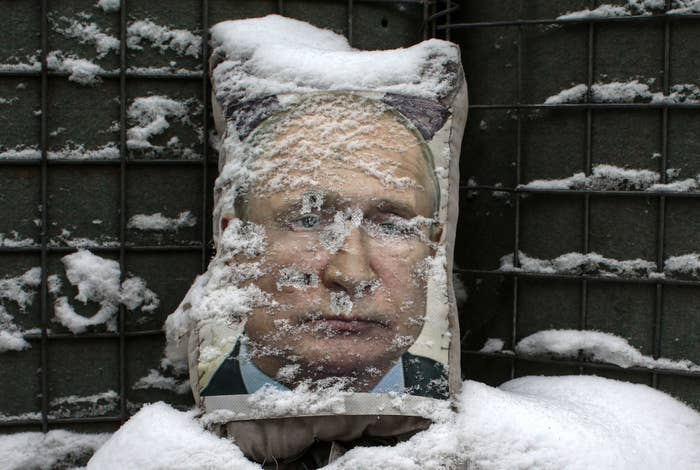 BAKHMUT, Ukraine — Russia has drawn up plans to install a pro-Kremlin former member of parliament to lead Ukraine as it considers a new invasion of the country and the overthrow of its central government, according to a British assessment shared with BuzzFeed News.
The assessment, provided by the UK Foreign Office, alleges that Russian intelligence officers currently involved in the planning for an attack on Ukraine are also collaborating with several former Ukrainian officials who fled to Moscow in winter 2014 and are looking to return to positions of power in their homeland.
"The information being released today shines a light on the extent of Russian activity designed to subvert Ukraine, and is an insight into Kremlin thinking," Foreign Secretary Liz Truss said in a statement.
The UK assessment comes as Russia continues to amass troops and heavy weapons around Ukraine, including in Belarus. And it follows other ominous warnings from Western governments in recent days about the high possibility of a large-scale attack.
For its part, Russia has denied that it's preparing to invade Ukraine again. The Russian Foreign Ministry did not immediately respond to a request for comment.
In an exclusive interview with BuzzFeed News on Saturday, Lt. Gen. Oleksandr Pavliuk, head of the Joint Forces Operation in eastern Ukraine, expressed serious concern over Russia's military moves. He said that Russia currently has more than 106,000 soldiers positioned along its western border who are ready to invade his homeland — with more troops on the way. Estimates from other Ukrainian officials put the number of Russian soldiers at 127,000.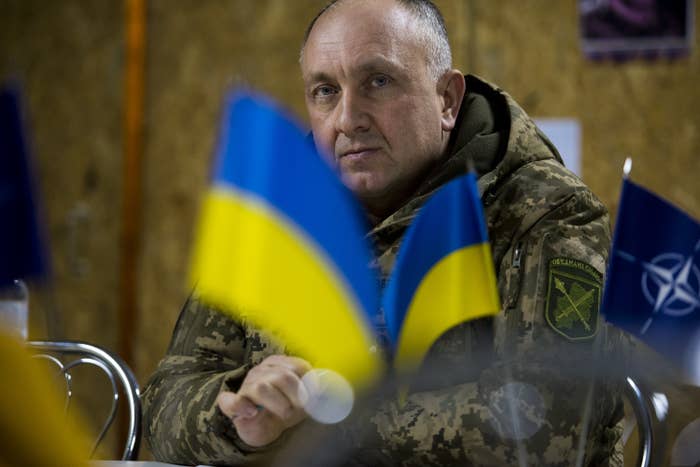 "Vladimir Putin has imperialist ambitions similar to those of [Adolf] Hitler in 1939. He wants to take those countries he thinks belong to him," Pavliuk said. "If he captures Ukraine, you can bet that he won't stop here."
Pavliuk said that Ukrainian forces are much larger and stronger than they were in 2014, when they were overrun by Russian soldiers operating without insignia and by separatist proxies in Crimea and eastern Ukraine's Donbas region.
"We have half a million Ukrainians who are now trained soldiers and will be ready to fight the moment [Russian forces] cross the border," Pavliuk said.
BuzzFeed News embedded with Ukraine's next generation of soldiers currently serving on the front line of the nearly eight-year-long war against Russia-backed forces in the Donbas. And last month, we spoke to civilians preparing to wage a partisan war against Russian troops if they enter Kyiv. All of them said they're motivated to defend their country at any cost.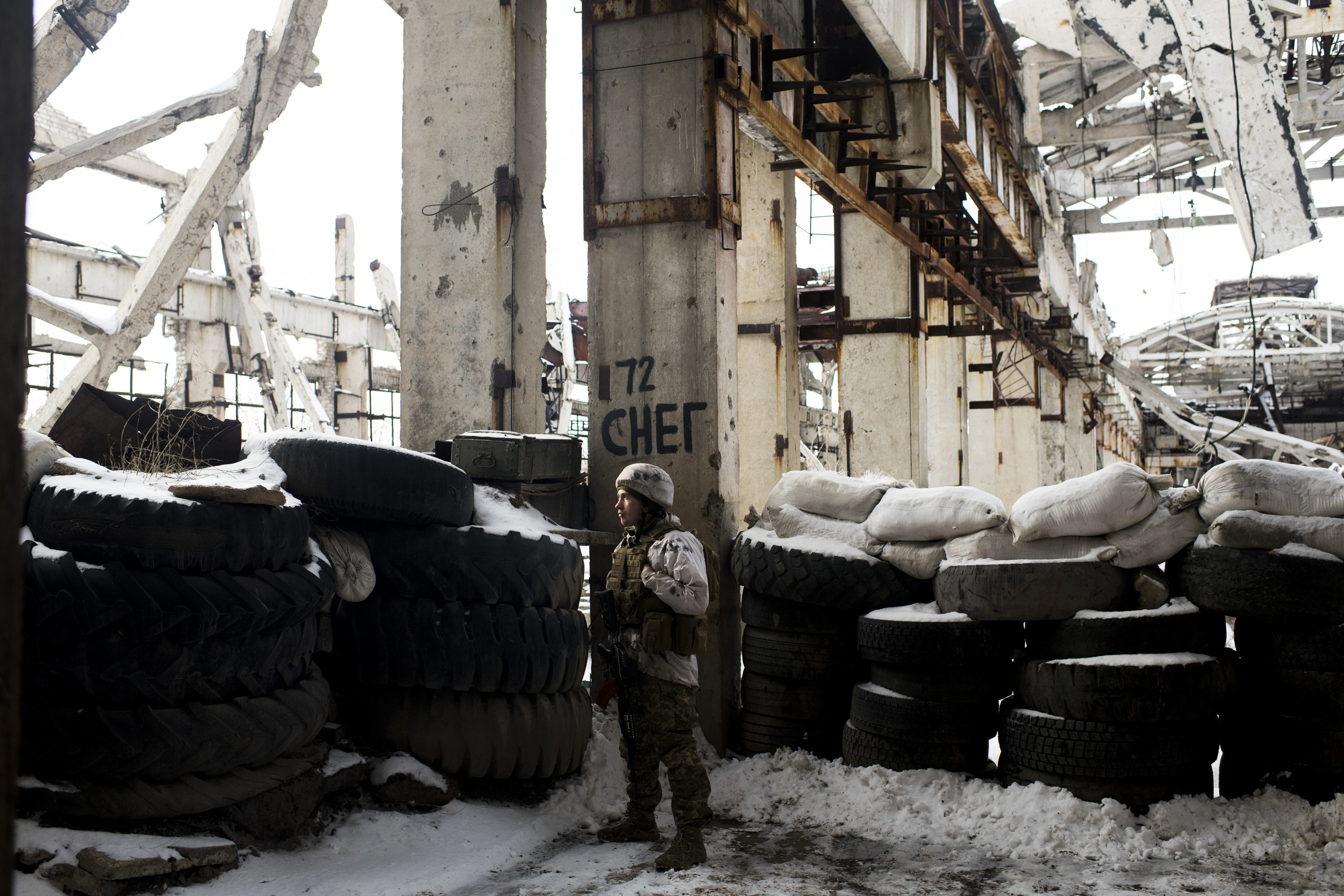 The former Ukrainian lawmaker believed to be the favored candidate to lead a Kremlin-installed government is Yevhen Murayev, according to Britain's Foreign Office. Murayev, 45, is from Kharkiv, a city of more than 1.2 million people that borders Russia. He was an ally of Viktor Yanukovuch, the former Ukrainian president who was overthrown by pro-democracy revolutionaries during the Euromaidan uprising in February 2014 and fled to Russia. And he's the owner of a pro-Russian media company that was banned by the government of Ukrainian President Volodymyr Zelensky last year for allegedly working to undermine Kyiv.
Murayev did not respond to a request for comment, but on Facebook, he posted a photo of himself photoshopped to look like James Bond, telling followers to watch for "details tomorrow."
The UK Foreign Office said Russian intelligence services currently involved in the planning of a new attack on Ukraine are in close contact with several former Ukrainian officials who served in the Yanukovych government. They include Serhiy Arbuzov, former first deputy prime minister and acting prime minister; Andriy Kluyev, former first deputy prime minister and Yanukovich's chief of staff; Vladimir Sivkovich, former deputy head of the National Security and Defense Council; and Mykola Azarov, former prime minister.
In December, Zelensky said that Russia was plotting a coup against him. It is unclear whether that alleged plan is connected to the current one the British government says it uncovered.
The British assessment follows high-stakes diplomatic negotiations among the US, NATO, and Russia this month that have failed to de-escalate tensions. It also follows an ominous warning from President Joe Biden on Wednesday.
"My guess is he will move in; he has to do something," Biden said about Russian President Vladimir Putin. A full-scale invasion of Ukraine would be "the most consequential thing that's happened in the world in terms of war and peace since World War II," Biden added, with the risk of it spreading beyond the Ukrainian borders, where it "could get out of hand."
The Biden administration said last week that it is concerned Russia is "preparing for an invasion into Ukraine that may result in widespread human rights violations and war crimes should diplomacy fail to meet their objectives."
In a statement Sunday, National Security Council spokesperson Emily Horne said Russia's "kind of plotting is deeply concerning."
"The Ukrainian people have the sovereign right to determine their own future, and we stand with our democratically elected partners in Ukraine," Horne added.
Washington and its allies in Europe have threatened Moscow with severe economic sanctions if Russian troops and armor spill into Ukraine.
"Russia must de-escalate, end its campaigns of aggression and disinformation, and pursue a path of diplomacy," Truss, UK's foreign secretary, said. "As the UK and our partners have said repeatedly, any Russian military incursion into Ukraine would be a massive strategic mistake with severe costs."