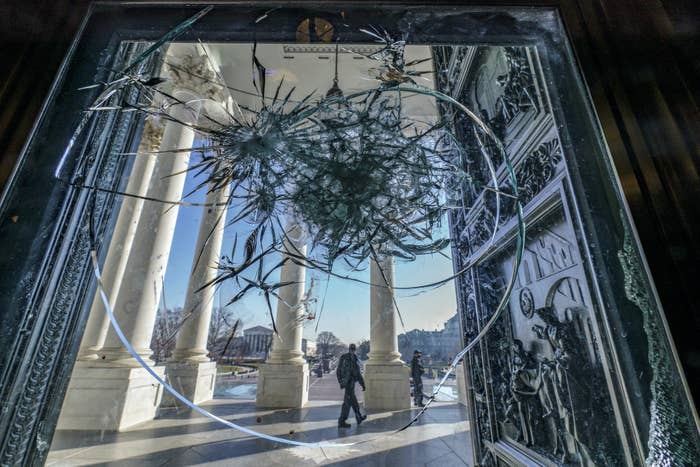 The Department of Homeland Security on Wednesday issued an ominous warning about further violence by domestic political extremists, noting there is still a "heightened threat environment across the United States" exactly three weeks after former president Donald Trump incited a deadly mob that attacked the Capitol.
"Information suggests that some ideologically-motivated violent extremists with objections to the exercise of governmental authority and the presidential transition, as well as other perceived grievances fueled by false narratives, could continue to mobilize to incite or commit violence," read a National Terrorism Advisory System bulletin issued by acting Secretary of Homeland Security David Pekoske.
A press release accompanying Pekoske's bulletin said that "DHS does not have any information to indicate a specific, credible plot," but the secretary felt it was necessary to issue the bulletin "after consultation with the intelligence community and law enforcement partners."
Domestic violent extremists may be emboldened by the Jan. 6 breach of the Capitol to target elected officials and government facilities, the DHS bulletin said.
The bulletin said the threat is "likely to persist over the coming weeks."
The warning came a day after fresh federal charges were filed against an extremist Trump supporter after a raid at his home and business in Napa County, California, revealed materials that could be used to build pipe bombs, as well as dozens of weapons and thousands of rounds of ammunition.
Ian Rogers, a 44-year-old auto repair shop owner, was arrested following the raid on Jan. 15. He was charged with unlawful possession of unregistered destructive devices after admitting to authorities that he built five pipe bombs that the FBI said were "fully operational." He faces up to 10 years in prison and a $10,000 fine if convicted.
According to an FBI affidavit, Rogers claimed he made the pipe bombs for entertainment purposes. But authorities said he was in possession of two copies of US Army Special Forces Guide to Unconventional Warfare and US Army Guerrilla Warfare Handbook. He also had a sticker for the right-wing extremist militia Three-Percenters.
Authorities also recovered text messages from Rogers' phone that they said "indicate his belief that Donald Trump won the 2020 presidential election, and his intent to attack Democrats and places associated with Democrats in an effort to ensure Trump remained in office."
Rogers appeared to discuss potential targets in the texts.
"We can attack Twitter and democrats easy right now burn they're shit down," he allegedly wrote two days after the social network permanently suspended Trump from its platform. "I want to blow up a democrat building bad."
"I hope 45 goes to war if he doesn't I will," Rogers allegedly wrote in a reference to Trump.
The FBI said the messages show Rogers' "intent to engage in acts of violence himself locally if there was not an organized 'war'" to prevent then-president-elect Joe Biden from assuming the presidency.
Rogers allegedly discussed other potential targets, including California Gov. Gavin Newsom, the FBI said.
Found among Rogers possessions was also a "White Privilege Card" adorned with the words "TRUMPS EVERYTHING." Designed as a credit card, it included the number "0045 0045 0045 0045," a reference to Trump, the 45th president.