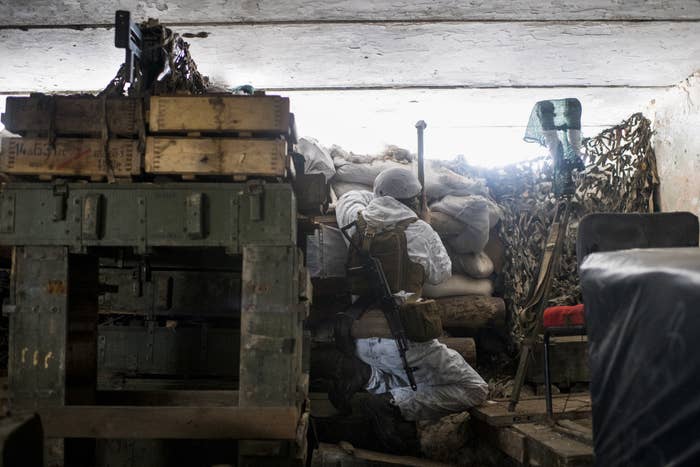 DNIPRO, Ukraine — Vladimir Putin ordered Russian troops into eastern Ukraine Monday, authorizing an invasion that threatens a large-scale military conflict and could put thousands of lives in danger.

After a frenzied day of failed diplomacy, the Russian president on Monday recognized the "independence" of the Donetsk and Luhansk regions — two areas that actually belong to Ukraine but were taken by Russia during a war it started eight years ago. Putin, reacting to clearly bogus and unproven reports as well as appeals from leaders in Donetsk and Luhansk who are under his control, ordered his troops on Monday into those territories on a "peacekeeping mission."
The White House on Tuesday called Putin's actions an invasion based on troop movements on the ground. "We think this is, yes, the beginning of an invasion, Russia's latest invasion into Ukraine," Jon Finer, a top national security adviser, told reporters. "An invasion is an invasion and that is what is underway."
Several news agencies, including Interfax and Reuters, on Monday night reported columns of armored military vehicles moving through the territory of the self-proclaimed Donetsk "people's republic."
Calling it an invasion sets the stage for severe sanctions against Putin and Russia. German Chancellor Olaf Scholz has already stopped the development of a major oil pipeline that would bring gas from Russia.
The mission could put regular Russian military forces in direct armed conflict with Ukrainian forces, raising the prospect of a larger invasion of Ukraine that Western governments have warned could trigger a wide-scale humanitarian crisis and cause barely trained civilians to take up arms and defend their country.
Ukraine's government currently has no presence in the Donetsk and Luhansk regions, and it is unclear if Putin moving troops in and annexing them would be considered an invasion of Ukraine by Western allies. The muddled nature of Putin's actions — in this case, taking over huge swaths of another country years ago, using fake reasons to ratchet up the tension, then increasing his country's formal presence there — is a hallmark of how he has tried to exert influence in the world.
"We are committed to peace and diplomacy. We are on our land. We are not afraid of anyone or anything," Ukrainian President Volodymyr Zelensky said in an early morning televised address. He added, "We will not give anything to anyone, and we are sure of that."

At an emergency meeting of the UN Security Council on Monday night — which, in a surreal twist, was led by Russia — diplomats demanded Russia withdraw its forces from the two regions.
"The actions Russia has chosen today will have severe and far-reaching consequences," said Barbara Woodward, the UK permanent representative to the United Nations. "First, to human life. An invasion of Ukraine unleashes the forces of war, death, and destruction on the people of Ukraine."
Russia's member at the security council repeated many of the bogus claims Putin has made. Ukraine's member said that "the internally recognized borders of Ukraine will remain unchangeable," and that the country views Russia's moves as "violations of the sovereignty and territory of Ukraine."
It was not immediately clear whether the Russian troops would be confined to the two separatist territories.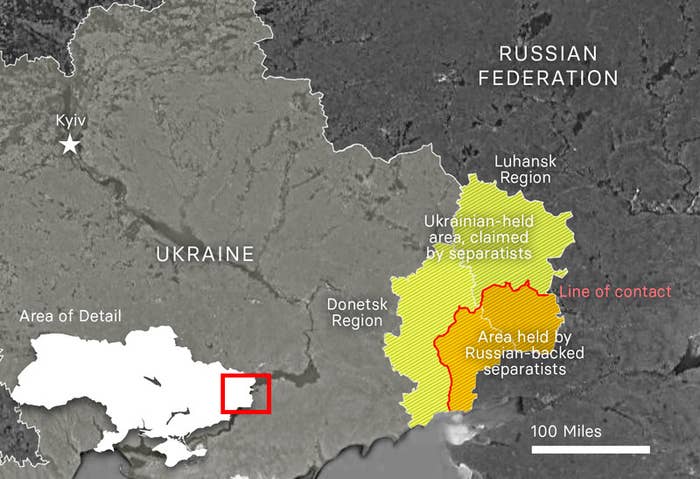 A Ukrainian commander in the frontline city of Avdiivka told BuzzFeed News that Ukrainian military leadership had not given any new orders in response to Putin's move "except be covered with armor and watch for drones," a telltale sign of an impending attack. The commander, who asked that his name not be used for security reasons, said he had watched with alarm as Putin spoke in Moscow and claimed that Ukraine was not a real country but merely a place invented by Russia and "the Bolsheviks."
The commander said that his positions had been under heavy mortar fire for days and feared that the fighting there would now grow worse.
Shortly after Putin's announcement, President Joe Biden called Zelensky and said he would impose further sanctions on Russia. "Kremlin recognition of the so-called 'Donetsk and Luhansk People's Republics' as 'independent' requires a swift and firm response, and we will take appropriate steps in coordination with partners," Secretary of State Antony Blinken tweeted. The EU said there would be sanctions and called the recognition a "blatant violation of international law."
Putin waged war against his neighbor eight years ago, saying he sees Ukraine as shifting too close to Western influence and also as a historic part of Russia. Since 2014, Putin has occupied the two territories — a swath of land the size of New Jersey — in the country's east and taken over Crimea, keeping the fighting at a simmer and killing 14,000 people in the process. The "independence" of the regions is unrecognized by a vast majority of the international community.
More than 30,000 other people have been wounded, and nearly 1 million residents of the Donbas have been displaced because of the war. Infrastructure in the region is in shambles. The United Nations said the war has transformed that area into one of the most mine-riddled places in the world.
Putin's order on Monday came following numerous assurances by the Russian government that it was not planning to invade and months of diplomatic maneuvering on the part of Western governments and Kyiv to try to avert a new war. But week by week and month by month, the evidence was there; Russia had amassed an army of more than 157,000 troops and war machines around Ukraine as civilians prepared go-bags and spruced up bomb shelters.
Putin's order is a direct rebuke to Biden, UK Prime Minister Boris Johnson, NATO, and other Western allies.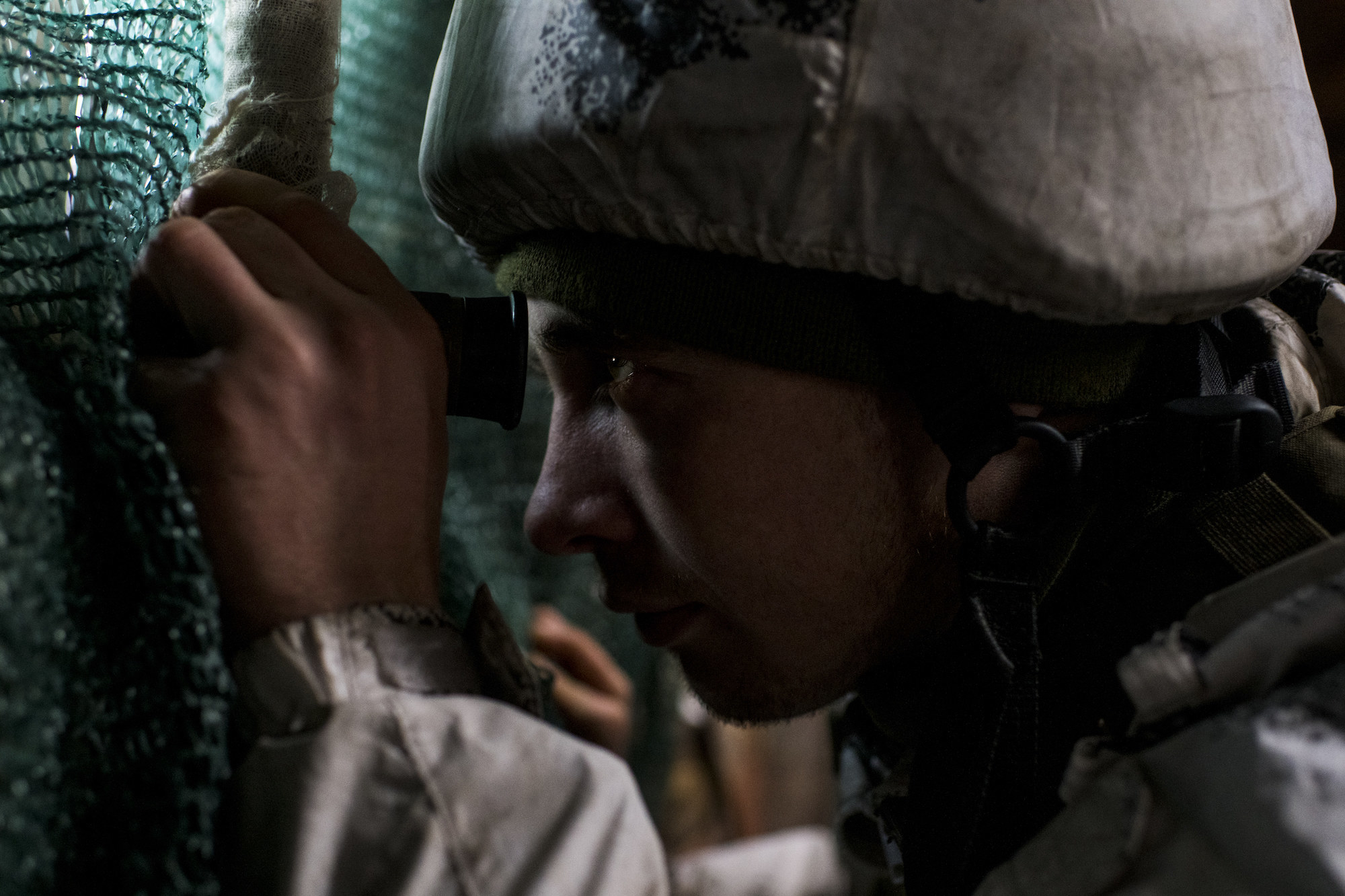 The decision to send in Russian forces happened despite strong warnings from this group that Moscow would suffer severe economic consequences, including far-reaching sanctions against top officials, oligarchs, and state companies. The White House announced that Biden had signed an executive order "that will prohibit new investment, trade, and financing by US persons to, from, or in the so-called DNR and LNR regions of Ukraine."
That Putin took the step of ordering troops in anyway underscored the limits to which the West can influence him and suggested the Russian president believes the price of military action against Ukraine is worth paying to try to achieve his goal of keeping Ukraine within Moscow's perceived sphere of influence.
Failed diplomacy
Zelensky had played down the threat of a new Russian invasion for months and lashed out at the White House at times for warning that an attack was "imminent," saying it threatened to spark panic among his citizens and harm the country's fragile economy. He has repeatedly said the Russian forces around the border posed no new or larger threat than they had over the course of eight years, despite Western assessments that the buildup was unprecedented.
On Feb. 15, Russian officials announced that it had begun withdrawing some of its forces following military drills. In carefully choreographed videos, the Defense Ministry showed what it claimed to be tanks rolling over the Kerch Bridge from Crimea to Russia and troops at other locations at the country's western border packing up and leaving. But the White House said on Feb. 16 that Russia was not actually withdrawing its forces. Instead, a senior administration said, at least 7,000 more troops had arrived at locations along Ukraine's border. The official called Russia's claim of pulling back troops "false."
The country's dubious pullout claim was emblematic of how Putin has long operated, saying one thing and doing the opposite. In summer 2008, the Kremlin announced the withdrawal of Russian forces from Georgia and then days later invaded the country.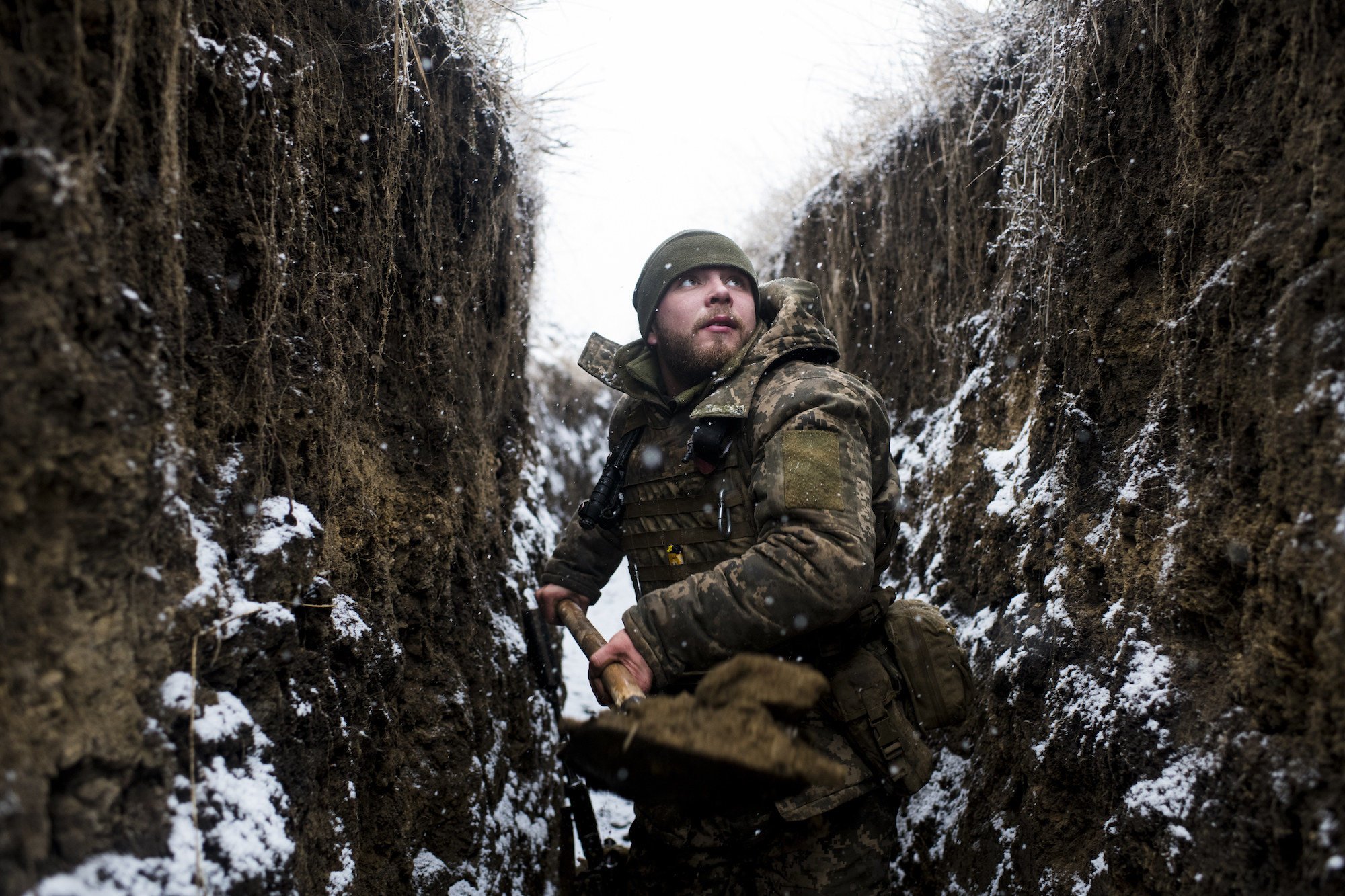 It is too early to know what Putin will do beyond the so-called peacekeeping forces. With 215,000 active-duty soldiers and another 250,000 reservists, Ukraine's military is much larger and better prepared than it was when Russia first invaded in 2014. But it is still outnumbered and outmatched by the Russian army, which boasts more than 1 million soldiers and state-of-the-art weaponry.
Biden said in February that if Russia attacked Ukraine it would be the "largest invasion since World War II" and would "change the world."
"World War II was a war of necessity, but if Russia attacks Ukraine, it would be a war of choice — a war without cause or reason," Biden said on Feb. 15.
Putin had kept the world guessing and waiting for nearly a year as Russia built up a strike force of more than 150,000 troops, tanks, attack aircraft, and other military equipment around three sides of Ukraine's border. The buildup began in April 2021, with a series of exercises that ended with forces sent back to their bases but much of the equipment remaining in place near Ukraine. Then, in November, Putin moved his forces back, sending with them even more troops and military materiel.
Russia's moves were followed closely by the US government and Western intelligence agencies. And they were observed in almost real time through videos posted on social media and satellite imagery analyzed by open-source investigators.
Putin had issued several demands to the US and NATO in the past month ahead of the announcement. Those included NATO pulling its forces out of Eastern Europe and withdrawing them to their 1997 positions, and a guarantee that Ukraine will never join the western military alliance itself, among other security guarantees.
The war's recent history
Russia's announcement comes eight years after it forcibly annexed Crimea and fomented a devastating shooting war in the eastern industrial region known as the Donbas. Those moves happened in response to the pro-democracy revolution in Kyiv that toppled the Kremlin-friendly president Viktor Yanukovych and forced him to flee to Russia.
In Crimea, the Kremlin used regular troops without insignia posing as local "self-defense forces" to take control of the Black Sea peninsula, Ukrainian army bases, and Ukraine's naval fleet. The surprise attack allowed Russian forces to do so almost without firing a single shot.
Russian special forces operatives, along with intelligence services, regular troops, and local anti-Kyiv fighters, then covertly moved across Ukraine's south and east, capturing government buildings and sparking the bloody war in the Donbas that would kill more than 14,000 people. More than 3,300 were civilians. Some 4,500 were Ukrainian military service members — about double the number of US soldiers killed during 20 years of fighting in Afghanistan. The remaining deaths are mostly local fighters.
Ukrainians have been living under the threat of renewed, full-scale hostilities for the better part of a decade. The government refers to Russia's military aggression as "hybrid warfare" — conventional military attacks conducted in conjunction with economic warfare, information warfare, cyberattacks, and political pressure.
Moscow has weaponized just about every facet of business, society, politics, and culture in its fight against Ukraine.
Putin sees Russia and Ukraine as part of one "historical and spiritual space" and Russians and Ukrainians as "one people," assertions that Ukrainians and historians focused on Eastern Europe dismiss. He views Western support for Ukraine, including the US brandishing it with more than $2.5 billion of military assistance in the past eight years, as "deliberate efforts by [NATO] forces that have always sought to undermine our unity."
But in employing force to try to control Ukraine and persuade Ukrainians that their future is with Russia, Putin's efforts have backfired spectacularly. Ukrainians are more united than ever, more European-focused and democratic-minded, and a vast majority of them view themselves as a separate people with their own identity and culture, as well as the right to determine their own future.
Ukrainian troops say they are ready to fight back. Besides a large cache of Soviet-era weapons and artillery, they are armed with US Javelin anti-tank missiles and "bunker buster" rockets. The UK recently delivered similar shoulder-fired rockets to the country. This month, Canada provided lethal weapons, as well, and Lithuania sent American-made Stinger anti-aircraft systems.
As Putin massed forces around Ukraine, some of the country's 400,000 veterans began training tens of thousands of civilians to fight and shoot and to wage guerrilla warfare against Russian troops should they enter their cities.