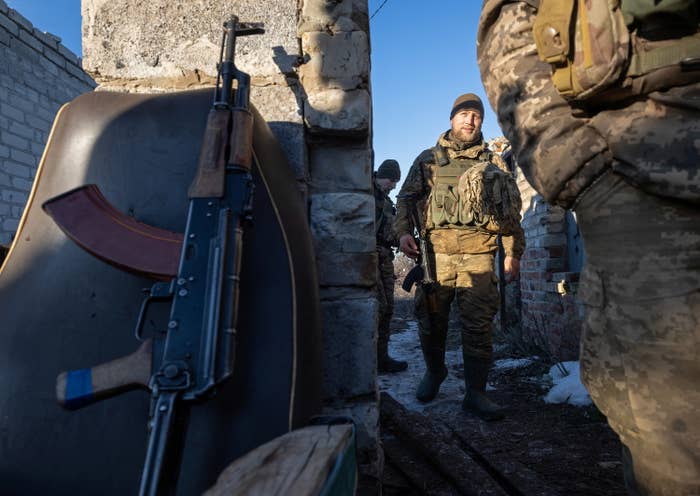 KYIV — After Russia massed some 100,000 troops near Ukraine's border in recent weeks, the Biden administration said it believes Moscow is preparing to again invade its Eastern European neighbor.
"The United States is concerned that the Russian government is preparing for an invasion into Ukraine that may result in widespread human rights violations and war crimes should diplomacy fail to meet their objectives," a US official told BuzzFeed News on Friday.
"As part of its plans, Russia is laying the groundwork to have the option of fabricating a pretext for invasion, including through sabotage activities and information operations, by accusing Ukraine of preparing an imminent attack against Russian forces in eastern Ukraine."
The statement, on the heels of unsuccessful high-stakes negotiations between the US, NATO, and Russia, was Washington's strongest and most ominous yet on the latest Russian aggression targeting Ukraine.
It also echoes a report published earlier Friday by Ukraine's Main Intelligence Directorate of the Ministry of Defense. That report warned that Russian special services are preparing a provocation against Russian soldiers and targeting an arms depot in the Transnistrian region of Moldova where Putin has peacekeepers. The goal, the intelligence agency said, was also to create an excuse to launch an attack on Ukraine.
The US official said intelligence showed the Russian military plans to begin its activities "several weeks before a military invasion, which could begin between mid-January and mid-February."
"We saw this playbook in 2014 with Crimea," the official added, referring to Moscow's annexation of that peninsula and the subsequent war it fomented in eastern Ukraine's Donbas region.
US intelligence, said the official, indicates Russia has already recruited a group of operatives to carry out a false-flag operation in eastern Ukraine.
"The operatives are trained in urban warfare and in using explosives to carry out acts of sabotage against Russia's own proxy-forces," the official said.
The official said further information indicated that "Russian influence actors" working for state-run news outlets and on social media are hard at work fabricating "Ukrainian provocations" to justify a new Russian intervention and sow discord in Ukraine.
"For example, Russian officials and influence actors are emphasizing narratives about the deterioration of human rights in Ukraine and the increased militancy of Ukrainian leaders," the official said.
"These media narratives also blame the West for escalating tension, highlight humanitarian issues in Ukraine that Russian intervention could solve, and promote Russian patriotism to encourage domestic support for military action."
The Biden administration told BuzzFeed News that in December it tracked Russian-language content on social media "covering all three of these narratives" and saw its output increase to an average of about 3,500 posts per day — a 200% increase from the daily average in November.
The US warnings came as a massive cyberattack hit dozens of Ukrainian government websites. The hackers behind the attack posted a message warning Ukraine to "be afraid and expect worse."
Ukrainian government officials told BuzzFeed News that it was too soon to know for sure who was behind the attack, but they pointed the finger at Moscow.