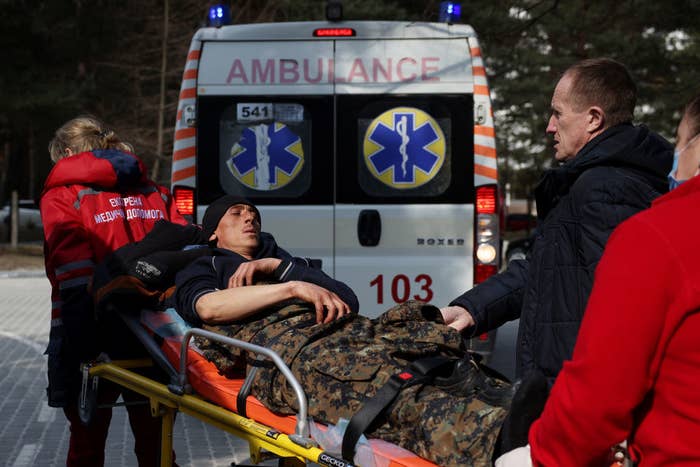 LVIV, Ukraine — Six Western fighters who came to Ukraine to join the new international legion described a scene of utter devastation and chaos when Russian missiles crashed down on a NATO training center as they slept Sunday.
"We woke up to shooooooo," said James, a former British soldier and experienced artillery and surface-to-air missile operator, describing the terrifying whoosh of the missiles that exploded dozens of meters from him. "I just lied there and thought, I'm going to die. And then there was just a big bang."
A video of the missile attack taken by one of the fighters and provided exclusively to BuzzFeed News shows two of the strikes hitting the training center and exploding into balls of fire. The missiles can be heard in the video flying overhead for several seconds before they come crashing down, seen at about 35 seconds into the video:
Provided to BuzzFeed News
Video provided by a foreign fighter in Ukraine captures the sound and explosions of missiles from Russia.
At least 35 people were killed and 134 more were injured when eight Russian cruise missiles struck the International Center for Peacekeeping and Security in Yavoriv, a town that sits 10 miles from the border with Poland and had hosted US troops until last month. In the nearby western city of Ivano-Frankivsk, Mayor Ruslan Martainkiv said Russia's missiles struck the airport for a second time.
"All legionnaires are safe. No killed, no injured!" Col. Anton Mironovich, director of public affairs at the National Army Academy in Lviv and a point person for foreign fighters, told BuzzFeed News. (Details about the people who were killed have not been released.) He said the airstrike had been carried out by warplanes that took off from the Saratov airport in western Russia but approached from the south, from the Black Sea and the Sea of Azov.
James, who did not want his last name used for security reasons, confirmed that, saying he did not see anyone from the foreign group at Yavoriv wounded in the attack.
The attack on the Yavoriv base came a day after Russian Deputy Foreign Minister Sergei Ryabkov warned that it would consider weapons deliveries from the West to Ukraine as legitimate targets. A Ukrainian officer with whom BuzzFeed News spoke on the condition of anonymity because they were not authorized to speak to the press described the attack on Yavoriv as "a message to the international community" that their weapons assistance to Ukraine will be "targeted," and foreigners streaming in to fight will be viewed as troops from outside nations participating in the war.
Late Sunday, Russia's Defense Ministry released a statement threatening more attacks on similar targets.
"At these facilities, the Kyiv regime deployed a training center for foreign mercenaries before being sent to the areas of hostilities against Russian military personnel, as well as a storage base for weapons and equipment coming from foreign countries," the statement said. "As a result of the strike, up to 180 foreign mercenaries and a large shipment of foreign weapons were destroyed. The destruction of foreign mercenaries who arrived on the territory of Ukraine will continue."
Meanwhile, US Secretary of State Antony Blinken condemned the attack.
"We condemn the Russian Federation's missile attack on the International Center for Peacekeeping and Security in Yavoriv, close to Ukraine's border with Poland," he said. "The brutality must stop."
On Saturday, President Joe Biden approved an additional $200 million in arms and equipment for Ukraine. But the missile attack could hinder future weapons shipments to the country at a moment when its military needs more help to beat back the Russian military as it seizes territory and inches closer to the capital of Kyiv.
The Ukrainian officer said that as many as 1,000 foreign fighters were training at the base at the time of the attack. The fighters began arriving after President Volodymyr Zelensky made a public plea last month for foreigners to "join the defense of Ukraine, Europe, and the world" and take up arms against Russia.
Mironovich declined to say exactly how many foreign fighters have joined the new legion since Zelensky's appeal on Feb. 26.
"We have a whole bunch of requests. Even more than we need. Let's say thousands," he told BuzzFeed News.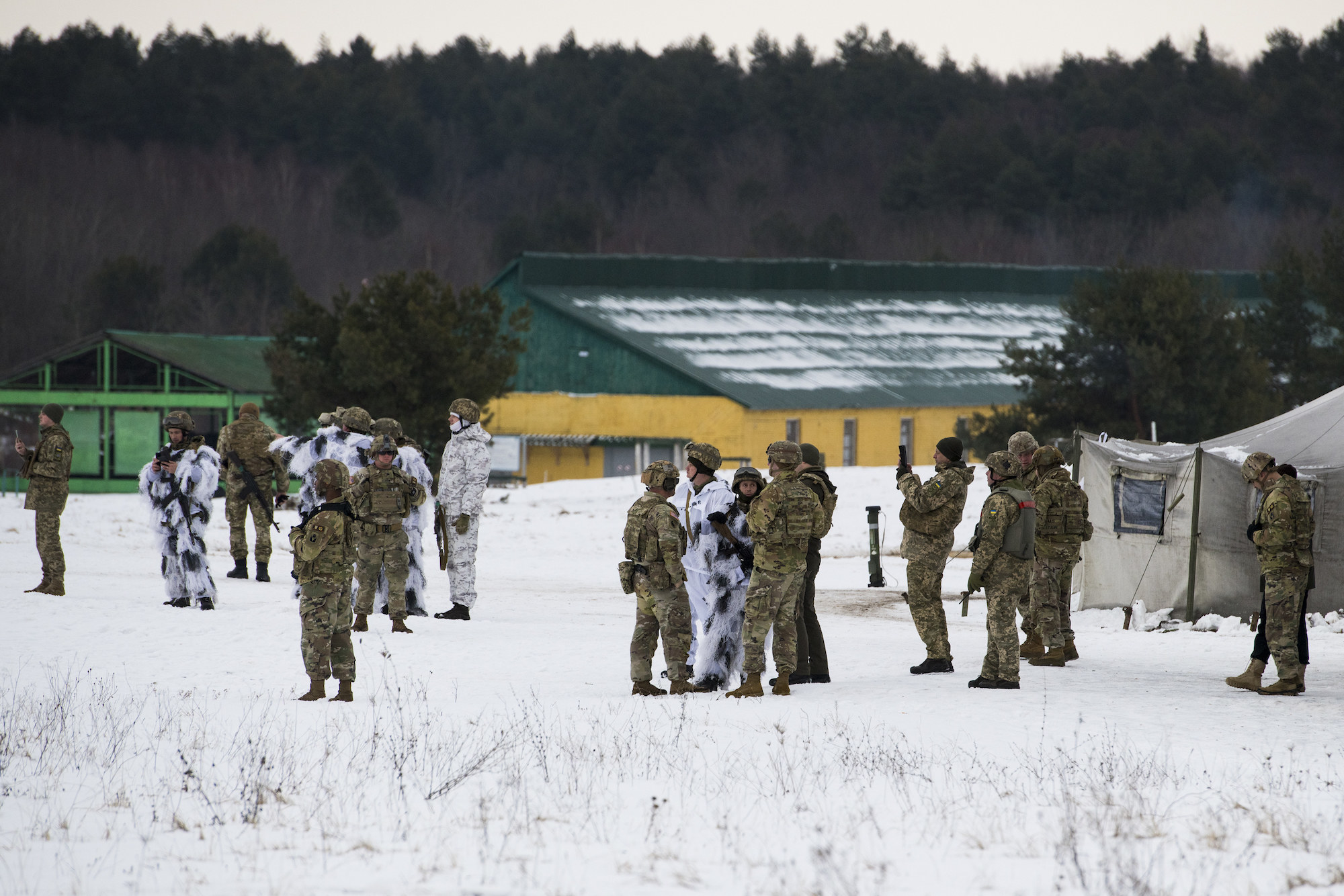 The six foreign fighters with whom BuzzFeed News spoke in Lviv include four British citizens, one American, and one Dane. Eating Domino's pizza in an apartment after a long and exhausting day, they said they all arrived in Ukraine in the past five days and traveled separately, flying first to Poland and then crossing the border by car into Ukraine, where Ukrainian military officials met them and brought them to the Yavoriv base.
The group said they had been infuriated by what they saw Russian troops were doing to Ukrainian civilians and felt they had skills and experience that could be useful to Kyiv.
"Women and children were being bombed," said the American, explaining why he came to Ukraine. "I sort of lost my respect for NATO when I saw that they weren't doing anything. I was kind of angry."
With dozens of Russian missile attacks across Ukraine, Ukrainian military leaders had ordered air raid drills at the Yavoriv base just the day before the bombardment there, James said.
"We'd had good drills with air raids and everyone was making it out real quick," he said, chalking up that practice as one reason why the loss of life wasn't any higher on Sunday.
He described a chaotic and terrifying scene that jolted the group from the first sleep many of them had had after several long days of training at the base.
He said the missile sounded like it was flying fast and low before it shifted upward and then made "some sort of dive" before exploding.
"It sounded like an airplane with a turbojet," said the Dane.
Another British fighter and UK military veteran said he had just crawled into his sleeping bag after a tough several days without proper rest and put on his eye mask when he heard the first whoosh of a missile.
"It was fucking lovely. It was just like being fucking cuddled. It was the first time I'd been comfortable in fucking days," he said. "And then literally as I went zip and put my eye mask on everything went…fuck," he added, waving his hands in the air.
"A couple of buildings got hit, and you could hear it," James said. "One they decimated and there was one that was on fire. And then there was just frag[mentation] everywhere. And a crater the size of one of the ones in the man in the moon in the middle of camp."
"Some people were trapped under the rubbles," the Dane said.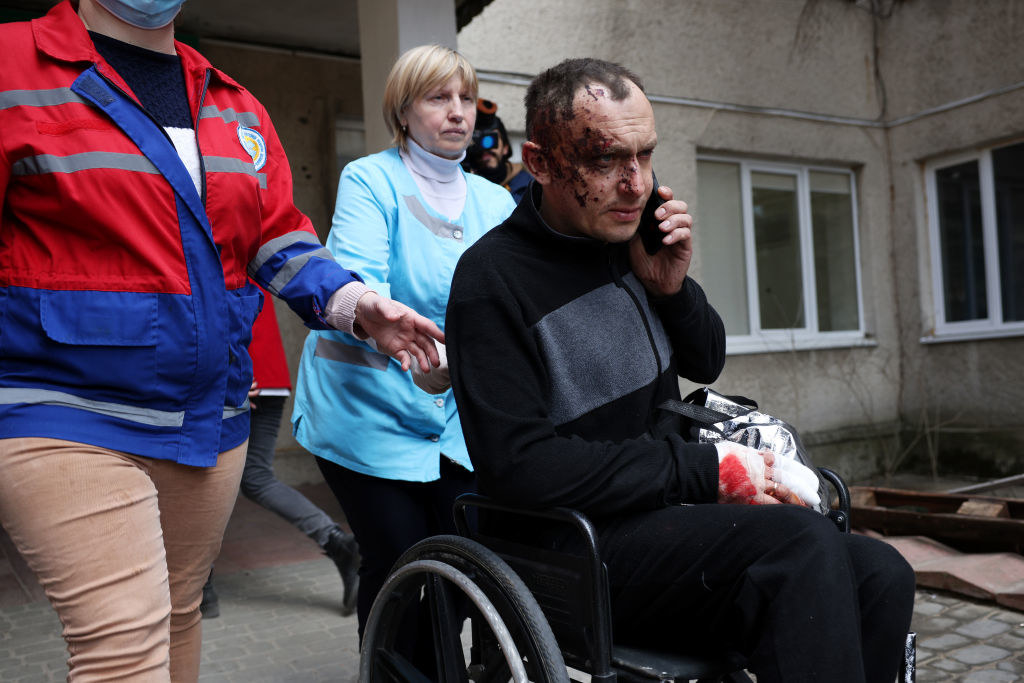 Trainers from the US and other NATO countries have rotated in and out of the Yavoriv center since 2014, helping to strengthen Ukraine's military so it can better defend itself from Russia. Col. Andriy Bestyuk, deputy head of the training department of the General Staff of the Armed Forces of Ukraine, told BuzzFeed News in Yavoriv in early February that his military had become a force capable of significantly counteracting Russia.
That assessment has been shown to be accurate. Despite Russia having the larger and more powerful military, Ukraine's armed forces have so far managed to stop Russian troops from capturing major cities.
Troops from the Florida National Guard were training Ukrainian soldiers at the facility to use as part of a NATO mission when BuzzFeed News visited in early February. The US withdrew the guards just days before Russia launched its new invasion.
No NATO troops were present when the missiles struck. But there were hundreds of Western military veterans.
A diverse crowd of foreigners have come to fight in Ukraine since the war first exploded in 2014. Hundreds have come from the European Union, roughly 40 have arrived from the US, and at least 12 from the UK, according to BuzzFeed News' reporting and independent research done by experts who track such fighters.
Some of them have served with distinction in the official military in the eight-year fight against Russia and its separatist proxies in Ukraine's east.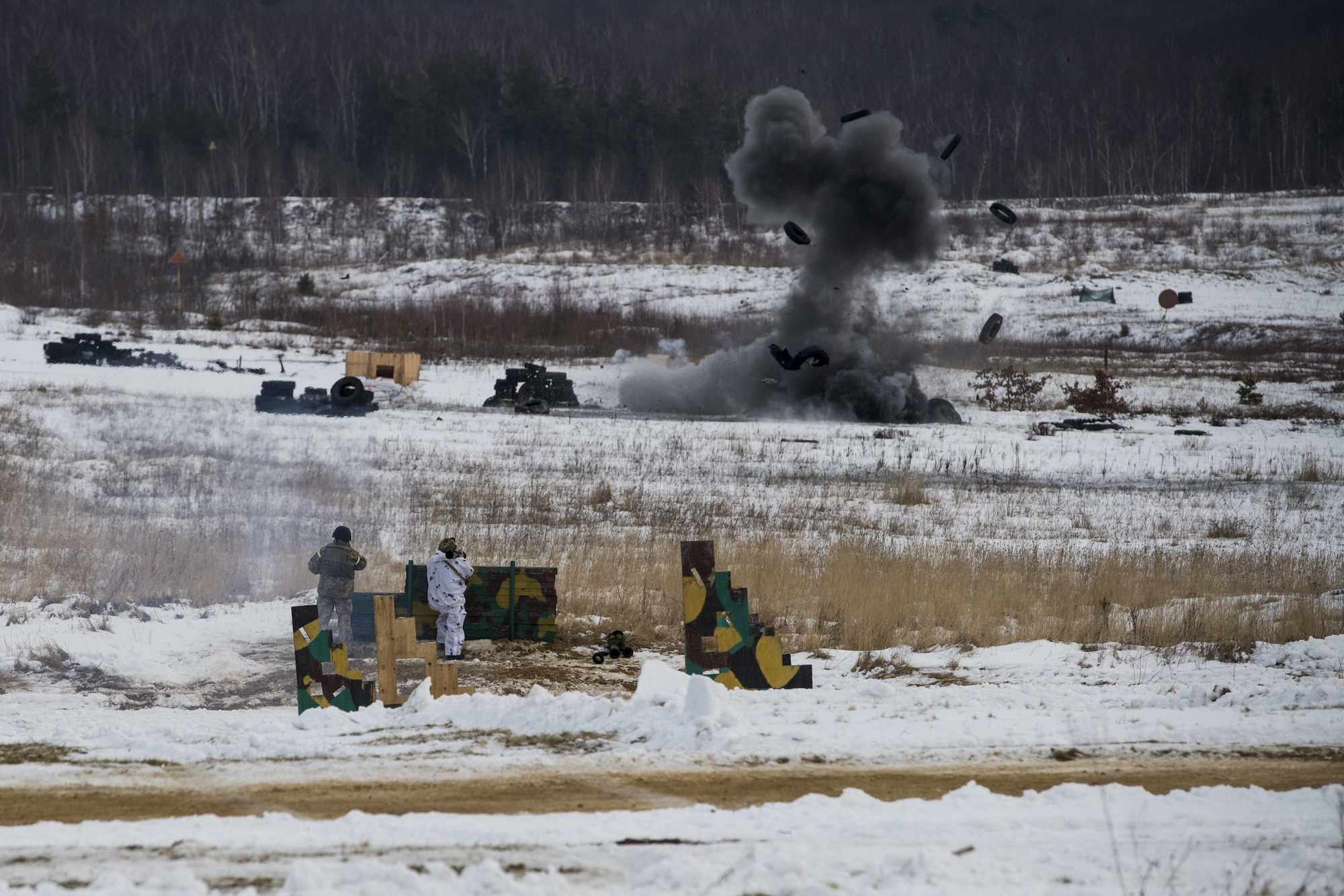 The Justice Department has probed seven US citizens for alleged war crimes committed in eastern Ukraine while some of them fought with far-right paramilitary forces, BuzzFeed News reported in October.
When they arrived at Yavoriv, the foreigners were interviewed about their past military experience and placed into groups based on that experience, the American soldier said.
The six foreigners all said they did not sign any contracts except for a document saying they accepted military uniforms. Many of the fighters were quickly offered weapons, but the groups of six interviewed by BuzzFeed News received what they described to be better weapons from a third party.
In the days before the attack, they trained together, practicing "small-scale tactics, how you've got to move… practicing medical procedures," James said.
Another British fighter and former UK soldier described practicing triaging wounded soldiers and evacuating them.
"We hadn't cemented it all down yet so everyone was just rotating through roles to see how it is. We'd only just started really," said that British soldier, who asked not to be named because his family didn't know he had come to Ukraine.
The group declined to describe the command structure of the foreign legion, citing military secrecy.
"Nothing was perfect. Nothing ever is. But some things could have been better," the other British fighter said.
Still, the fighters are just happy to be alive.
"When the first couple came in, I was very surprised we didn't get one on us," referring to a missile, yet another British soldier turned foreign fighter said.
"It was one after the other. There were no simultaneous strikes," he said. "It wasn't like shock and awe in Baghdad where they all hit at the same time, perfectly organized by the allied forces where you'd have like five or six landing on any spot like bang-bang-bang-bang-bang," he added, underscoring his point but showing an image of a burning structure that he said had been across the street from where he was staying in Iraq.
That soldier said the group believed following the attack that Russian paratrooper landings were imminent near a helicopter landing site on the base. But that landing never happened, which was a relief: He ticked off a list of armaments that would typically be employed in such an assault.
The group decided to leave the base and go to Lviv in order to clear their heads and get away from the mayhem. They said they were asked to turn in their weapons before they left the base.
One of the Brits said he's now torn between staying with the foreign legion and trying to join a humanitarian organization to focus exclusively on providing aid to people. The rest of the guys are still hell-bent on helping Ukraine fight against Russia.
"I'm not going home because of a few missiles," James said.