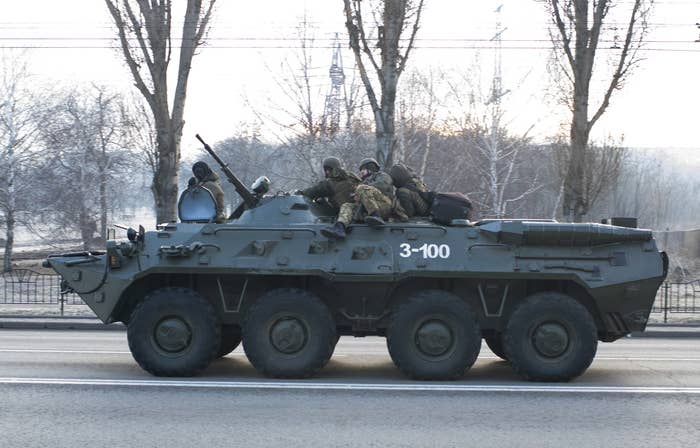 KRAMATORSK, Ukraine — Europe was plunged into its gravest crisis in decades early Thursday as Russia defied international law and threats of devastating economic sanctions by mounting a deadly full-scale invasion of Ukraine, threatening the safety of millions and sending citizens across the country scrambling for refuge as missiles fell from the sky.
The Russian attack began in the early morning hours and came by land, air, and sea. Shelling and explosions struck all parts of the country, far beyond the front lines in eastern Ukraine, signifying a dramatic escalation of Russia's 2014 invasion.
"We woke up to a drastically different world," Emine Dzheppar, Ukraine's first deputy foreign minister, told BuzzFeed News.
The Russian military claimed to have destroyed more than 80 Ukrainian military sites, including 11 airfields, Maj. Gen. Igor Konashenkov said in a briefing from Moscow.
Ukrainian President Volodymyr Zelensky addressed his country late Thursday, swapping his suit and tie for a military uniform. He said that at least 137 Ukrainians had been killed so far in the Russian invasion, including both civilian and military casualties.

Zelensky ordered a full military mobilization, calling up all conscripts and reservists in order to combat Russia's actions, which he compared to those of the Soviet Union, describing the invasion as the "sound of the new Iron Curtain that's falling and closing Russia from the civilized world."
"Our task is for that curtain not to fall on Ukrainian territory," Zelensky said.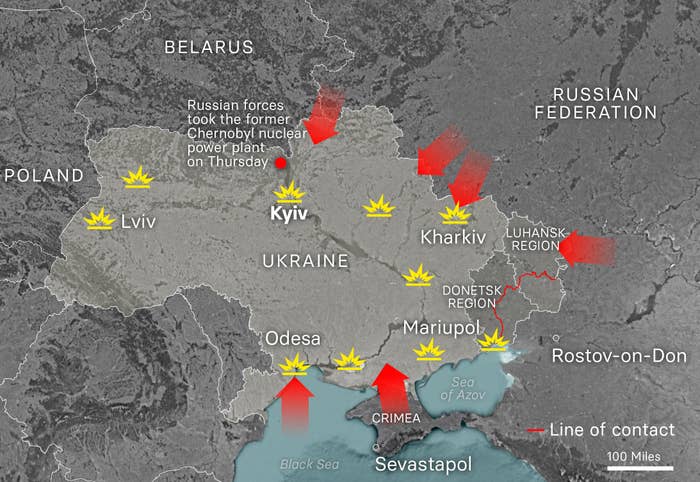 The NATO North Atlantic Council condemned what it described as a "horrifying attack on Ukraine, which is entirely unjustified." International organizations and coalitions scrambled to respond to the invasion, with NATO, the United Nations, and G7 leaders all holding emergency meetings.
In an address from the White House, President Joe Biden said the US and other allies would further escalate economic sanctions by blocking the assets of four large Russian banks, imposing export controls, and sanctioning more oligarchs and their families.

He also directly blamed Russian President Vladimir Putin for the deadly military conflict.

"Putin is the aggressor. Putin chose this war. And now he and his government will pay the consequences," Biden said.

However, Biden said Russia would not yet be cut off from SWIFT, the global banking messaging system that connects more than 11,000 financial institutions around the world, because some European allies were not yet prepared to take that step.
Additional US troops will also be sent to Germany; Biden stressed they were not going to fight in Ukraine but rather to strengthen NATO members against Russian aggression.
Putin's goal, Biden said, was to reestablish the former Soviet Union.
"This is a dangerous moment for all of Europe and freedom around the world," Biden said.
In Kyiv and in cities across Ukraine, air raid sirens blared and people sought safety in bomb shelters and underground train stations. In Hostomel, a short drive away from the capital, videos show Russian Mi-8 helicopters assaulting a military airfield. The Interior Ministry said that Russia had seized control.

In Kramatorsk, a city of 150,000 residents in Ukraine's eastern Donetsk region, the sky lit orange with multiple explosions just before 5 a.m. The Ukrainian military said that Russian missiles had struck the airport, which is 2,000 feet southeast of the city center.

About 100 miles north in Kharkiv, a city of 1 million people near the Russian border, three residents told BuzzFeed News in a series of text messages that they were awakened before dawn by a series of blasts.
"We will probably leave the city," one woman said, asking that her name not be used for security reasons. "Don't understand how this can happen in the 21st century."
Zelensky said Russian forces even launched an offensive to seize control of the Chernobyl nuclear disaster site. "This is a declaration of war against the whole of Europe," he said.
Hours later, Mykhailo Podoliak, adviser to the head of the Chernobyl plant, said the Ukrainians had lost control of the site.
"The condition of the former Chernobyl nuclear power plant, confinement, and nuclear waste storage facilities is unknown," Podoliak said.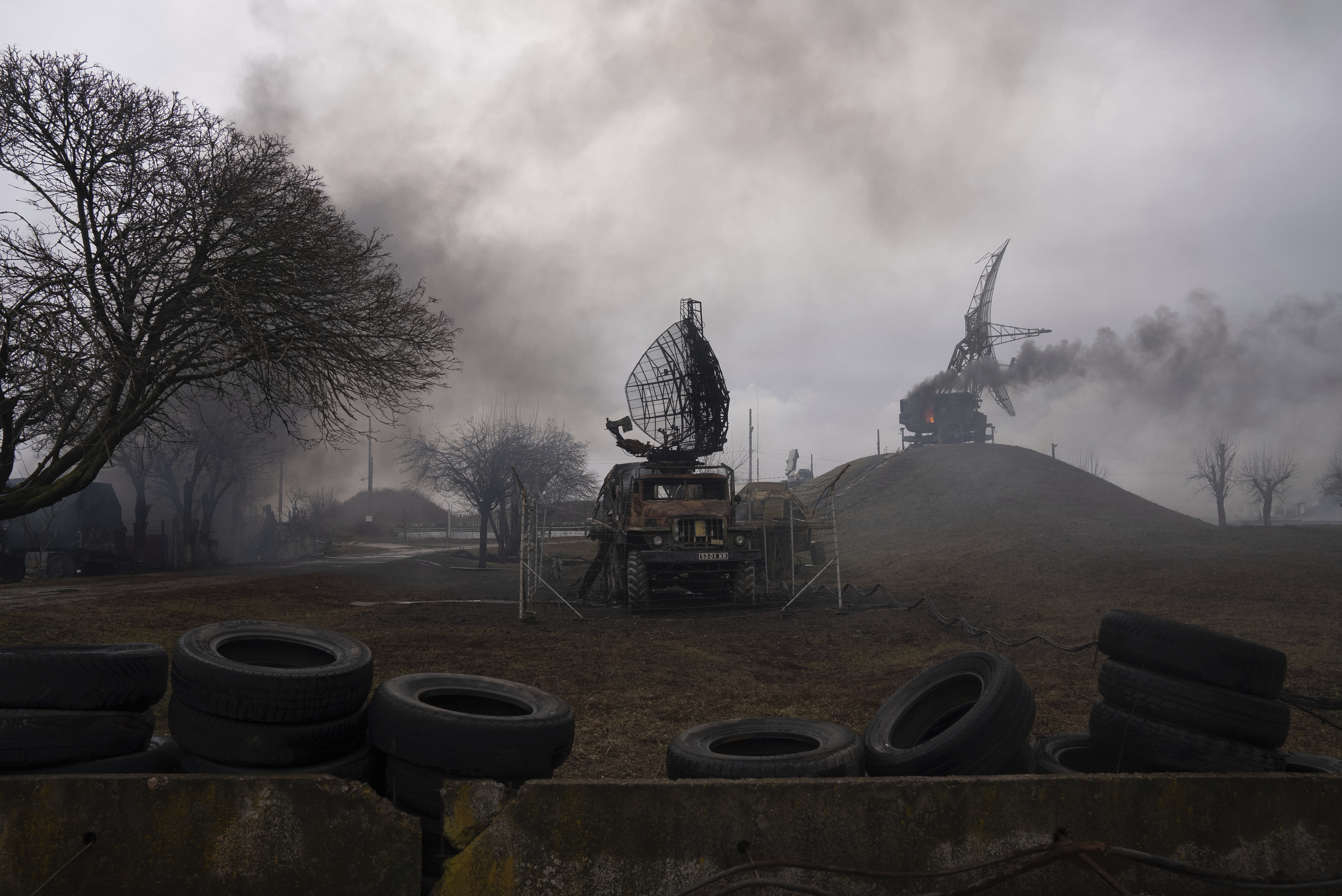 Dzheppar, Ukraine's first deputy foreign minister, personally witnessed a missile strike Thursday that hit a building housing a department of the country's military intelligence, she told BuzzFeed News by phone. Casualties are still being counted, she said.

She said she expected the situation on the ground to get worse. "This is just the beginning," she said.
Dzheppar said she feared the Russian military would target government buildings, including the presidential office and parliament, with missile strikes. "They are not only invading my country but trying to eliminate the government and our capacity for governance," she said.
Images show highways clogged as people tried to flee west, with the country's European neighbors preparing for an influx of refugees.
"The humanitarian consequences on civilian populations will be devastating," warned Filippo Grandi, UN high commissioner for refugees. "There are no winners in war, but countless lives will be torn apart."
Many Ukrainians moved quickly to gather essential supplies for whatever comes next. Cars queued up outside gas stations; people waited in lines outside banks and pharmacies.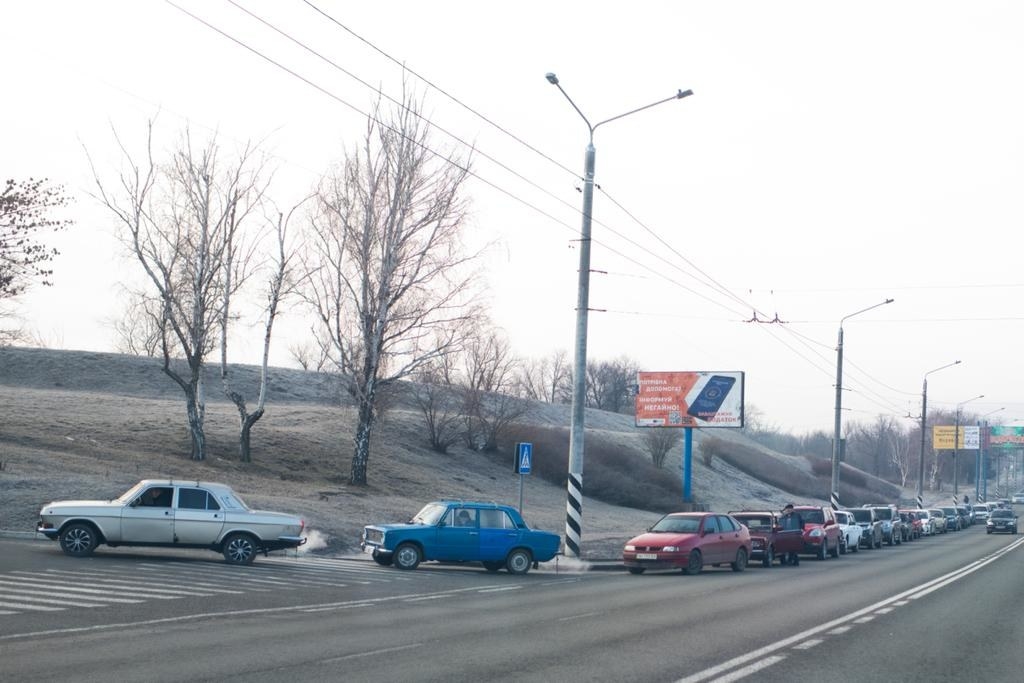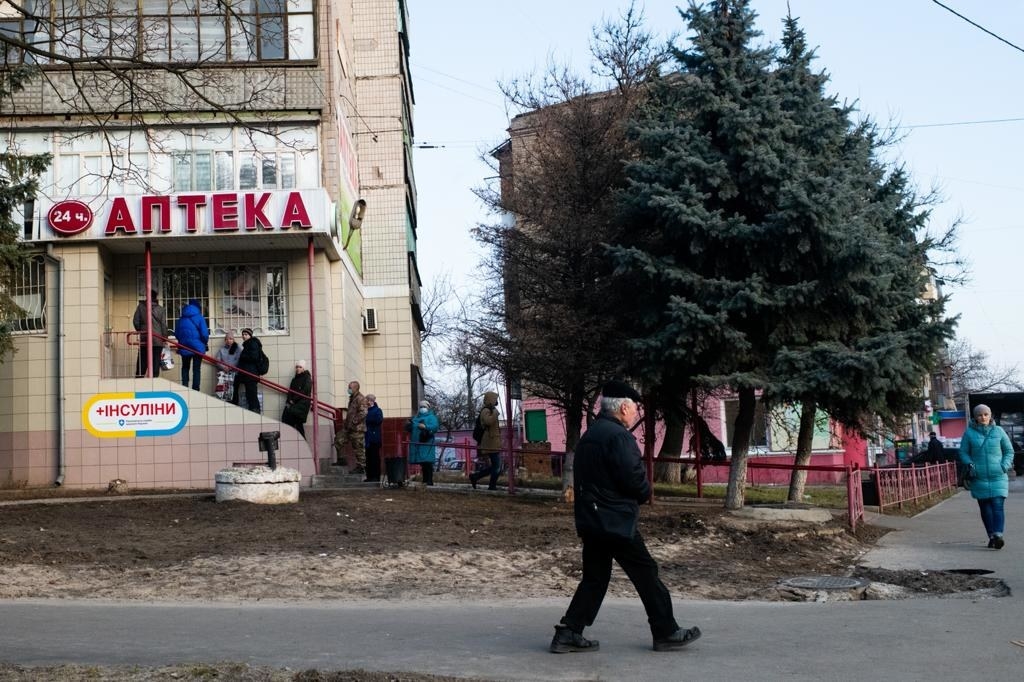 In an address posted to Twitter on Thursday morning, Zelensky told residents not to panic and said Ukrainian forces were launching their own defensive measures.

Russia's attacks began at about 5 a.m. Troops using artillery, heavy equipment, and small arms assaulted the border from Russia and from Belarus. The State Border Guard Service of Ukraine also released footage of Russian forces invading from Crimea.
A few hours later, the Interior Ministry reported the first Ukrainian casualties. A Russian air attack in Podilsk, in the Odesa region, had killed at least six soldiers and wounded seven more. Missiles also hit a military installation in Brovary, just east of Kyiv, killing six more people. And in Chuguiv, a small city south of Kharkiv, a "minor boy" died after Russian shelling hit a five-story apartment building, the Interior Ministry said.
The attacks represented a grave new escalation to a situation that has been rapidly deteriorating all week. On Monday, Putin recognized the "independence" of the eastern Donetsk and Luhansk regions — two areas that actually belong to Ukraine but were taken by Russia during a war it started eight years ago. Reacting to bogus and unproven reports of alleged Ukrainian aggression, Putin then ordered his troops into the two territories on a "peacekeeping mission."
The violence expanded on Thursday to reach cities and regions previously untouched by the conflict in eastern Ukraine. Video posted on social media Thursday morning appeared to show a missile hitting Ivano-Frankivsk, a city hundreds of miles west of that front line.
Ukraine's foreign minister, Dmytro Kuleba, called Thursday's attacks "a full-scale invasion of Ukraine."

"Peaceful Ukrainian cities are under strikes," he said. "This is a war of aggression. Ukraine will defend itself and will win. The world can and must stop Putin. The time to act is now."
As news of the military action unfolded, President Joe Biden issued a statement calling it an "unprovoked and unjustified attack by Russian military forces."
"President Putin has chosen a premeditated war that will bring a catastrophic loss of life and human suffering," Biden added. "Russia alone is responsible for the death and destruction this attack will bring, and the United States and its Allies and partners will respond in a united and decisive way. The world will hold Russia accountable."
Biden also promised "further consequences" against Russia after he meets with world leaders Thursday morning, which would be in addition to targeted sanctions the US and European nations have already imposed. The United Nations Security Council has also agreed to Ukraine's request for an emergency meeting.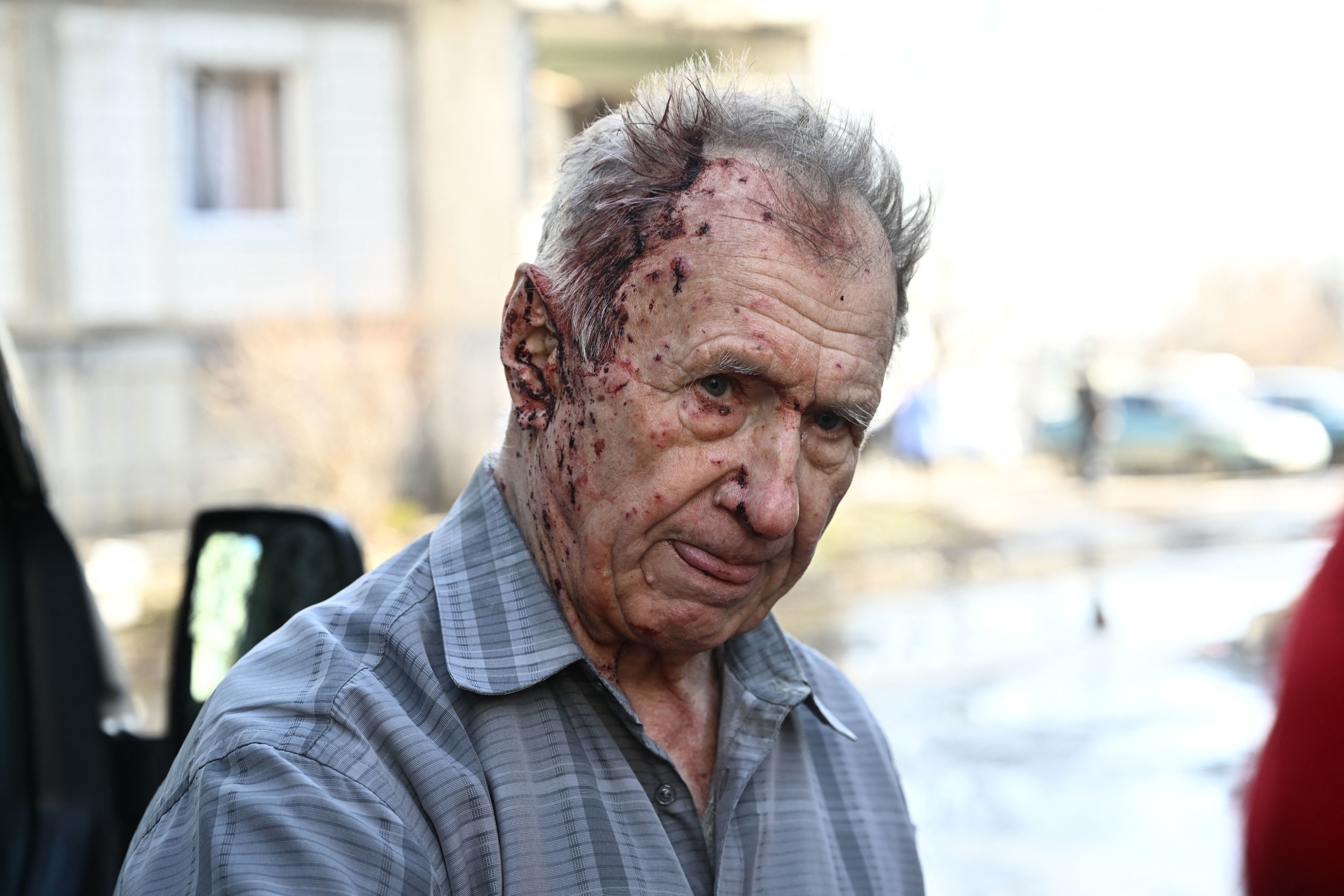 In his address, Putin urged Ukrainian forces to lay down their arms and warned other countries that any attempt to interfere with Russian military action would lead to "consequences they have never seen."
In his own overnight address, Zelensky said his country preferred a peaceful resolution but that, ultimately, "we will defend ourselves."

"When you attack us, you will see our faces, not our backs," he said.
Zelensky has said his government would open its armories and hand out guns to all citizens who are willing to fight. On Twitter on Thursday morning, he reiterated that promise and encouraged people to join the cause.
"We will give weapons to anyone who wants to defend the country," he said. "Be ready to support Ukraine in the squares of our cities."
Jason Wells reported from Los Angeles and David Mack from New York City.