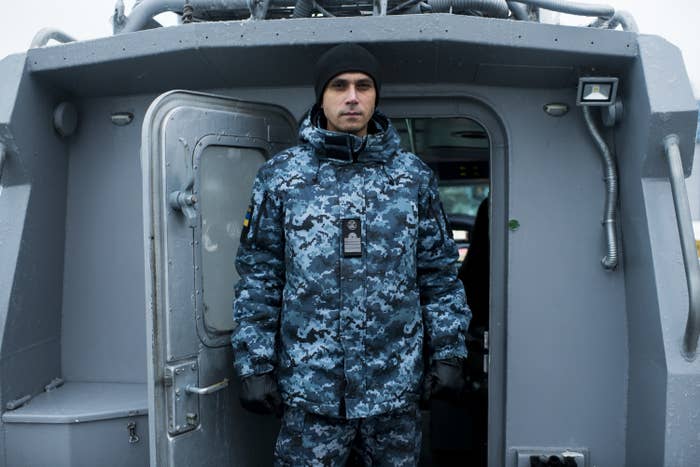 MARIUPOL, Ukraine — Second Capt. Roman Varianitsyn was on high alert. As waves slapped the side of his small armed cutter, he surveyed the horizon through a steamy window. A helmsman navigated the growing swells as another watched a radar screen. A man in the rear of the vessel stood by a small machine gun.
They were on the lookout for Russian navy vessels that President Vladimir Putin has dispatched to the Sea of Azov, where some fear an amphibious military operation could be launched as part of a new invasion of Ukraine.
Varianitsyn, who invited BuzzFeed News to join his crew of Maritime Guards of the Border Guard Service of Ukraine during a regular patrol, said the Russians constantly harass and provoke them here. Sometimes they head directly toward Ukrainian vessels like they're playing a game of chicken before breaking away just moments from a collision.
"They come directly near our ports. They record and control and monitor all of our activities," Varianitsyn said. "They are constantly monitoring the situation near the Ukrainian coast [and] everything that happens here."
Some 5 nautical miles out, a Ukrainian patrol ship appeared. The Donbas, a patrol boat named after the eastern region that is ground zero of the eight-year war that Russia has waged against Ukraine with unmarked troops and separatist proxies, holds two double-barreled 30 mm anti-aircraft guns, a heavy machine gun, and several smaller machine guns. The cutter shadowed it for several minutes. But no Russian ships were spotted during the patrol.
Still, they lurked somewhere out there, waiting for their orders.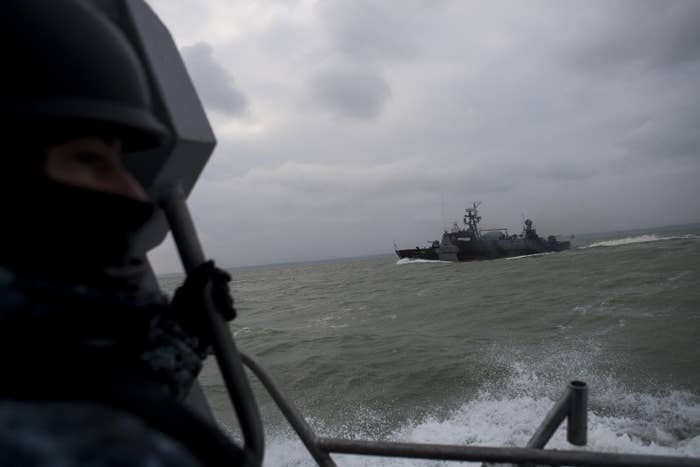 BuzzFeed News joined Varianitsyn and his men on Jan. 19, as the situation around Russia, Ukraine, and the West intensified and President Joe Biden warned that a return to heavy fighting here could be imminent.
On Sunday, Biden was reported to be considering deploying several thousand US troops, warships, and aircraft to NATO's allies in the Baltics and Eastern Europe. And the Western security alliance announced that it was already preparing to send additional ships and fighter jets to the region.
Meanwhile, the Department of State authorized the voluntary departure of US government employees and ordered the departure of family members of all American diplomats at the embassy in Kyiv, effective immediately.
"As to President Putin's intentions, we don't know if he has yet made up his mind to invade, but he is building the military capacity along Ukraine's borders to have that option ready at any time," a senior state department official told reporters.
If the Russian leader does decide to take further military action, people living in this port city worry it could come from this shallow body of water slightly larger than Lake Erie.
Albert Khomyak, a military chaplain and widowed father of 16 adopted children, said he is making preparations to evacuate his kids to cities in central Ukraine, where he believes they'll be safer when — not if, he said — Russia attacks.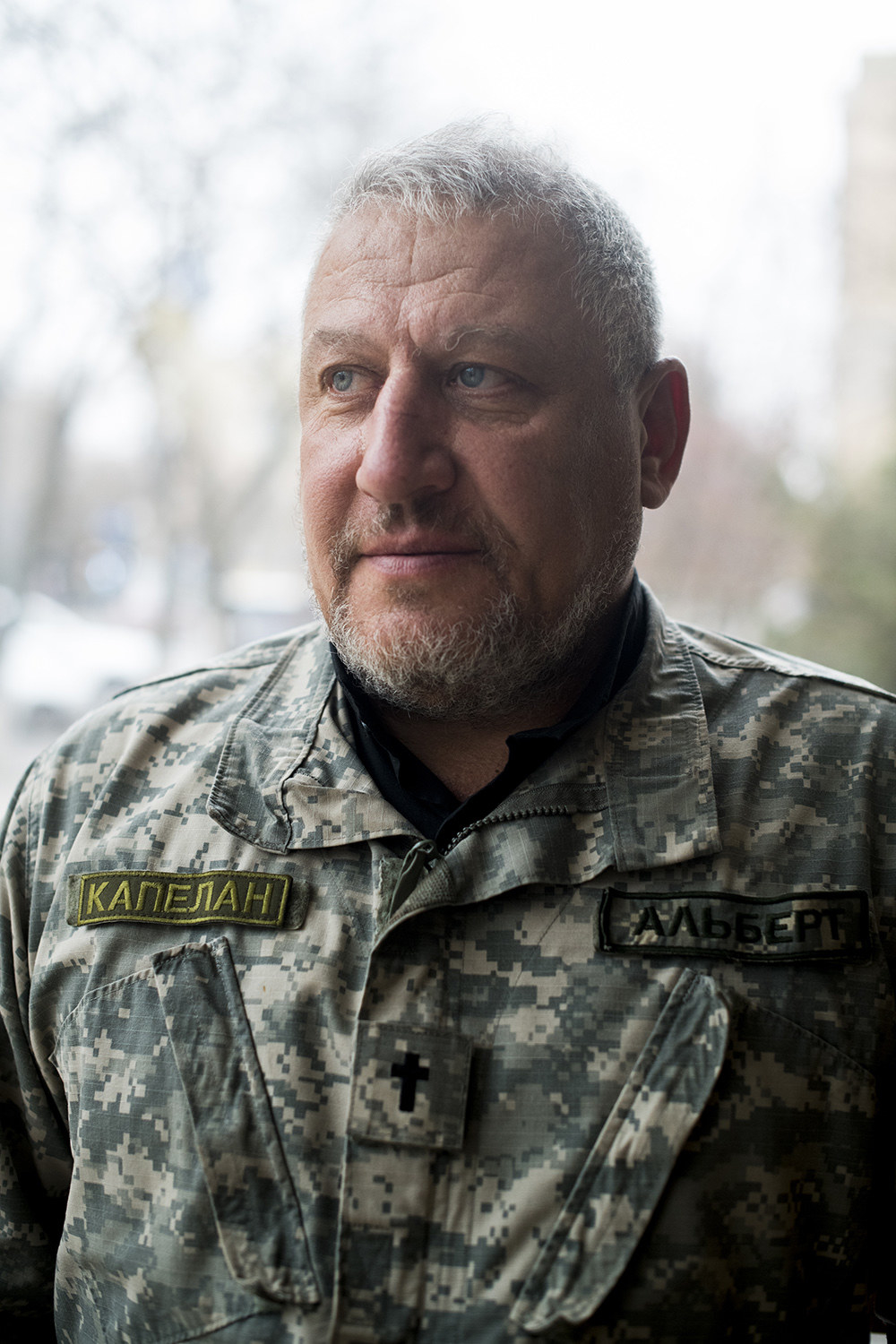 However, he concedes, if Russia wants to take all of Ukraine, there may be no place that's completely safe. And no amount of Western security assistance to Ukraine is going to be enough for it to defeat the military of the country's former ruler.
"In this situation, I'm afraid there is nobody who can help us," Khomyak said. "It may be up to God only."
There have been several incidents and close calls between the two countries' navies here. On Nov. 25, 2018, Russian FSB coast guards opened fire on and captured three Ukrainian navy vessels and 24 sailors as they attempted to transit from the Black Sea into the Sea of Azov through the Kerch Strait. The sailors were released only after months of tense negotiations and international pressure on Moscow.
Ukraine narrowly escaped another attack in December just as new tensions between Moscow and the West were on the rise when Russian navy boats claimed the Ukrainian command ship Donbas, a 400-foot Soviet-era vessel, was acting provocatively in the sea; Kyiv said it was carrying out a routine training exercise. In the end, a crisis that could have sparked renewed large-scale fighting in Ukraine was averted.
Since 2014, Russia has significantly increased its presence in the Sea of Azov — as well as the larger Black Sea to which it connects — and tightened its grip on the strategic body of water that washes both Russian and Ukrainian shores.
The Russian fleet here is composed of dozens of vessels, including warships much more powerful than anything Ukraine has. "They have the advantage [on the sea] — the advantage in the number of ships and in firepower," Varianitsyn said.
Ukraine never boasted a powerful navy, but it lost 70% of the fleet it had in 2014, when Russia annexed Crimea and seized Sevastopol, the Black Sea port city. I was there in March 2014, when Russian ships blocked Ukrainian vessels and delivered an ultimatum to their sailors over a loudspeaker: stand down and hand over the ship peacefully, or else prepare to be attacked.
It was a chilling message. Disoriented and without orders from Kyiv, the Ukrainian sailors conceded.
Since then, Ukraine has worked to rebuild its fledgling naval force and gotten some help from the US in the form of used Coast Guard patrol boats. "We are stronger and more prepared after eight years of war," Varianitsyn said. But his naval force is a far cry from what it used to be, let alone Russia's navy.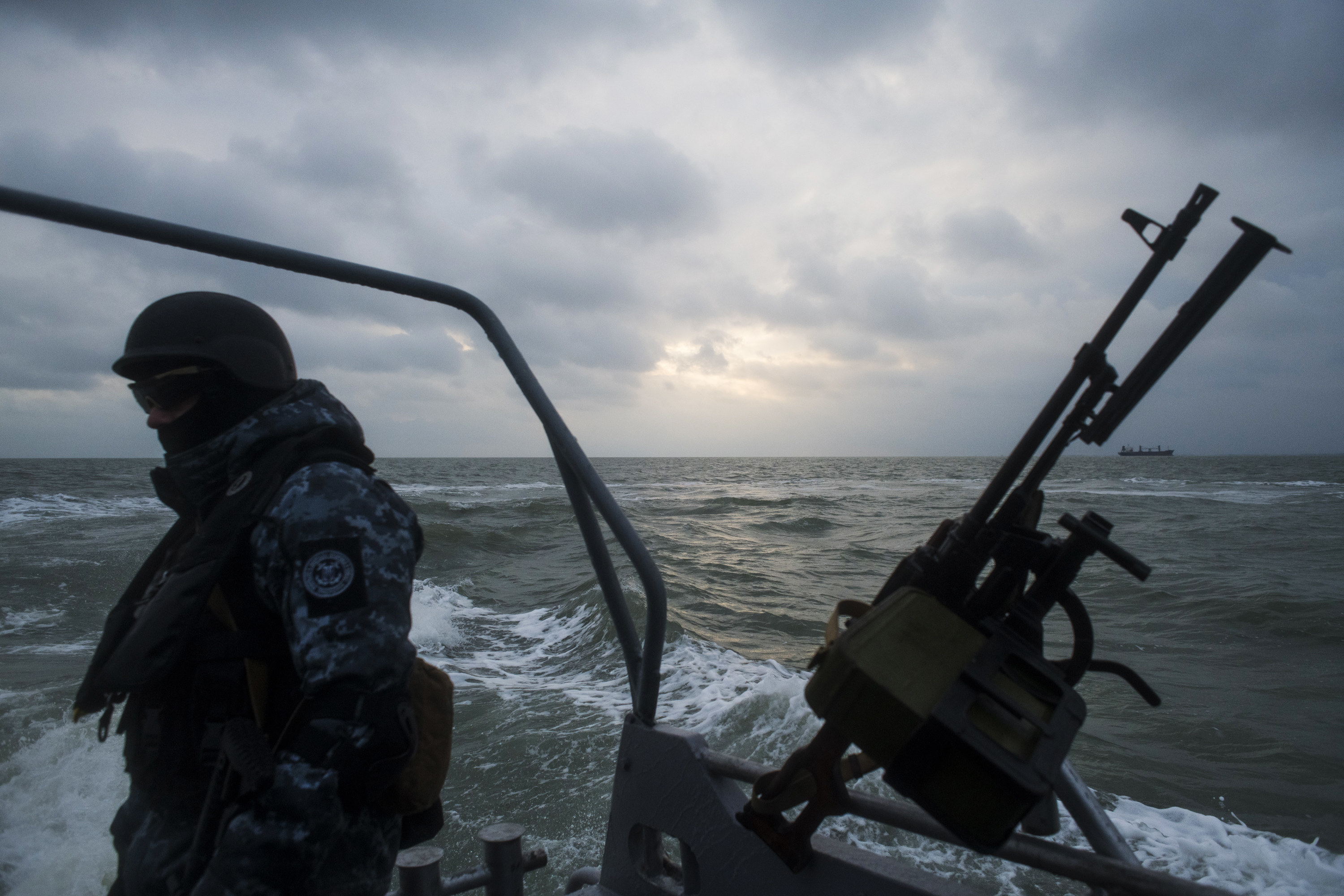 Meanwhile, Moscow is reportedly moving several large landing ships from its Baltic Fleet toward the Black Sea. That movement, along with the current Russian presence here and the buildup of ground forces around Ukraine's border — more than 106,000 troops in all, according to Lt. Gen. Oleksandr Pavliuk, head of the Joint Forces Operation in eastern Ukraine — has raised alarms among the Ukrainian Maritime Guards.
They believe that if Russia launches a new invasion of Ukraine it could be a multipronged attack.
Rob Lee, an analyst with King's College London's Department of War Studies, told BuzzFeed News that a large-scale attack via the Azov or Black seas is unlikely. But one possible scenario would be for Russian special forces, possibly under the cover of darkness, to fake an amphibious raid "to draw Ukrainian forces there," he said. "I think that that part is likely."
Forcing the Ukrainians to fight on multiple fronts and thus stretching their military thin, Lee said, would go a long way toward what he believes the Kremlin may be gearing up for, based on the type of military forces and weaponry being positioned around Ukraine: a ground invasion toward the capital, Kyiv.
Of course, it's possible, Lee conceded, that Russia tries to seize the Ukrainian shoreline here and take the strategic city of Mariupol and neighboring Berdyansk, which are home to Kyiv's only ports in the Sea of Azov. The prize would be a land bridge connecting annexed Crimea to the Russian mainland.
That scenario has long worried the half a million residents of Mariupol.
Halyna Odnorih, a Mariupol-based activist working on issues related to the Sea of Azov, fears a new Russian invasion is imminent and that Mariupol, with its large factories, warmwater ports, and a mostly Russian-speaking population that has long enjoyed close ties to its larger neighbor to the east, is a key target.
"We need serious defensive help from the United States," Odnorih told BuzzFeed News. "This is such an important and dangerous moment for us."