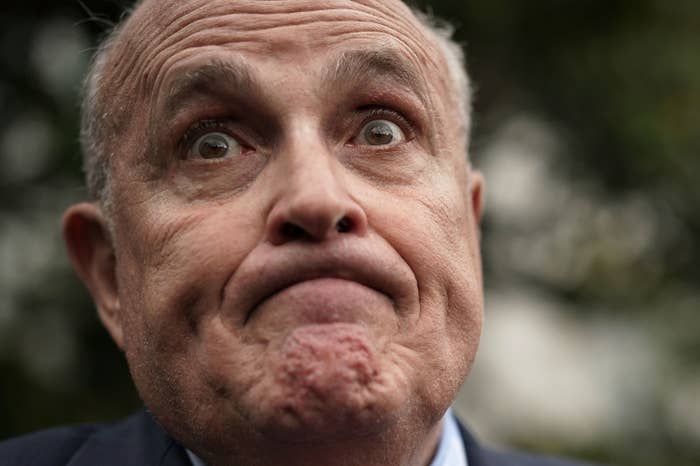 KYIV — Rudy Giuliani has made a surprise visit to Kyiv — but the city isn't buzzing with his arrival. It's groaning.

Giuliani arriving with his shady band of conspiracy theorists — just as Democrats move to officially file impeachment charges against President Donald Trump — is the last thing Ukrainians who have tried desperately to stay out of the drama unfolding in Washington wanted. Kyiv is trying to focus on upcoming peace talks with Russia to end the war simmering in its east, but Giuliani's visit meant the headlines were all about impeachment once more.
Officials from the office of President Volodymyr Zelensky to the US embassy to everyone in between know that the arrival of the bombastic mayor is nothing but trouble.
"Holy shit. I don't believe in such coincidences," Ukrainian anti-corruption activist Daria Kaleniuk wrote of Giuliani's arrival on Facebook, noting that it comes just days ahead of long-anticipated peace talks between Zelensky and Russian President Vladimir Putin in Paris on Monday.
Giuliani, who is being investigated by federal prosecutors looking into whether he violated federal lobbying laws, is on a mission to "destroy" the Democrats' impeachment narrative via a documentary series on the vehemently pro-Trump One America News Network (OAN). But judging by the questionable cast of Ukrainian characters he's meeting, whatever information he manages to dig up is likely to be extremely dubious. "I'm just a country lawyer trying to show his client is being framed. I will do it," Giuliani told Fox News. He didn't answer calls or text messages seeking comment on Thursday.
Giuliani's meddling in Kyiv is what helped lead to the impeachment inquiry in the first place — a host of witnesses have told investigators how they feared his "irregular channel" of diplomacy, focused on digging up dirt on the President Trump's political rivals, could do lasting damage to the US–Ukraine relationship.
An official in Zelensky's office said the president was caught off guard by Giuliani's arrival, learning about it from the media. The official emphasized that there are "no official meetings" planned with him. Zelensky refused to meet with Giuliani in May, causing him to back out of his last planned trip to Kyiv. This is Giuliani's first trip since his backchannel Ukraine campaign put the country on the map for many Americans.
Equally shocked by his arrival was the US Embassy, according to a US diplomat who said there would very likely not be a meeting between Giuliani and Bill Taylor, the current top US diplomat in Kyiv who replaced the former ambassador Marie Yovanovitch and has provided key testimony in the impeachment inquiry, or anyone else at the embassy, for that matter. Giuliani arrived in Kyiv at the same time that Philip Reeker, an acting assistant State Department secretary who testified in closed-door hearings for the impeachment inquiry. Reeker was meeting with current Ukrainian officials as part of the State Department's official channel "to discuss Ukraine's impressive progress on reforms, including of the Prosecutor General's Office," the embassy tweeted.
Giuliani's Eastern European trip is only just beginning, but in typical Giuliani style, it has already been surreal.
He began in Budapest, where he met Tuesday with Yuriy Lutsenko, a discredited former Ukrainian prosecutor general who has emerged as a key figure in the impeachment inquiry. Giuliani is filming the three-part program, Ukrainian Witnesses Destroy Schiff's Case for OAN, hosted by Chanel Rion, inside a series of "undisclosed safe houses" for no discernible reason.
Rion on Thursday tweeted a photo of herself with Giuliani and Lutsenko at one such location in the Hungarian capital.
"Concluded an extensive interview with Yuri Lutsenko in Budapest," she wrote. "Former Ukrainian Prosecutor General Lutsenko: Ambassador #Yovanovitch lied under oath to the American people in #AdamSchiff's impeachment inquiry."

Giuliani, the former New York City mayor and now a lawyer for President Trump, flew from Budapest to Kyiv on Wednesday on the low-cost airline WizzAir, according to a source familiar with his travel, arriving that afternoon at an airport in the Ukrainian capital you'd think was named for the mayor if you didn't know better. While it's official name is Igor Sikorsky Kyiv International Airport, everyone in the city calls is Zhuliany — pronounced just like the former New York mayor's name but with a zh sound at the beginning.
He is expected to meet with Viktor Shokin and Kostiantyn Kulyk, two other former Ukrainian prosecutors who were fired for poor performance and alleged corruption.
Shokin, Kulyk, and Lutsenko have helped Giuliani push a bogus conspiracy theory that Ukraine — not Russia — interfered in the 2016 election and have spread unfounded corruption accusations against former vice president Joe Biden and his son, Hunter, whose previous work on the board of Ukrainian gas company Burisma is being used by Republicans to try to undermine the candidacy of his father. Lutsenko, Shokin, and Kulyk couldn't be reached for comment.
As news of Giuliani's arrival spread in the Ukrainian capital, the hunt for him intensified. Foreign correspondents who've descended upon the city in recent weeks, as well as local reporters, exchanged frantic messages over WhatsApp and Facebook Messenger groups about where Giuliani might be hiding out. "Are you wasting your day looking for Giuliani, too?" asked one reporter.
The obvious places were searched first: We looked for him in Kyiv's glitzy hotels, including the glass-covered Hyatt that was a preferred haunt of Paul Manafort, the former Trump campaign manager convicted of financial crimes, and which overlooks the city's golden-domed St. Sophia Monastery; the plush InterContinental, which looks over the extravagant blue-and-gold St. Michael's Monastery; the marbled Opera hotel owned by Ukraine's richest man Rinat Akhmetov, where professional Ukrainian soccer players lounge in the lobby; and the 11 Mirrors hotel, a slick boutique owned by former boxing champion turned Kyiv Mayor, Vitaliy Klitschko, who is a friend and former business partner of Giuliani's.
At each location, the cologne-drenched lobbies hummed with chatter from foreign businessmen in boxy suits, but there was no sign of the mayor. And coy concierges declined to provide any guest information.
So journalists inquired and even peeked into cigar rooms (the man loves a fine stogie), only to find that some had recently closed up shop due to local health codes.
But on Thursday morning, Kyiv got its first look at Giuliani at work in the city when he met with Andriy Derkach, a shady Ukrainian lawmaker who was once a member of former president Viktor Yanukovych's pro-Russian Party of Regions. Derkach, who graduated from an academy run by the KGB, the Soviet predecessor to Russia's Federal Security Service, or FSB, posted photographs on Facebook of the two men meeting at an undisclosed location.
Derkach, who held two press conferences in recent weeks during which he waved unsubstantiated documents in front of news cameras that he claimed would prove that Burisma had paid Joe Biden himself for lobbying, said they'd discussed "the creation of the inter-parliamentary group Friends of Ukraine: STOP Corruption."

Derkach also said that he'd told Giuliani about sending letters asking for support for the group to three top Republicans: Chair of the Senate Judiciary Committee Sen. Lindsey Graham, ranking member of the House Intelligence Committee Rep. Devin Nunes, and acting White House chief of staff Mick Mulvaney.
Giuliani is traveling with Andriy Telizhenko, a former Ukrainian diplomat at the country's embassy in Washington and a close confidant of Giuliani who shares his love of cigars. Telizhenko has become Trump world's own sort of "whistleblower" amid the impeachment inquiry after pushing a theory that the Ukrainian embassy in Washington worked with a DNC contractor to dig up dirt on Manafort in order to undermine Trump's campaign in 2016.
When asked how long Giuliani would be in Kyiv, Telizhenko said, "not long." He declined to say where Giuliani was staying and didn't want to disclose their plans. Instead, Telizhenko wanted to talk about how "Soros people"— a common refrain from conspiracy theorists — at the US Embassy in Kyiv are trying to "block" his return to Washington, apparently by refusing to process his visa paperwork. His stated reason? "Just because I'm working with Giuliani, just because I'm saying the truth, or just because I may be a possible candidate for the ambassadorship to Washington."
Rumors — but not serious ones — of Telizhenko's possible appointment to the post of Ukraine's ambassador to Washington have circulated for the past couple of weeks. Nobody seems to know where they began, but Telizhenko himself has done a lot to help spread them. He claims he heard the rumors from someone close to the Zelensky administration. Zelensky's people, however, say they have nothing to do with them.
"Aaaaaaaaaaaaaaaaaaaaaaaaaaaaaaaa," a Zelensky spokesperson responded via WhatsApp to a request for comment on Telizhenko's suggestion. "As representatives of the Office of the President have already publicly stated, Volodymyr Yelchenko, Permanent Representative of Ukraine to the United Nations, is the only candidate for the position of the Ambassador of Ukraine to the United States."