KYIV — Bartosz Cichocki sat in a second-floor room lined with large windows, wearing a soccer jersey and sipping a glass of single malt scotch, full of bravado, and shrugging off the missile explosions that reverberated through the Ukrainian capital.
As Poland's ambassador to Kyiv, he said he felt secure inside the hulking Soviet modernist building that houses his embassy — so much so that he hasn't slept in its bomb shelter a single night since Russia launched its full-scale invasion of Ukraine and began bombarding Kyiv with air strikes one week ago.
"Why?" Cichocki asked. "People sleep in beds."
But many terrified Ukrainians have not been sleeping in their beds since Russian President Vladimir Putin began targeting them with brutal weaponry that has torn their cities and lives apart. They have been huddled underground in basements and metro stations, fearful of the shells exploding seemingly everywhere on the surface. More than 1 million Ukrainians have fled the country, according to the United Nations. And roughly 600,000 of them have gone to Poland, Cichocki said, adding that there is no limit to the number of Ukrainian refugees his country is willing to accept.
"I don't imagine Poland would close the door," he said.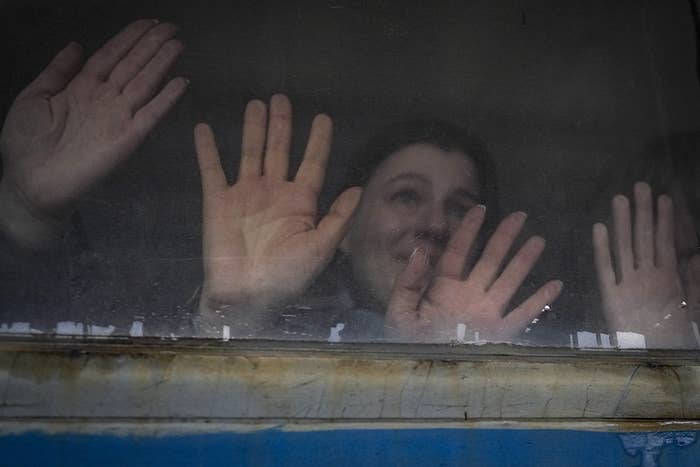 Ambassadors from Western countries, along with their diplomatic teams — led by the United States — pulled out of Ukraine weeks ago. But not Cichocki. Some of his team of more than 80 Polish diplomats have moved to the western city of Lviv, where they maintain a working consulate, or back to Warsaw. But many remain by his side in the capital.
Still, during his interview with BuzzFeed News on Thursday, there were signs that Cichocki is concerned about the Russian threat. Outside his office door sat a helmet and bulletproof vest adorned with a red-and-white Polish flag patch. And he wore what he called a "go bag" with "important documents" on his hip. His blood type was scrawled in permanent marker on his left arm.
"I don't want to end up in the wrong coffin," he quipped.
As he spoke, a volley of rockets pummeled the outskirts of Kyiv. "Let's open the window so we can listen," Cichocki said.
He pulled out his phone to check an app that is supposed to notify residents when Russian missiles are incoming.
"I like this app, but it's always two minutes late, which is a long time when Iskanders come," he said in reference to Russia's short-range hypersonic ballistic missiles that have been used against Ukraine.
Cichocki said he had not been asked, let alone ordered, by his bosses in Warsaw to leave Kyiv. "There are things you can't do from a distance," he said, adding that he was still engaging "24/7" with members of Ukraine's government and other Western diplomats.
"Leaving now is something that could decrease [Ukrainians'] spirits," he said.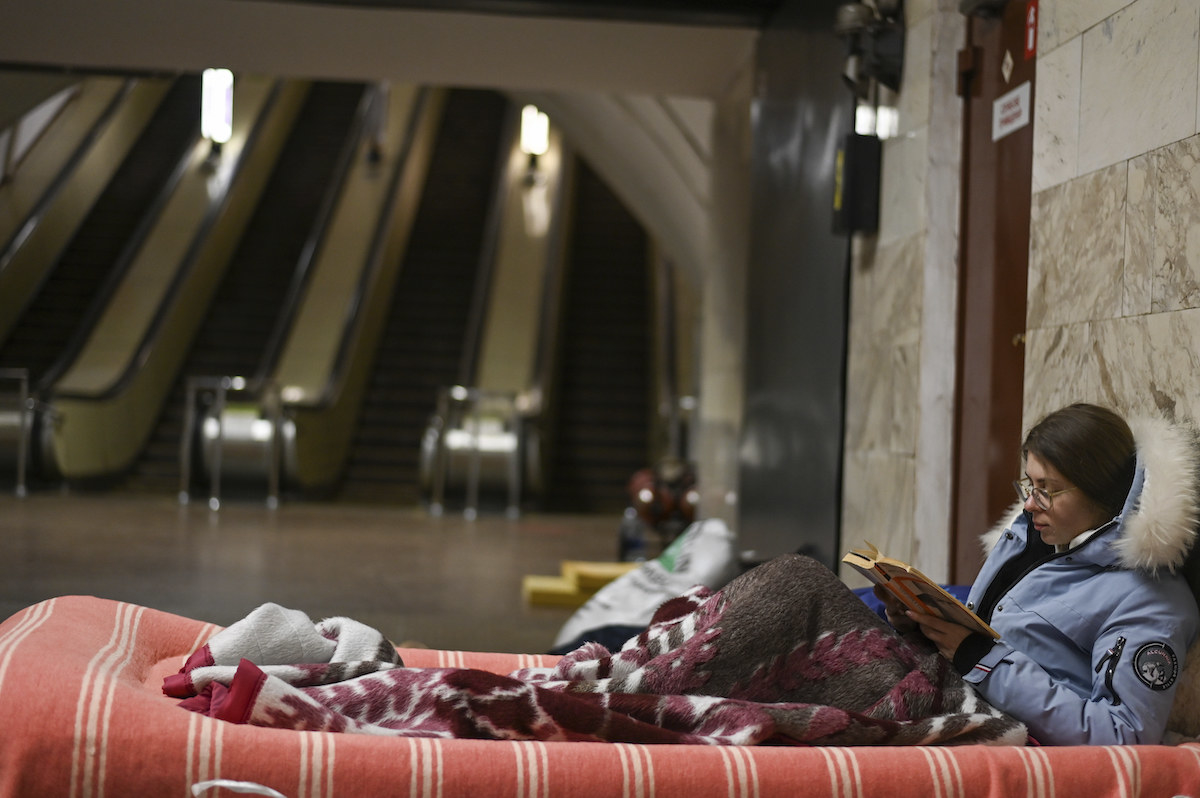 "His presence in Kyiv is very symbolic," Wojciech Kononczuk, deputy director of the Warsaw-based Centre for Eastern Studies, told BuzzFeed News.
"Poland was the first country in the world that recognized Ukrainian independence, on Dec. 2, 1991," Kononczuk said. "He shows that Poland will be with Ukraine whatever will happen there."
The Ukrainian–Polish relationship hasn't been without rough patches in recent years, and there are unsettled historical disputes between them, including the massacre of Poles in Volhynia and Eastern Galicia at the hands of the Ukrainian Insurgent Army in 1943 and 1944.
But Cichocki, who is aligned with Poland's right-wing nationalist Law and Justice party, said now is not the time to argue about history.
He said Ukrainian President Volodymyr Zelensky and Polish President Andrzej Duda have set aside grievances for the time being.
"I think they call each other almost every night," Cichocki said of the relationship.
He remarked how the Ukrainians have fought bravely, and that they have so far been relatively successful in their fight against Russia, spoiling Putin's plans for a speedy assault on Kyiv and overthrow of the government.
"[Kyiv] is so heavily defended. There are people on the street I wouldn't like to meet if I was Russian," Cichocki said.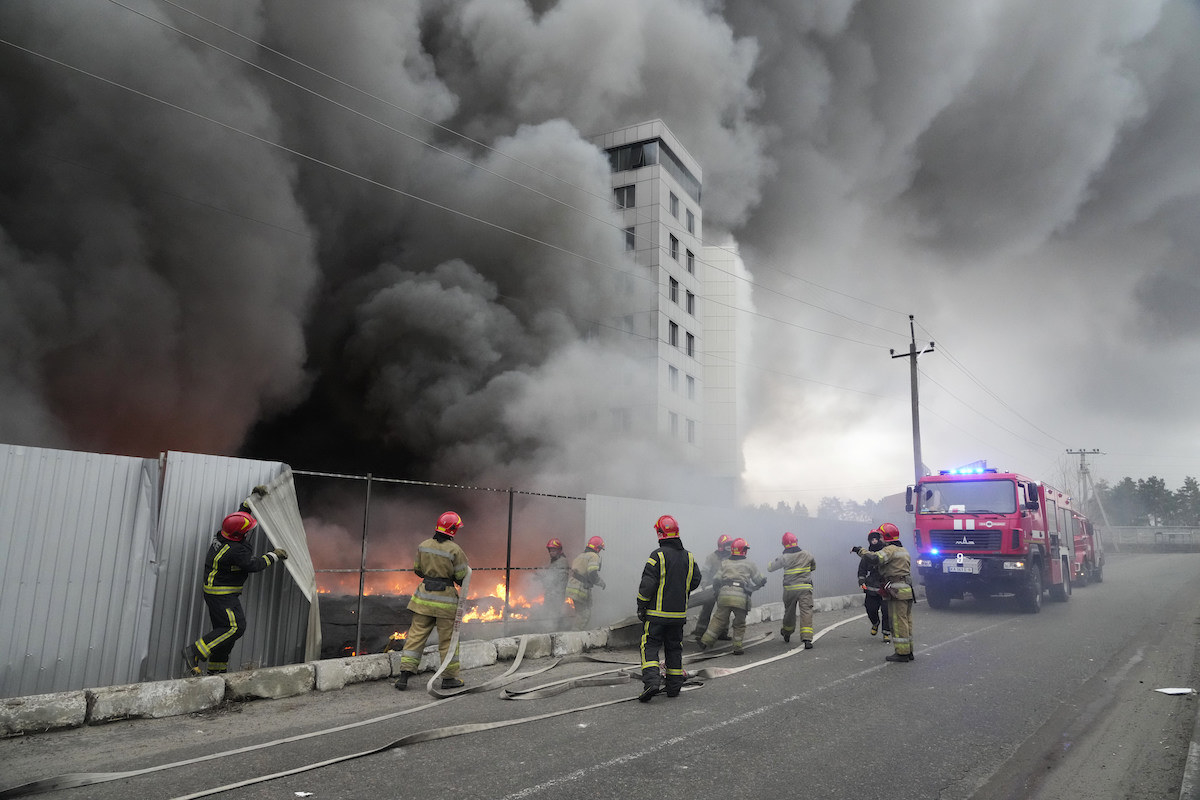 "They may shell, they may bomb," he said of the Russians. But he doesn't believe Kyiv will fall. "This will not happen. Kyiv is un-occupiable."
Cichocki said Poland is supplying "everything Ukrainians ask [for] or forget to ask [for]" in support of their fight against the Russian army.
Poland has supplied Ukraine with lethal weapons and other military assistance, including training, since Russia first invaded Ukraine in 2014. It announced its latest round of aid for Ukraine in early February, saying it would supply different kinds of ammunition and artillery shells, man-portable short-range air defense systems, light mortars, and reconnaissance drones.
"Our deep understanding is that [Ukraine is] crucial also for the security of Poland," Kononczuk said. "We are in the same boat as the Ukrainians. But they are sitting in the front and we are sitting in the back."
Cichocki, who served as a diplomat in Moscow from 2015 to 2016, said he liked it there very much. "It's a special city. We enjoyed it privately. My kids like the ice skating rinks," he said.
But he doesn't want to see Russia's army rolling through his new home in Kyiv. The fall of Ukraine would be bad news for Poland, he said.
"If Russia succeeds here, we are next."