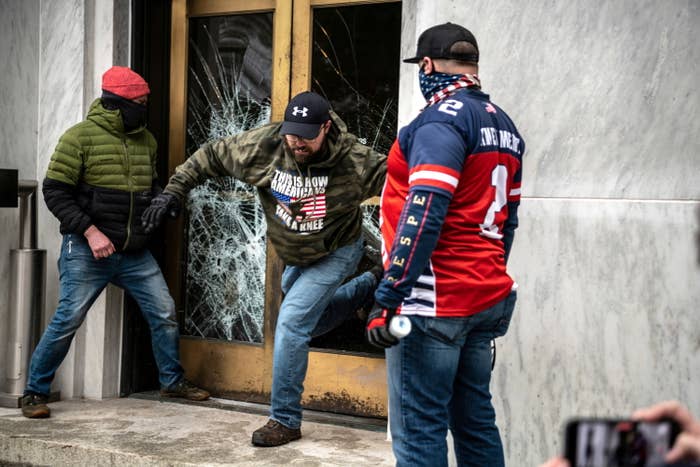 Oregon's House of Representatives expelled a Republican lawmaker for his role in helping a group of armed extremists plan and carry out an incursion in the state Capitol building in December.
Rep. Mike Nearman was kicked out late Thursday night in a bipartisan 59–1 vote, according to OPB. His was the only dissenting vote. Nearman's removal marked the first in the state legislature's history.
Neither Nearman nor his attorney could be reached for comment Friday.
Lawmakers removed Nearman for his role in plotting and helping far-right demonstrators, some of whom were armed and were members of extremist groups, into the Capitol on Dec. 21, while the state's legislature was in a special session. The Oregon Capitol was and remains closed to the public due to the pandemic.
"The facts are clear that Mr. Nearman unapologetically coordinated and planned a breach of the Oregon State Capitol," Willamette Week quoted House Speaker Tina Kotek as saying Thursday. "His actions were blatant and deliberate, and he has shown no remorse for jeopardizing the safety of every person in the Capitol that day. Given the extraordinary circumstances, this was the only reasonable path forward."
Nearman also faces two misdemeanor charges for letting the far-right group into the Capitol. The next hearing is scheduled for June 21.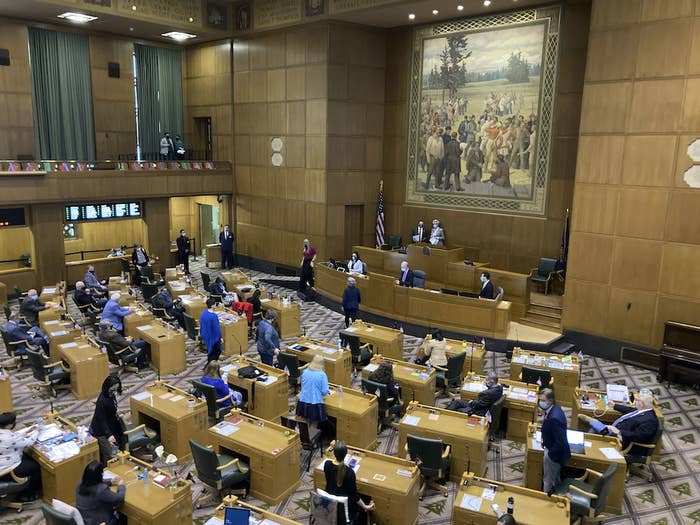 Nearman, a four-term Republican representing a conservative district near the state's capital, Salem, was caught on security camera video apparently opening a door to the building, leaving during the special session, and allowing demonstrators to slip inside. The group clashed with police, spraying bear spray at officers who attempted to push them outside.

Following the incident, Democrats and Republicans called for Nearman's resignation.
The scandal came to a head last week, when a video shot days before the incursion surfaced. The video appeared to show Nearman explaining to a group of people how they should wait near an entrance to the Capitol and text his cell phone in order to be let inside. "Somebody might exit that door while you're standing there," Nearman is heard saying in the video. He dubbed the plot "Operation Hall Pass."
In a Monday interview, ahead of the vote, Nearman reportedly told a conservative radio host the group with whom he plotted to storm the Capitol were "mostly blue-haired old ladies."
But video footage and reporting from local news outlets show the crowd demonstrating in opposition to statewide COVID-19 mandates that day included members of the far-right street-brawler group Patriot Prayer, as well as members of the Three Percenters militant group. Some involved donned military gear and clothing adorned with the Confederate flag and were armed with rifles.
On Tuesday, Rep. Anna Williams, a Democrat from Hood River, recalled what it was like that day.

"On December 21st, a man with a bullhorn was standing below my office window shouting, 'We're coming for you!' as a group of people carrying semi-automatic weapons was looking into my and my colleagues' office windows," Williams tweeted. "Rep. Mike Nearman invited them into the Capitol."
On Thursday evening, a crowd of roughly 40 Nearman supporters gathered near the Oregon Capitol once again and watched a live broadcast of the vote to expel him on a flatscreen television, Willamette Week reported.
As the votes to boot out Nearman came flooding in, the group reportedly chanted, "Traitors! Traitors! Traitors!"