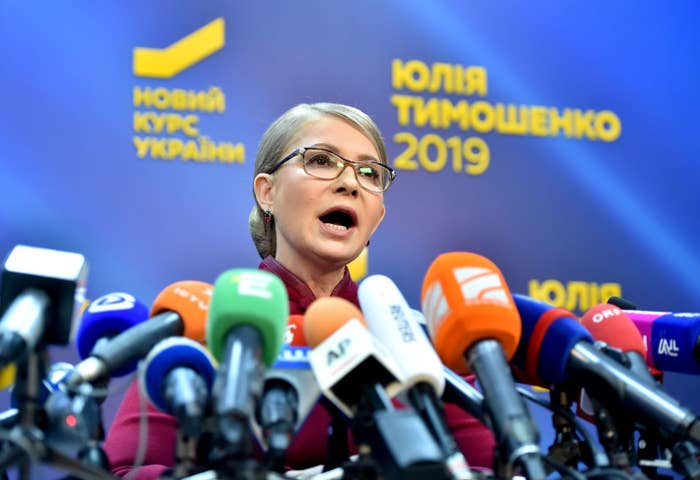 KYIV — Over the course of a tumultuous political career that has spanned decades, former prime minister Yulia Tymoshenko has found herself on the front lines of a revolution, leading presidential races, losing presidential races, sitting behind bars, and — as any politician who's been in the game as long as she has in Ukraine — at the center of scandal after scandal after scandal.
Now she may have played a role in yet another. But this time there's a Trumpian twist.
Like several of her compatriots, Tymoshenko, who served as prime minister of Ukraine from January to September 2005 and again from December 2007 to March 2010, met Rudy Giuliani, a lawyer working for President Donald Trump, just as the former New York mayor's back-channel diplomatic campaign in Kyiv was heating up.
And that December 2018 meeting — brokered by the Washington, DC–based Livingston Group, a lobbying firm whose founding partner was named last week as part of testimony given to the Democrat-led impeachment inquiry — may prove to be a key episode for investigators looking into Giuliani's campaign, following new claims from Ukraine's former top prosecutor and a one-time political ally of Tymoshenko's.
The meeting in Washington on Dec. 7 between Giuliani and Tymoshenko, who was leading the Ukrainian presidential race at the time, was set up by Livingston Group, the firm founded by former Republican representative Bob Livingston, who State Department official Catherine Croft testified last week had called her multiple times in 2018 to urge the dismissal of the then–United States ambassador to Ukraine, Marie Yovanovitch.
Officially, the meeting concerned "the escalation of Russia's war against Ukraine and the US's assistance to our country, including weapons to counter Russian aggression," Tymoshenko's Fatherland party said in a published statement at the time.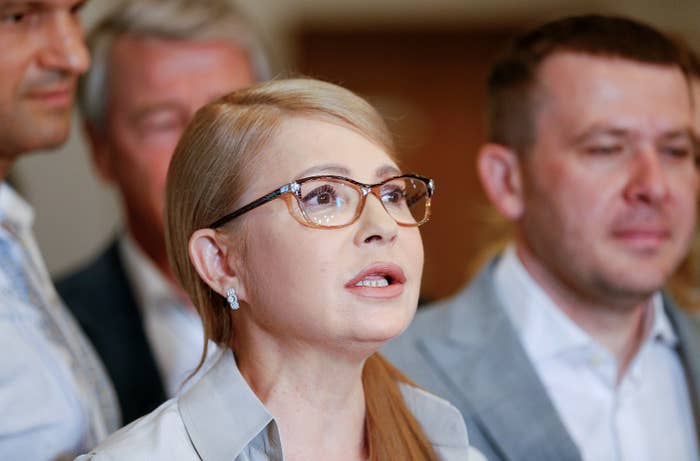 But former Ukrainian prosecutor general Yuriy Lutsenko, who US prosecutors allege directed a plot to oust Yovanovitch, said in an interview with BuzzFeed News, the Organized Crime and Corruption Reporting Project, and NBC News that the meeting ended up producing another result. Lutsenko said the meeting between Giuliani and Tymoshenko ended with the former mayor extending an invitation to meet and discuss former vice president Joe Biden's son Hunter and his work for the Ukrainian gas company Burisma Holdings.
Lutsenko has made and retracted several claims since 2017 that were allegedly meant to curry favor with the Trump administration. But, if substantiated, this latest assertion would add yet another person to the list of Ukrainian officials who played a role in helping Giuliani's off-the-books investigation. That campaign saw him meet with current and former Ukrainian prosecutors who furnished him with unverified allegations involving the Bidens, Yovanovitch, and allegations of "Ukrainian interference" in the 2016 US election. Lutsenko's new claim also deepens questions about the lobbyist Livingston's involvement in the scandal.
On Friday, a source with knowledge of the matter confirmed that federal prosecutors in New York who are investigating the actions of Giuliani's associates are also looking into whether Livingston was in touch with Giuliani himself about ousting Yovanovitch. The source said Livingston is not a target of the investigation.
Livingston said he didn't know about the meeting with Tymoshenko until it was over. Asked what the meeting was about, he said, "I wasn't there. I hear [Giuliani] hustled for business, but that was thirdhand."
A spokesperson for Tymoshenko denied that she had discussed anything related to the Bidens with Giuliani in the meeting, or that he had asked her to put him in touch with Lutsenko.
Asked by a reporter at Ukraine's Parliament if she had connected Giuliani and Lutsenko, Tymoshenko said: "That is categorically not true."
Giuliani didn't respond to requests to comment on his meeting with Tymoshenko.
Tymoshenko's roller coaster of a political career has earned her many friends, enemies, and frenemies. Among the latter group is Lutsenko, who served as her interior minister from February 2005 until the prime minister left the post that September. He continued to serve in that role until December 2006.
Famous for her peasant-style blonde braid crown, Tymoshenko, 58, is a populist whose base is largely composed of older, more conservative provincial Ukrainians who like her political promises to cut utility prices and raise pensions. She earlier made a fortune as an executive in an energy company — a role that earned her the nickname "gas queen" — before jumping into politics.
A central leader of Ukraine's Orange Revolution, which began in 2004, Tymoshenko has failed to win the presidency in three national elections. Her first loss came in 2004. The second was a close presidential race in 2010 to pro-Russian politician Viktor Yanukovych. While Tymoshenko led early in the 2019 presidential polls, she ultimately finished third in the first round of elections in March. Television comedian Volodymyr Zelensky then beat the incumbent, Petro Poroshenko, in an April runoff and was inaugurated in May.
In 2011, under Yanukovych, Tymoshenko was convicted of abuse of office for brokering a deal between the state energy company, Naftogaz, and Russia in 2009. The charges were widely seen in the West as politically motivated, and she had her conviction overturned after 2014 protests ousted Yanukovych.
Tymoshenko served part of that sentence at the same time that her former ally and one-time interior minister, Lutsenko, served his. Lutsenko was sentenced in February 2012 to four years' imprisonment for embezzlement and abuse of office — charges that were also widely viewed as politically motivated. Lutsenko was released in April 2013 after Yanukovych pardoned him for health reasons.
Lutsenko and Tymoshenko have a volatile history. The relationship began to fray after the former allied himself with Poroshenko, who rose to become president in 2014. Poroshenko, an opponent of Tymoshenko's, later appointed Lutsenko as his prosecutor general. Lutsenko used the power he wielded from the position to go after Tymoshenko and her Fatherland party.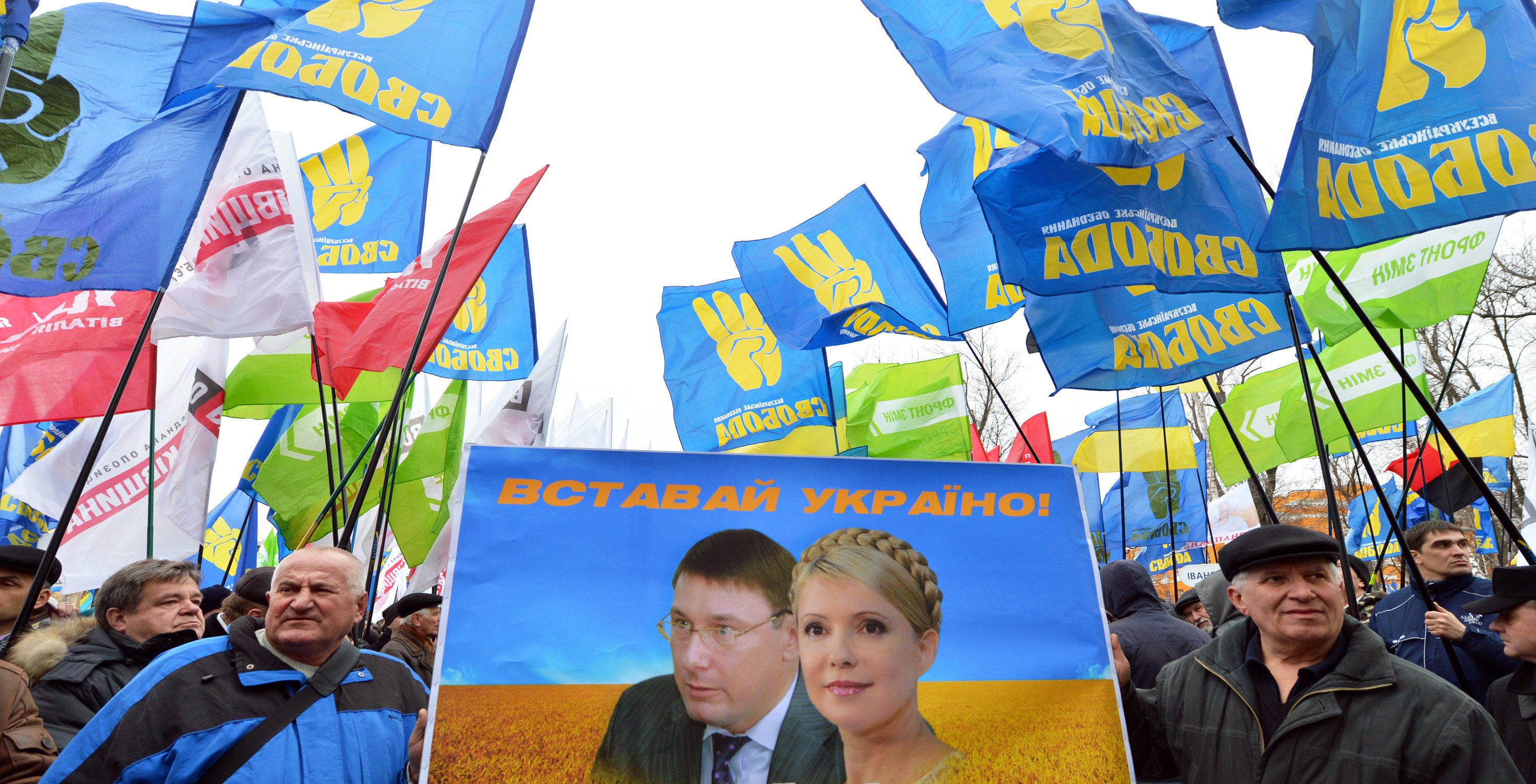 Both Tymoshenko and Lutsenko have histories of making misleading statements to the press. A 2017 study of top Ukrainian "liars and manipulators" conducted by VoxUkraine, a reputable Kyiv-based think tank, placed Tymoshenko atop its list. Tymoshenko also topped VoxUkraine's "liars and manipulators" study in 2018.
Separating fact from fiction in the case of the December Tymoshenko–Giuliani meeting may be challenging, but the incident will likely be of interest to congressional investigators looking into impeachment, as well as prosecutors looking into Giuliani's foreign lobbying work.
In the interview with Lutsenko, conducted before news of Livingston's alleged involvement in pushing for Yovanovitch's dismissal broke, the former Ukrainian prosecutor said that Tymoshenko had told him Giuliani asked her about Burisma during the December meeting, and that she had recommended that the former New York mayor meet Lutsenko.
Lutsenko said he turned down Tymoshenko's offers to broker a meeting, and instead met Giuliani in New York on Jan. 25 and 26 after it was arranged separately by one of his subordinates, prosecutor Gyunduz Mamedov.
Also present at that meeting were Giuliani's indicted associates, Lev Parnas and Igor Fruman, according to meeting minutes handed to House committees by the US State Department's inspector general. The minutes show that, during the meeting, Lutsenko furnished Giuliani with a range of unsupported allegations of wrongdoing by the Bidens and Yovanovitch, as well as alleged interference by Ukrainians against Trump in the 2016 election.
"When we met with him [Giuliani in January], I asked him: 'Why did you invite me through Yulia?'" Lutsenko said in the interview. "He [Giuliani] said: 'Because I asked her about Burisma, and she said she knows the prosecutor general.'"
The December meeting between Tymoshenko and Giuliani was part of a $50,000-a-month lobbying campaign carried out on the former Ukrainian prime minister's behalf by the Livingston Group, according to filings with the Justice Department. The lobbying is one of a series of contracts — run via apparent shell companies and financed from unknown sources — in Washington in recent years that have advanced Tymoshenko's interests.
Livingston, a one-time speaker of the House–in-waiting, had been pushing for the ouster of Yovanovitch since the summer before Tymoshenko met with Giuliani, according to testimony by Croft, the foreign service officer and a former member of the National Security Council, who began serving in May as deputy to Kurt Volker, the former US special envoy to Ukraine.
Croft told the House committees conducting the investigation that she received phone calls from Livingston in the summer of 2018 pressing for the dismissal of Yovanovitch. "It was not clear to me at the time — or now — at whose direction or at whose expense Mr Livingston was seeking the removal of Ambassador Yovanovitch," she said in her opening statement to Congress.
Livingston declined to comment about Croft.
Yovanovitch was recalled in May after a chorus of criticism from conservative figures that echoed grievances put forward by Ukrainian officials who had run afoul of the embassy's anti-corruption agenda.
An investigation by BuzzFeed News and OCCRP in July found that Parnas and Fruman lobbied at least one member of Congress, former representative Pete Sessions, in May last year to dismiss Yovanovitch. Sessions, who later received campaign donations from both men, wrote a private letter to Secretary of State Mike Pompeo that month urging the ambassador's ouster. Sessions has now returned the money.
Filings with the Justice Department show that starting in April 2018, the Livingston Group began working for two entities with links to Ukraine, but not directly for Tymoshenko. One client, a Ukrainian metals industry association called Ukrmetalurgrom, paid the firm $20,000 a month between April and July.
Livingston called and emailed Croft as part of the Ukrmetalurgrom contract on May 17, 2018, to discuss US steel tariffs and the forthcoming visit by a Ukrainian economic official, Justice Department filings show.
Oleksandr Kalenkov, president of Ukrmetalurgrom, said the Livingston Group was hired purely to lobby on steel tariffs and the work had nothing to do with Tymoshenko.
"I have not personally contacted Ambassador Yovanovitch on this issue, and there were no conversations, no contacts regarding Yovanovitch through me, between Livingston and I. Absolutely not," Kalenkov said.
The December meeting with Giuliani was organized as part of Livingston Group's lobbying for ITBC LLC, a Maryland-registered company set up just six weeks earlier and whose registered agent is a Ukrainian American. Filings show that, while officially working for the Maryland company, the Livingston Group represented interests related to Tymoshenko in the US until July this year.
Regarding his company's contracts with ITBC LLC and Ukrmetalurgrom, Livingston said, "There's no relation between the two."
The Livingston Group's contract with ITBC LCC is to represent "a group of persons supporting reform in Ukraine," the lobbyist reported to the US Justice Department's division that oversees foreign lobbying. "They believe Mrs. Tymoshenko is best suited to lead Ukraine in its ongoing battle with Russian military and economic aggression."
Its contract for Tymoshenko lasted almost a year and was worth $180,000.
Contacted by phone, Sergei Krasnitski, the Ukrainian American registered agent of ITBC LLC, declined to say who owned the company.
"I wasn't aware that there was a meeting [between Giuliani and Tymoshenko]," he said. "If the Livingston Group filed that there was a meeting, then it must be true."
The meeting with Giuliani was just one event organized under the ITBC LLC contract by the Livingston Group for Tymoshenko's visit to the US, according to lobbying filings. She also met with Volker, George Kent, the deputy assistant secretary for European and Eurasian affairs, and Rep. Adam Schiff of California, the Democratic chair of one of the committees conducting the impeachment inquiry.
On Dec. 5, Tymoshenko was scheduled to meet Giuliani and Ed Meese, who served as attorney general in the Reagan administration. But the scheduled meeting didn't happen, according to Bob McEwen, a lobbyist contracted by the Livingston Group who set up the meeting, because Tymoshenko didn't show up.
He said the meeting was rescheduled and Tymoshenko met with Giuliani later in her visit, and that Meese was not present for that session. Her Fatherland party dated the makeup session with Giuliani two days later, on Dec. 7.
Also present at the meeting were two other high-ranking Fatherland party politicians, deputy chair Hryhoriy Nemyria and Serhiy Vlasenko, a Parliament committee chair. Calls to both of them were referred to the party spokesperson, who declined to comment.
The work done by Livingston is just one of several US lobbying contracts in recent years linked to Tymoshenko that have been carried out with the involvement of mysterious companies, some based offshore.
ITBC LLC, the company behind one of the Livingston contracts, in August last year also hired Naomi Decter Munson, a Washington, DC–based media consultant for $15,000 a month.
Contacted by reporters, Munson said she only worked for "a few weeks for some businessmen who were supporting Yulia Tymoshenko" but she fired them after they rejected her ideas for how to get media coverage.
Until early this year, Tymoshenko was also being indirectly represented by another lobbyist, the law firm Wiley Rein. Wiley Rein stated in Justice Department filings that it worked for Tymoshenko's husband, Oleksandr, as well as a British company called Aveiro LP, which was in turn owned by two companies in Belize, a small Central American country known as a haven for corporate secrecy.
Justice Department filings show that Wiley Rein also organized meetings for Tymoshenko during her December visit to the US with members of Congress, diplomats, and journalists. The lobbying firm disclosed in March this year that Tymoshenko was the beneficiary of this work.
The filings also show the company received close to $130,000 last year from a half dozen companies based in locations including Florida, the United Kingdom, and Belize for legal and consulting fees related to the contract.
Wiley Rein did not respond to requests for comment.