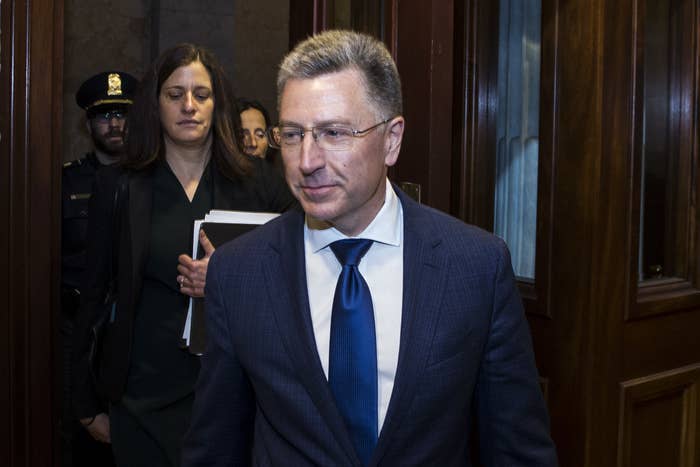 Former special envoy to Ukraine Kurt Volker testified before members of Congress on Thursday. While the meeting was private and a full transcript has not been released, his prepared remarks were obtained by BuzzFeed News.
House Democrats on Thursday night also released text messages that Volker gave to Congress during his testimony that revealed he and other US and Ukrainian officials discussed the quid pro quo at the heart of the impeachment inquiry into President Donald Trump.
In his prepared testimony Thursday, Volker said he wanted to make five key points clear:
His "efforts were entirely focused on advancing U.S. foreign policy goals with respect to Ukraine."

"Second, in May of this year, I became concerned that a negative narrative about Ukraine, fueled by assertions made by Ukraine's departing Prosecutor General, was reaching the President of the United States, and impeding our ability to support the new Ukrainian government as robustly as I believed we should."

"Third, at no time was I aware of or took part in an effort to urge Ukraine to investigate former Vice President Biden." Volker said that in the text messages he shared with Congress, "Vice President Biden was never a topic of discussion." However, the texts do explicitly mention Burisma, the Ukraine gas company for which the presidential candidate's son Hunter Biden served on the board.

"Fourth, while executing my duties, I kept my colleagues at the State Department and National Security Council informed, and also briefed Congress, about my actions."

"Fifth and finally, I strongly supported the provision of U.S. security assistance, including lethal defensive weapons, to Ukraine throughout my tenure."
Biden and Burisma
Despite his assertion in the testimony that he was unaware of a push to get Ukraine to investigate Biden, Volker did discuss Burisma with Andriy Yermak, an adviser to Ukrainian President Volodymyr Zelensky, according to the text messages released by House Democrats on Thursday night.
Yermak texted Volker on Aug. 10 asking to confirm a date for Zelensky to travel to the US for a White House visit. "Once we have a date, will call for a press briefing, announcing upcoming visit and outlining vision for the reboot of US-Ukraine relationship, including among other things Burisma and election meddling in investigations," Yermak wrote.
"Sounds great!" Volker responded, according to the text messages.
While Volker said Biden did not come up explicitly in his conversations, he made a point of defending the former vice president in his remarks. "I have known former Vice President Biden for 24 years, and the suggestion that he would be influenced in his duties as Vice President by money for his son simply has no credibility to me," he wrote. "I know him as a man of integrity and dedication to our country."

A major concern in the text messages released by Congress on Thursday night was a US demand for a statement from Zelensky that would explicitly reference both the 2016 election and Burisma. Volker and Gordon Sondland, the US ambassador to the European Union, discussed that subject in the August text messages; Sondland had asked whether that was still the US's request, and Volker confirmed.
In his statement to Congress on Thursday, Volker said he had consulted with Rudy Giuliani, a lawyer who works for Trump, about drafting the anti-corruption statement from Zelensky. Volker said that Giuliani wanted the statement to reference "2016" and Burisma.

But Volker said that after a conversation with Yermak — during which the Ukrainian aide was reluctant to include those specific points in a more generic draft he'd prepared for his boss — Volker agreed that the statement should be put aside to avoid being seen as interference in the 2020 election.
Volker also said he was unaware that Biden came up during Trump's July 25 call with Zelensky and did not learn that until the White House released a record of the call on Sept. 25. Volker was not on the call and learned about it through readouts, which he said also did not include any "mention of security assistance" to Ukraine.
Ukrainian Aid Money
Volker also testified that while he was aware that the Trump administration had put a hold on needed military aid to Ukraine at the same time that he was connecting Giuliani with Zelensky's government, "I did not perceive these issues to be linked in any way."
Volker said that "no reason was given" for the holdup, but it concerned him; he "stressed" to staff at the State Department, the Pentagon, and the National Security Council that the aid was vital to Ukraine's security, "deterrence of Russian aggression," and Ukraine's relationship with the US.
"That said, I was not overly concerned about the development because I believed the decision would ultimately be reversed," Volker told Congress, citing the "unanimous position" of Congress, the State Department, the Pentagon, and the NSC in favor of restoring the aid. "I knew it would just be a matter of time."
Giuliani's Role
On his contacts with Rudy Giuliani, Volker said he became aware early this year about "an emerging, negative narrative about Ukraine in the United States, fueled by accusations made by the then–prosecutor general of Ukraine, Yuriy Lutsenko, that some Ukrainian citizens may have sought to influence" the 2016 presidential election in the US, "including by passing information that was detrimental to" Trump, which they hoped would reach Hillary Clinton's campaign.
"I believed that these accusations by Mr. Lutsenko were themselves self-serving, intended to make himself appear valuable to the United States, so that the United States might weigh in against his being removed from office by the new government," Volker said.
Volker's testimony offers new perspective on just how central Giuliani, who does not hold any official role with the US government, was in serving as an intermediary between Trump and Ukrainian officials. An aide to Zelensky asked Volker to connect him with Giuliani, Volker testified — a sign that the Ukrainians saw it was an important relationship, notwithstanding Giuliani's lack of any formal role as a diplomat.
Volker said he was willing to make the introduction "solely" because he believed that the new regime in Ukraine wanted to make clear to Giuliani and individuals in the US pushing anti-Ukraine sentiments that Zelensky's administration was "worthy of U.S. support."
"I also made clear to the Ukrainians, on a number of occasions, that Mayor Giuliani is a private citizen and the President's personal lawyer, and that he does not represent the United States government," Volker said in his remarks.
In an interview with BuzzFeed News earlier this week, Giuliani declined to specify exactly what agreement he has with Trump to serve as his lawyer or otherwise do work on the president's behalf overseas. He previously told the Atlantic, "I'm not acting as a lawyer."

Volker told Congress that he learned in May this year that Giuliani planned to travel to Ukraine to look into the unsubstantiated allegations that Biden had used his position as vice president to benefit his son Hunter Biden. Volker said he contacted Giuliani to say that Lutsenko was not credible — Volker said they had a brief phone call, but didn't say how Giuliani responded. Giuliani later canceled his trip. Volker noted that Giuliani claimed at the time that Zelensky was surrounded "by enemies of the United States," a sentiment that Volker said he "fundamentally disagreed" with.
Giuliani came up repeatedly in Volker's conversations with Zelensky and the Ukrainian president's administration. Volker said he had a private conversation with Zelensky in early July, and told Zelensky that a "negative view" of Ukraine — one that Giuliani held — was "likely making its way to" Trump. A week later, Volker met with Yermak, the Zelensky aide, who asked to be connected to Giuliani.
Volker met with Giuliani in mid-July, and he also continued to serve as a go-between for Giuliani and Yermak, who finally met in early August. After that meeting, Volker and Sondland, the ambassador to the EU, spoke to Giuliani and "expressed our hope" that Giuliani would give Trump a "positive impression" of the new Ukrainian administration.
"Terrible People"
Volker also testified to Congress that he met with Trump in May and suggested that the president invite Zelensky to the White House, arguing Zelensky could help clean up corruption in Ukraine. But Volker said that Trump was "very skeptical" of Zelensky at the time.

"He said that Ukraine was a corrupt country, full of 'terrible people.' He said they 'tried to take me down.' In the course of that conversation, he referenced conversations with Mayor Giuliani," Volker said. "It was clear to me that despite the positive news and recommendations being conveyed by this official delegation about the new President, President Trump had a deeply rooted negative view on Ukraine rooted in the past. He was clearly receiving other information from other sources, including Mayor Giuliani, that was more negative, causing him to retain this negative view."
Matt Berman and Hayes Brown contributed to this story.