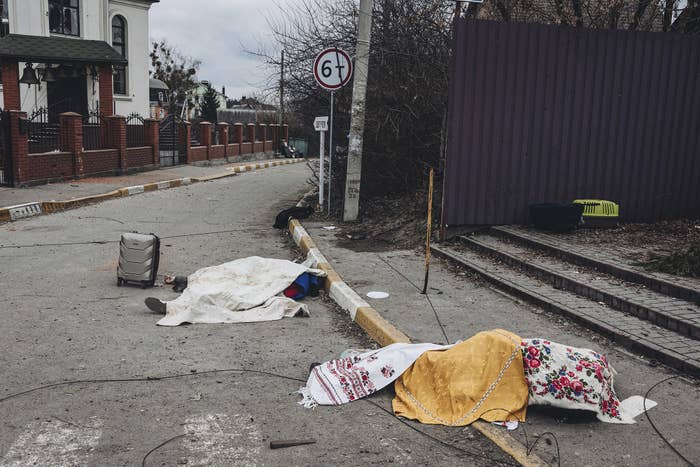 KYIV — Katerina Oleksiivna emerged Sunday from the basement of her home after 10 days underground to find everything she could see completely destroyed and dead bodies lying on the street.
The 74-year-old said she had spent the past 10 days taking cover from Russian missiles, mortars, and tank fire. For most of that time, she had no heat, no electricity, and no water. She survived mostly on canned vegetables and stale bread. She hadn't seen or read any news but could hear the explosions aboveground, and feel the force of them reverberate deep beneath the earth.
"Is the war everywhere?" asked Katerina Oleksiivna, 74, who emerged after 10 days of hiding.
Terrified and confused, she trembled and stammered as she tried to make sense of the dire situation. To see Russia's war and the death it has wrought up close, she explained as she made the sign of the cross with her hands, was devastating.
"Is the war everywhere?" she asked a BuzzFeed News reporter through tears. As she tried to say something else, a series of explosions rocked the evacuation point where she stood with dozens of other residents of the besieged town of Irpin, just a few miles west of Kyiv.
Each blast threw Katerina slightly off balance as she hobbled with a cane behind a brick wall, where she took a breath and sobbed.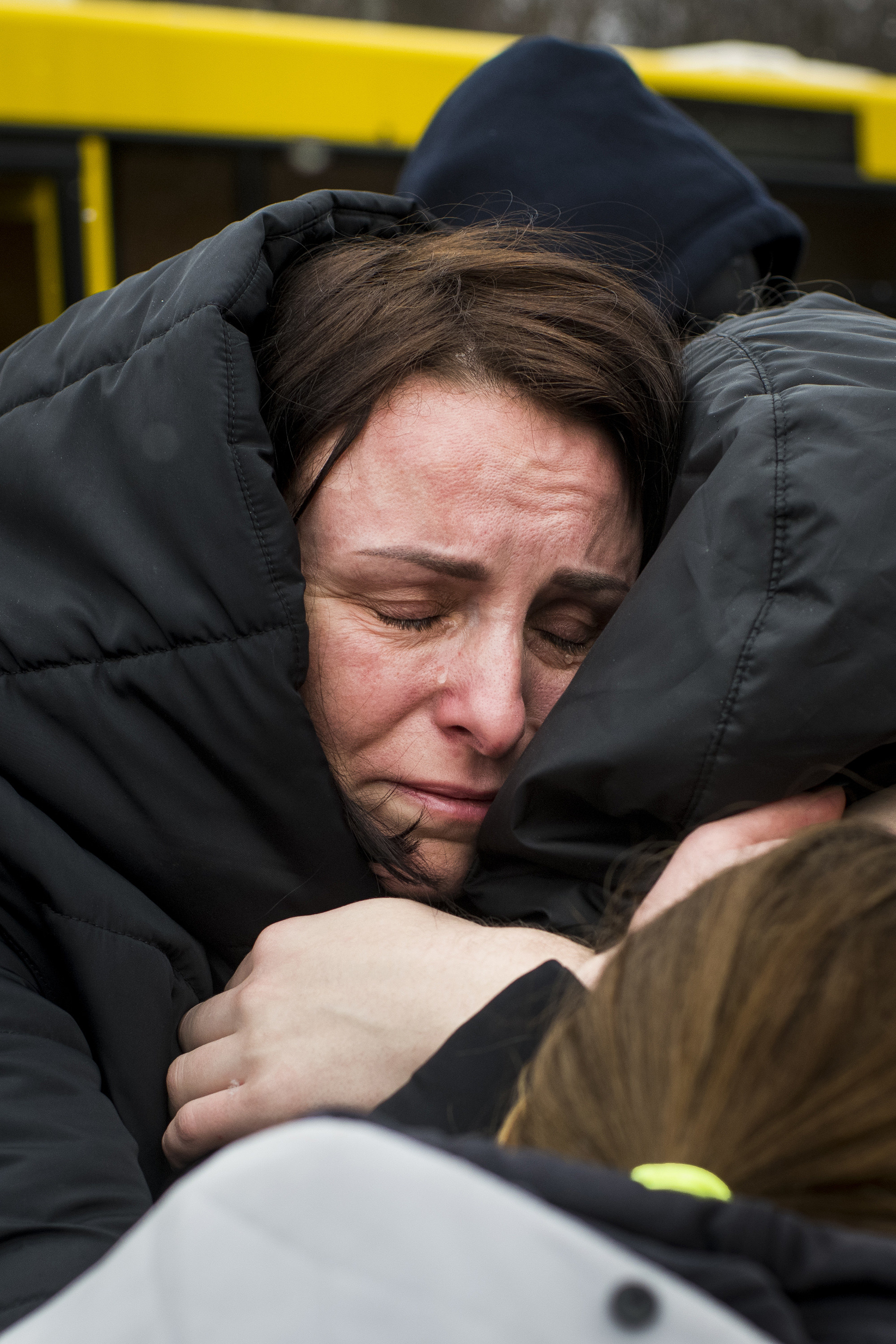 Fighting has been relentless in and around this once-quiet bedroom community, which sits on a crucial road toward Ukraine's bustling capital and the country's seat of power. Early Sunday, a shell exploded in the middle of a street where a family was attempting to make their escape. A father, mother, and child were killed, according to reporters at the scene. Irpin Mayor Oleksandr Markushin said about eight people died from Russian shelling on that single day. "Two children died in front of my eyes," he said in a video posted to his Telegram channel.
Vladimir Putin has lied about his army not targeting civilians in what he calls a "special military operation," and has also lied about establishing safe corridors for people to flee his deadly violence. There is overwhelming evidence that Russian troops are firing on peaceful people in cities and towns across the country in what appears to be a campaign of terror. Killing an entire young family and five others Sunday was merely the latest proof.
In a video address published to his Telegram channel, Ukrainian President Volodymyr Zelensky, citing information gleaned from captured Russian troops, said that bombing civilian areas was part of Russia's plan from the beginning, describing it as "pure evil."
While the evacuation in Irpin went ahead, albeit with difficulty and under heavy Russian shelling, plans to relocate residents from the cities of Volnovakha and Mariupol in eastern Ukraine collapsed because the artillery fire was too intense and targeted the supposedly safe "green corridors" that civilians were meant to use.
"Amid devastating scenes of human suffering in Mariupol, a second attempt today to start evacuating an estimated 200,000 people out of the city came to a halt," wrote the International Committee of the Red Cross. "The failed attempts yesterday and today underscore the absence of a detailed and functioning agreement between the parties to the conflict."
As residents from those cities struggled to escape, a huge number of others made their way to western Ukraine and across the border to neighboring Poland, Hungary, Romania, Slovakia, and other European Union countries, as well as Moldova.

"10 days. 1.5 million people. This is now the fastest growing refugee crisis since World War II," the United Nations High Commissioner for Refugees tweeted Sunday. "In the coming days millions more lives will be uprooted, unless there is an immediate end to this senseless conflict." The UNHCR added that it has recorded "1,123 civilian casualties in the country: 364 killed and 759 injured" — very likely an undercount.
In Irpin, most people with whom BuzzFeed News spoke Sunday had no idea where they would go. They just wanted to be someplace where they would be safe. They only had with them what they could carry on their backs and in their hands. They were visibly exhausted and stressed from surviving heavy bombardment for the past week and a half.
At a staging point where more than 20 yellow buses arrived to move them to the Kyiv Central Railway Station, families and friends separated in the chaos frantically searched for one another, worrying that someone might have been left behind.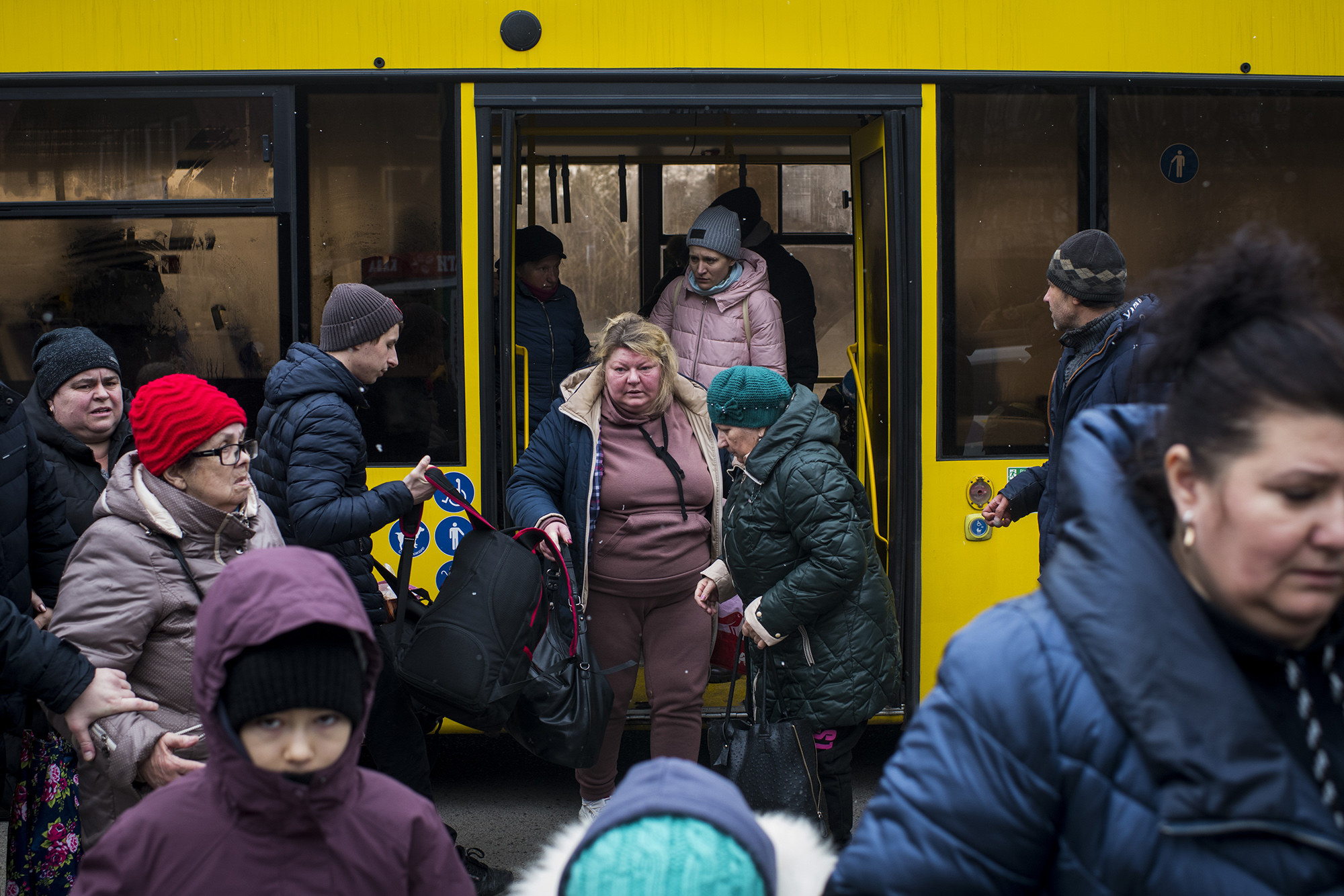 People from other cities showed up to look for relatives in Irpin with whom they had lost contact. "Is there anyone from the Capital Apartment Complex?" asked one man.
When Vadym and his family reached the other side of a bridge in Irpin — blown up by the Ukrainian army to stop Russia's advance days ago — and arrived at the evacuation staging area, they were shell-shocked.
"We can't even talk; can't you see?" Vadym's father said.
Vadym and his family said they had nowhere else to go but were trying to come up with a plan as they stood in the street with their rucksacks and a couple of plastic bags. At that moment, a car pulled up and offered them two free seats and transport to the train station. But Vadym's family had to turn down the offer because there were six of them and they didn't want to split up.
Nearby, Tetiana cut up bits of white sheets to tie around the neck of her 6-year-old son and her nieces and nephews to identify them as civilians so they wouldn't be shot while trying to evacuate.
"We couldn't leave until we found someone to look after our bedridden relative. All those who can't walk are stuck there," she said. "We left all the food we could find with them."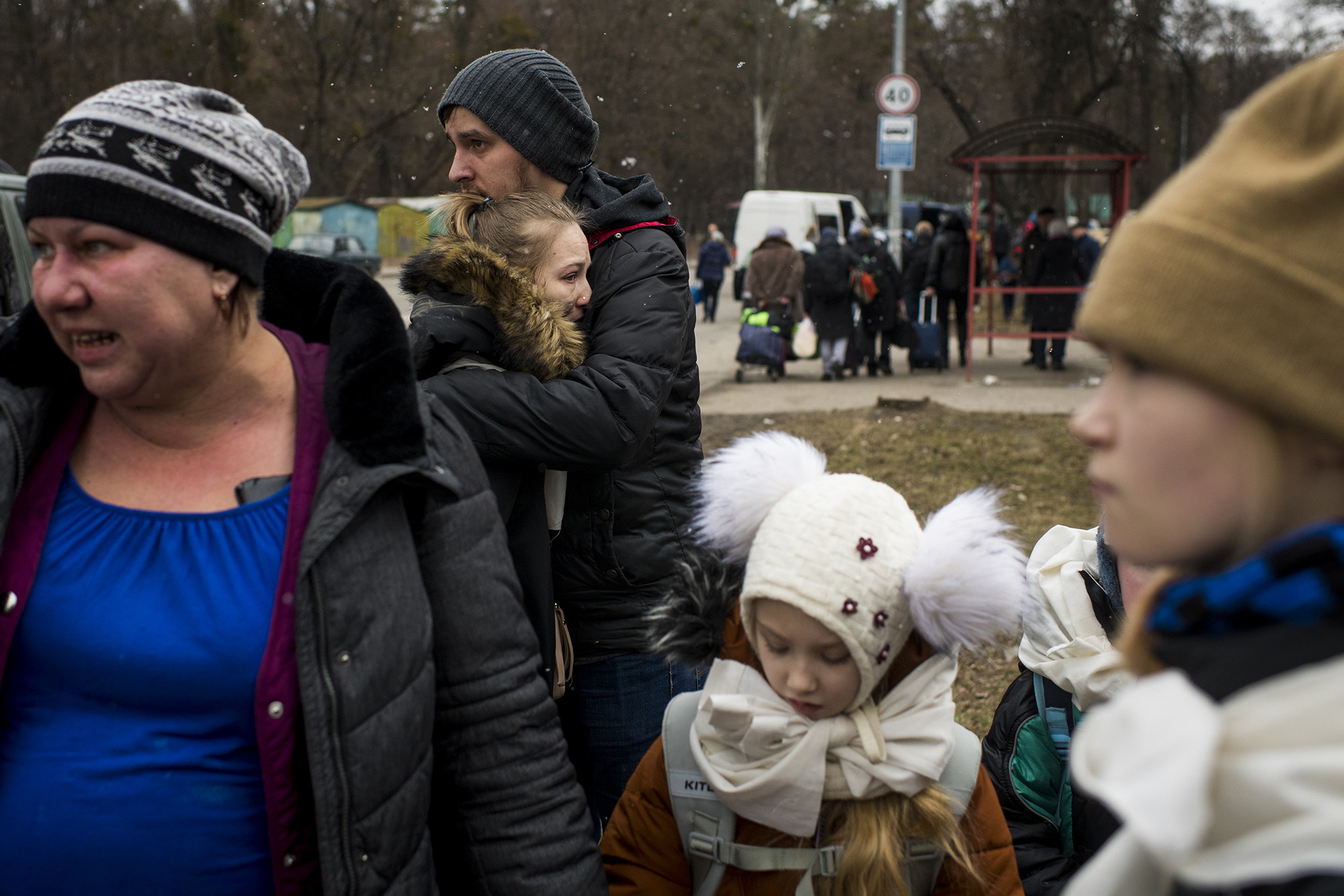 Tetiana described seeing Russian tanks going down the central streets of Irpin and witnessing "the kind of battles that have flattened houses."
She was waiting for her two older children, ages 23 and 27, to cross over the bridge and reach the evacuation area before deciding what to do.
"We don't know where we're going. We're just going anywhere," she said. "It was just so scary."
Tetiana shook her head in shock.
"We just don't understand why. Maybe you know the answer?" she asked. "When they said there would be a war, I laughed and said, 'Oh, please!'
"We don't understand. We have half our family in Russia. And everyone is calling saying, 'Don't worry; tomorrow you'll be part of Russia,'" Tetiana said. "But we're in shock. Why do we want Russia when we can live in Ukraine peacefully?"
Sveta, a 60-year-old Irpin resident, said life for the people still stuck in the war-stricken town is hell.
"The food supplies will end pretty soon. There's no gas, there's no electricity, there's no internet. There are tanks shelling residential buildings," she said.
Sveta said the Russians pushed into the western side of Irpin yesterday and now control part of the city. "[Russian] tanks came down Mechnykova Street," she said. "There are no Ukrainian tanks there; there are Russian snipers shooting."
Roman, a Ukrainian Territorial Defense fighter, said that he expects Russia to launch a major offensive from Irpin to try to capture Kyiv in the coming days. He said Ukrainian special forces, army soldiers, and armed volunteers like himself were preparing for a bloody battle and that he hopes to kill as many Russian "invaders" as possible.
"In a few weeks, you're going to see fat homeless dogs and you will know why," he said.