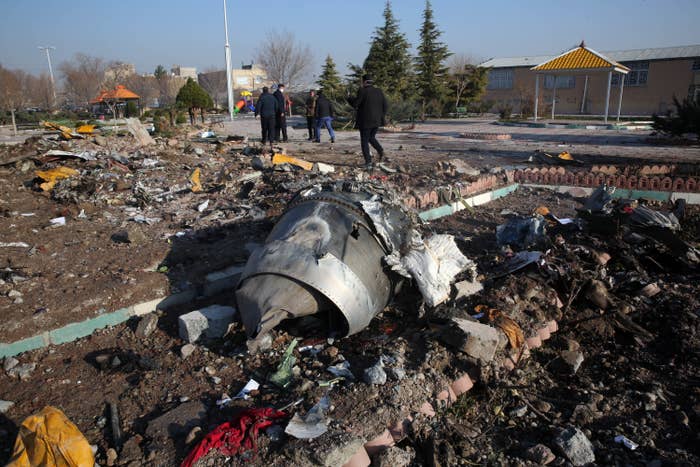 KYIV — A leaked audio recording of a conversation between an Iranian air traffic controller and an Iranian pilot suggests authorities in Tehran knew immediately that a Ukrainian passenger jet had been shot down, killing all 176 people on board.

The recording, broadcast by a Ukrainian TV channel Sunday night, has been acknowledged as genuine by Ukrainian President Volodymyr Zelensky and the head of the Iranian investigation team.
On the recording, the pilot of an inbound passenger plane heading for Tehran's Mehrabad International Airport on the morning of Jan. 8 describes witnessing something resembling a missile being fired, followed by a midair explosion. The pilot says that he can see a burning object flying through the air. The baffled air traffic controller responds by saying nothing like that should be happening and asks if it's flying toward Tehran, to which the pilot says that it's flying from the Iranian capital.
The exchange provides another piece of the still-murky puzzle about the tragic downing of the Kyiv-bound Ukraine International Airlines Flight 752. It also adds evidence to the argument of Ukrainian and Western officials that Iranian authorities likely knew immediately that two missiles were fired toward the Boeing 737 — if air traffic control was aware of something as hazardous as a missile being fired, it's likely to have notified government officials straightaway.
The recording was obtained and first aired by the Ukrainian 1+1 TV channel's TSN news program, which shared the unedited five-minute clip exclusively with BuzzFeed News. TSN journalist Andriy Tsaplienko said the audio recording was passed to him from an intelligence source who wished to remain anonymous because of restrictions on contacts with media during the investigation into the incident.
Zelensky confirmed the recording's authenticity during the TSN program. On Monday, Hassan Rezaeifar, head of the Iranian investigation team, confirmed it too and suggested Iran would cut cooperation with Ukraine due to the conversation being published, Iran's Mehr News Agency reported.
"This file was among the materials provided to a group of experts who are investigating the disaster. [It's publication] by the Ukrainian side suggests that we will not transfer any materials to them anymore," Rezaeifar was quoted as saying.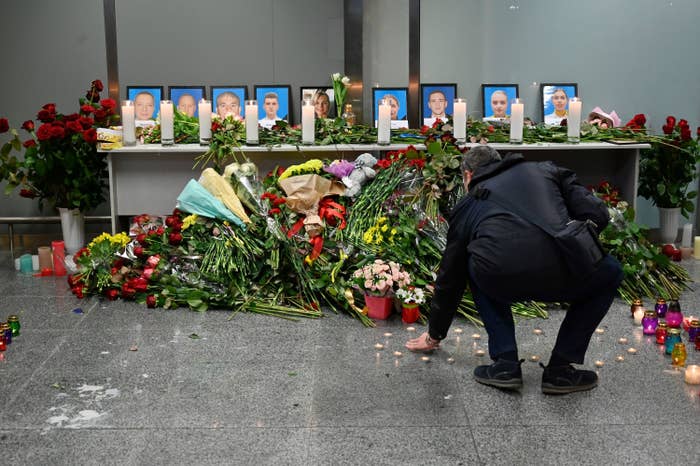 Information logged by FlightRadar24 shows that Flight 752 took off from Imam Khomeini International Airport at approximately 6:12 a.m. local time on Jan. 8 and then sent its last transponder position over the city of Parand at 6:14 a.m. A video shot from Parand and verified by Storyful and the New York Times shows a missile exploding into the plane. Multiple videos made at 6:18 a.m. and 6:19 a.m. show Flight 752 in flames, flying south toward Imam Khomeini International Airport, and losing altitude before crashing and exploding.

FlightRadar24 data reviewed by BuzzFeed News shows Iranian Aseman Airlines Flight EP3768, operated by the pilot in the leaked audio recording, landed at the nearby Mehrabad International Airport just 12 minutes later, at 6:31 a.m. local time.
After first claiming Flight 752 crashed because of technical problems and taking great pains to cover up the downing, Tehran finally admitted that its Revolutionary Guards force fired on the plane after mistaking it for incoming US cruise missiles. Just hours before the plane was shot down, Iran launched missile strikes on US troops based in Iraq as retaliation for the killing of Gen. Qassem Soleimani. Ukrainian officials have said their diplomatic approach and speedy effort to get a team of experts to Tehran 24 hours later allowed them to uncover the truth behind the tragedy.
The new audio recording will help fill out the picture of what happened.
It begins with the air traffic controller telling Ukrainian Flight 752 good morning and to proceed to 6,000 feet before turning right. The next words come from the pilot of EP3768, who tells the controller he's preparing to land but also notices something strange.
Pilot: "There's a flare on the route, like something from a missile. Should anything like this be happening there?"
Controller: "Zone 320? How many miles away? Where?"
Pilot: "Can't say for sure. But I think it is near [airfield] Payam, [city] Karaj."
Tower: "How many miles? Where?"
Pilot: "I now see the light as it flies off of there."
Tower: "We were not informed of this."
Tower: "How does it look like? What does this light look like?"
Pilot: "That's definitely a flash from a missile."
Tower: "It's not flying toward the [Tehran], is it?"
Pilot: "It might be. Oh, no it was flying from the direction of the city."
Tower: "We were informed of nothing, but keep watching."
Moments later, the control tower repeatedly tries to reach Flight 752, asking, "Do you read?" But it never responds.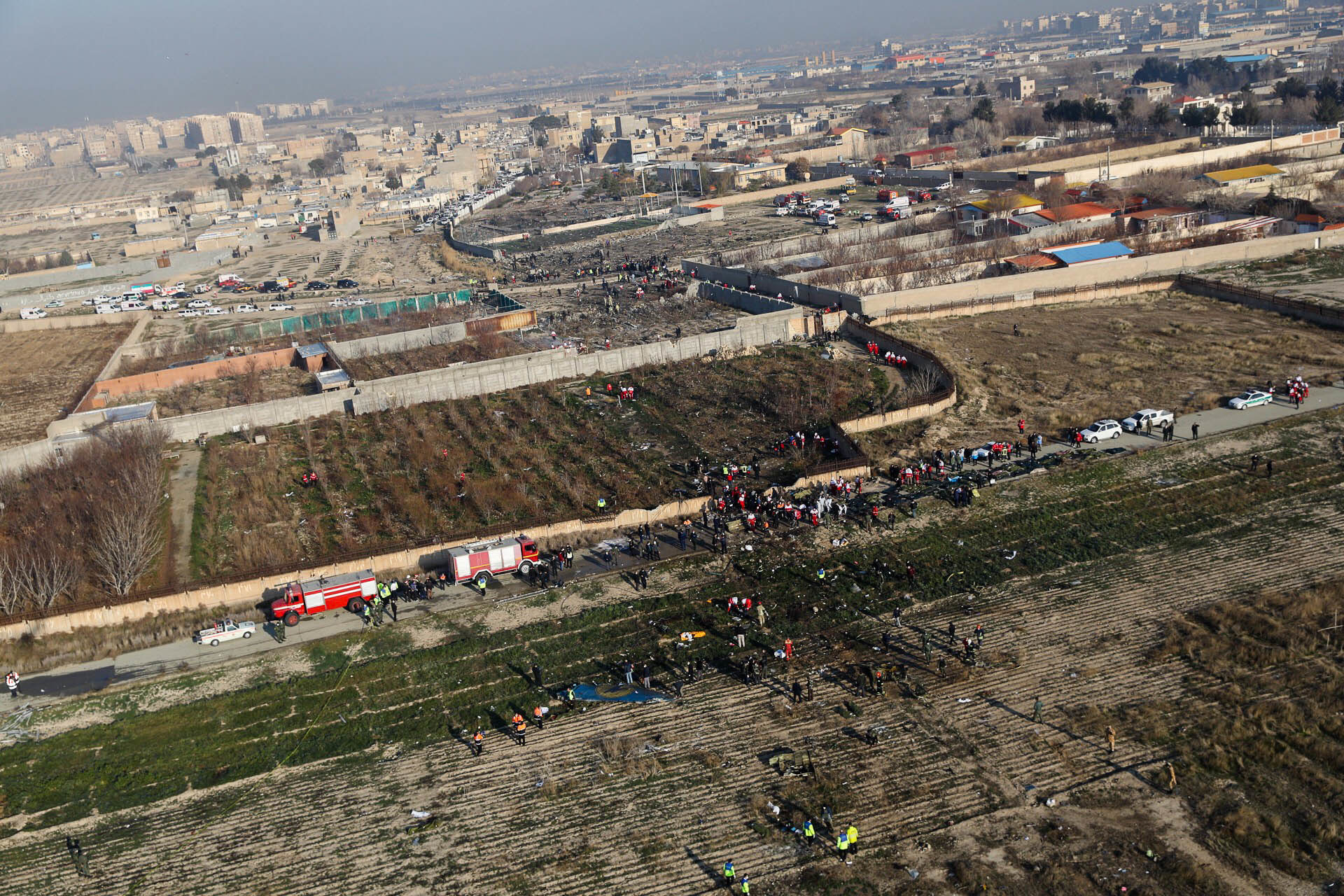 Zelensky's office didn't immediately respond to a request for comments about the flight recording.

But speaking to TSN, the president said that Iran had offered to pay the families of 11 Ukrainians, including nine crew members, who died in the crash $80,000 each. However, Zelensky said the amount is "very small" and wants Iran to give them more.
"I fully and 100% agree that human life is not measured by any numbers, any money," the president said. "But we will put pressure to receive a larger amount."
Zelensky also said that Ukraine wants the black boxes of Flight 752 to be analyzed in Ukraine despite the invitation from Iran to analyze them alongside Iranian officials in Tehran. The leaked audio recording is likely to make those negotiations more challenging.