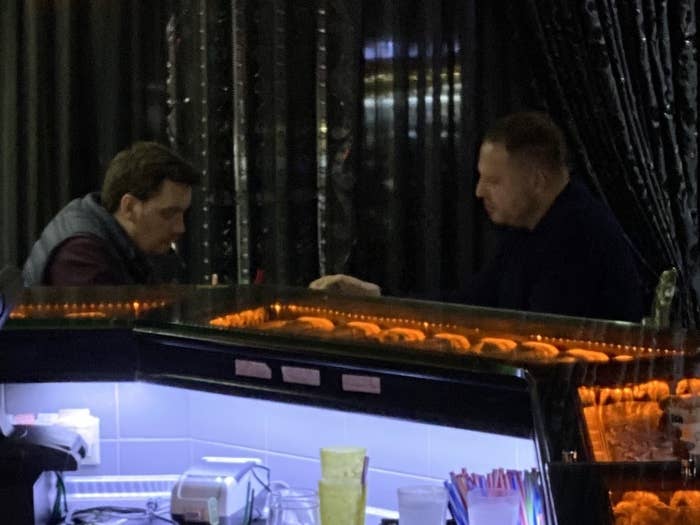 KYIV — It was Sunday evening, and my friends and I were reminiscing about movies from the '90s as we dug into bowls of fire red vindaloo, yellow chicken curry, and green spinach paneer at an Indian restaurant in the Ukrainian capital, Kyiv.
Someone had just mentioned the reported drop in US sales of the Corona beer we were drinking due to the outbreak of the coronavirus when two rather surprising dining companions strolled in and sat at a nearby table. One of them was Ukraine's prime minister, Oleksiy Honcharuk, and the other was the president's chief of staff, Andriy Yermak. It was a shock to see them together because neither man is rumored to be terribly fond of the other.
As they settled in and ordered dinner, I did what any half-decent journalist would do when they spot a politician in a restaurant — especially when rumors are swirling, as they had been in recent days, about potentially seismic changes in the Ukrainian government that may include the dismissal of Honcharuk and other ministers — I snapped a few photographs and tweeted them before getting back to my dinner.
My friends and I tried to listen to their conversation for a few minutes, but it was hard to decipher exactly what they were discussing over the brassy jazz wafting from the restaurant's sound system. We were able to make out only a couple of things: the serious tone of their conversation (they went from speaking in hushed whispers to raised voices at times) and the name of a notorious and powerful oligarch, Ihor Kolomoisky.
The name of billionaire Kolomoisky — an alleged money launderer who is reportedly in the sights of the FBI and bankrolled private battalions to fight in eastern Ukraine — is one that makes you pay attention. So I knew whatever it was they were talking about it was likely to be as spicy as the vindaloo on my plate.
As the owner of Ukraine's largest television station, 1+1, Kolomoisky also aired the comedy shows that made former actor Volodymyr Zelensky famous and helped propel him to the presidency. And he has been leveraging that to get back the bank he used to own that was found to have a $5.5 billion black hole in its balance sheet.
A number of dubious actors have been helping him along the way, including most recently a lawmaker by the name of Oleksandr Dubinsky, who represents Zelensky's ruling Servant of the People party.
Ever since he became president, Zelensky has tried to shake allegations that he's helping Kolomoisky. So hearing the oligarch's name come up in conversation between two of the most senior people in government was certainly noteworthy. A moment after I heard it, I tweeted about it with another photograph. Then my friends and I went back to eating, and I didn't think much more about the encounter until the next morning.
When I woke up this morning, I found that my tweets were leading the country's top news websites and TV news channels. Honcharuk also gave a press conference and answered a question from a Ukrainian reporter about what he discussed with Yermak over their Indian dinner. He said it was "nothing special" and little more.
I also saw I was being attacked by Dubinsky, who is known for his colorful insults, ad hominem attacks against critics, and spreading conspiracy theories — such as he did when he claimed Petro Poroshenko, the former president of Ukraine, murdered his brother.
In my case, Dubinsky published a post on Facebook, where he has 145,000 followers, and on Telegram, where he has another 94,000, calling me a "feral animal" (or "stray animal" by some translations) for tweeting a photo of the meeting between Honcharuk and Yermak and reporting what I'd heard.
In comments beneath the Facebook post, his followers said I was a "CIA spy" and a "yellow journalist."
The verbal attack against me continued later on an anonymous Russian-language Telegram channel that Ukrainian journalists believe to be connected to Dubinsky. There I was called a "Soros rat" — a rather creative insult, I admit, since the word for "rat" in Russian sounds like and is spelled similarly to my name, Chris.
By Monday afternoon, I had dozens of messages in my Facebook Messenger inbox and on Twitter, both criticizing and supporting me. News stations were calling me to request on-air interviews.
And the insults from Dubinsky and his followers continued into the evening. As I sat down to write this piece, he published another post about me on Facebook and Telegram; he suggested I'd fabricated the information I tweeted Sunday night and wrote that he had called me "feral" because I was "eavesdrop[ping] on other people's conversations."
These verbal attacks might not sound like much, but consider this: Ukraine is a place where journalists — both foreign and local — are regularly attacked by politicians for their critical coverage. We have been smeared online and doxed by government officials and their supporters. Sometimes those attacks escalate and become more than just verbal or written assaults — and as Freedom House noted in its 2019 report, they "are frequent and often go unpunished."
The Zelensky administration seemed to signal that its approach to working with journalists would be different when it invited several of us last June to the presidential residence, where we drank wine and ate shawarma with the president on beanbag chairs in the grass.
But the administration's attitude quickly shifted. Press conferences were few and far between, Zelensky's former chief of staff said the administration wouldn't need journalists to communicate its messages, and the president's press secretary was caught on video physically shoving and grabbing journalists, including me.
Reached by phone, a spokesperson for Zelensky's office declined to comment on Dubinsky's remarks and referred me to party officials. One of them, Yevheniia Kravchuk, deputy head of the Servant of the People party, told me that Dubinsky's comments "[do not] in any way represent the position of the party itself."
She added: "The Servant of the People respects honest journalism and works on improvement of the level of freedom of speech so that Ukraine enjoys high-quality information space."
There is a joke here to be made about currying favor with reporters, but I'm not about to insult your intelligence by doing so.