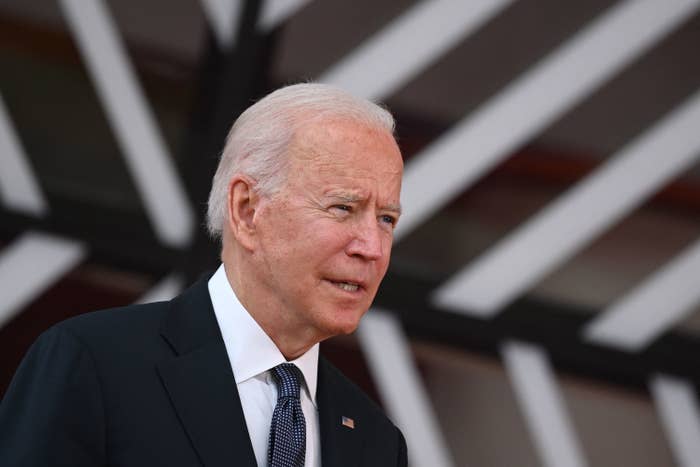 The White House on Tuesday released its much-anticipated plan for countering domestic terrorism, what President Joe Biden has called the most urgent threat the United States faces today and a "stain on the soul of America."
The plan, outlined in a first-of-its-kind strategy report, calls for increasing information sharing with law enforcement agencies and the technology sector; growing the ranks of government analysts, investigators, and prosecutors needed to combat domestic terrorism; and improving employee screening to enhance methods for identifying extremists who might pose insider threats. It also says the government will look more closely at whether foreign extremist entities linked to domestic terrorism can be designated as Foreign Terrorist Organizations and consider ways in which it can stop groups from financing one another's activities.
The strategy does not include establishing domestic terrorism laws that prosecutors could use to investigate and charge extremists instead of having to rely on various other charges already on the books. But experts praised the plan for its breadth and special focus on prevention.
Informed by the nation's top experts, it is a dramatic shift from the United States' decadeslong focus on threats posed by Islamist extremists abroad and the Trump administration's lax approach to white supremacist violent extremists
The 32-page proposal, titled "National Strategy for Countering Domestic Terrorism," was "tailored to address violence and reduce the factors that lead to violence, threaten public safety, and infringe on the free expression of ideas," according to the White House. It calls domestic terrorism "a serious and evolving threat" five months after the deadly attack on the US Capitol by supporters of former president Donald Trump that has led to one of the biggest Department of Justice investigations in history.
"We cannot ignore this threat or wish it away," Biden said in a memo accompanying the strategy document. "Preventing domestic terrorism and reducing the factors that fuel it demand a multifaceted response across the Federal Government and beyond."

Biden tasked federal intelligence agencies to assess the threat of domestic terrorism shortly after he took office. In March, his administration released a preliminary report that warned about the increasing threat from militant groups and white supremacists, which sparked calls for the US to divert attention from fighting terrorism abroad and to focus efforts on combatting violent extremism at home.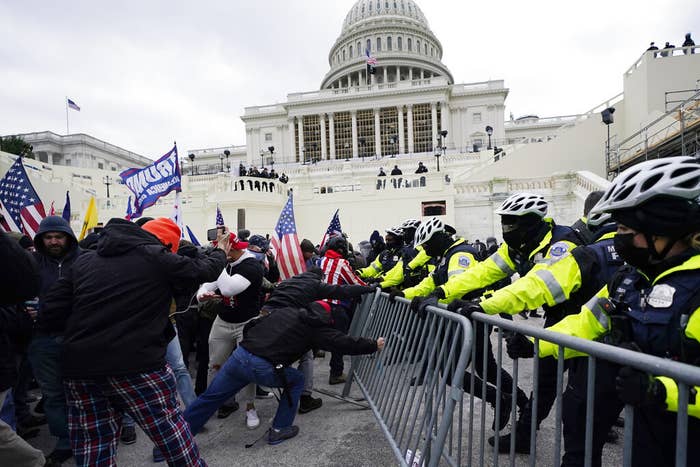 A key part of that response will be to fill in gaps that allowed for extremists to plan and carry out the Capitol attack. One of the biggest areas for improvement is in information sharing. As part of the new plan, the Department of Homeland Security will enhance its analysis of open-source information to identify threats sooner and create new ways of receiving and sharing information between government and nongovernment entities.

Reporting and analysis from journalists and research groups found that the Jan. 6 insurrectionists planned their activities in the open, including on social media.
Experts noted that it will also provide additional resources and services to community-focused prevention programs meant to keep people from ever getting to the point of committing acts of domestic terrorism.
"The recognition that civil society is the first and best line of defence against the radical right; empowering this through learning, support and training is urgently needed," Matthew Feldman, director of the Centre for the Analysis of the Radical Right, told BuzzFeed News in emailed comments. "Finding ways of doing this that smacks neither of propaganda or superficiality will be a major headache, though we really have no choice if we're really committed to pushing back the tide of hatred, disinformation and political violence."
The strategy also promises $77 million in funding to stop recruitment and mobilization. "If that's allocated effectively, it could have a real impact," tweeted Brian Hughes, associate director of the Polarization and Extremism Research Innovation Lab (PERIL) at American University. "Better recognition of the signs leading up to an attack, sure. But also resources to help stop radicalization before it starts."
The plan says the government will also improve employee screening to enhance methods for identifying domestic terrorists who might pose insider threats.
The Department of Defense, DOJ, and DHS are all pursuing similar screening efforts and vetting processes to root out extremists and ensure domestic terrorists will not be employed within the military or law enforcement agencies in the future.
Speaking after the release of the plan on Tuesday, Attorney General Merrick Garland made it clear that the biggest threat to the US today are violent extremists advocating for white supremacy.
"The number of open FBI domestic terrorism investigations this year has increased significantly," Garland said, adding that the DOJ has already begun implementing some of the measures outlined in Biden's new strategy.
The White House said its plan was rooted in an expert assessment of the homegrown domestic terrorism threat provided by the intelligence and law enforcement communities. An unclassified summary of that assessment with its key findings was released in March. It found that the two most lethal elements of today's domestic terrorism threat to be racially or ethnically motivated violent extremists who advocate for the superiority of the white race and anti-government violent extremists, such as illegal militia groups.
Hughes and other experts lauded the Biden administration's strategy but said that time and implementation will ultimately tell whether it can be successful.
"The devil's in the execution, but this is an intelligent step forward, and an important departure from the past," tweeted Hughes. "Kudos to the authors and the admin. I'm looking forward to see what happens next."