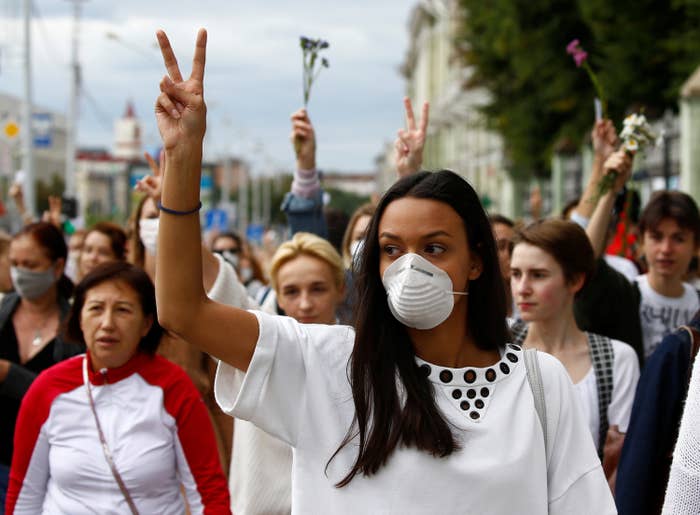 KYIV — Thousands of workers at state enterprises across Belarus staged walkouts and women dressed in white and carrying flowers formed human chains in the capital, Minsk, on Thursday to protest the brutal crackdown on demonstrators that have gripped the country since Sunday's disputed presidential election.
The public displays of defiance are unlike anything the country has seen since it broke from the Soviet Union in 1991, and they have significantly upped the pressure on 65-year-old Alexander Lukashenko, the authoritarian president who has ruled Belarus with an iron fist since 1994.
The unrest erupted after Lukashenko claimed to have secured a landslide reelection victory this weekend despite widespread reports of vote-rigging. The Belarusian opposition camp has called the vote fraudulent, while the US and the EU have condemned the election as neither free nor fair.
Lukashenko said he defeated Svetlana Tikhanovskaya, a 37-year-old former English teacher who exploded onto the political scene to challenge him in the election after her husband, a popular vlogger, was barred from running and jailed. Tikhanovskaya ignited a movement in Belarus, where she drew massive crowds inspired by her candidacy. After the election, she fled to Lithuania under tense circumstances and following a mysterious meeting with election officials on Tuesday.
On Wednesday, US Secretary of State Mike Pompeo told Radio Free Europe/Radio Liberty on a visit to Prague that Washington, DC, wants "good outcomes for the Belarusian people." He also said the US has observed "the violence and the aftermath, peaceful protesters being treated in ways that are inconsistent with how they should be treated."
Reuters cited EU diplomats and officials as saying they will likely impose new sanctions on Belarus before the end of August.
Videos and photos shared on social media on Thursday showed laborers at an auto parts plant, a truck factory, an aircraft accessories shop, and several other state-run enterprises walking off the job. They told their bosses they would not go back to work until heavily armed riot police stopped beating up demonstrators and authorities released the thousands of people being held in detention centers, according to accounts in local media.
In one video, a supervisor at a plant in the western city of Grodno is heard asking workers to raise their hands if they voted for Tikhanovskaya. Nearly everyone in the large crowd erupts in approval and raises their hand.
It wasn't only blue-collar workers who joined the nationwide strike. Artists from the Belarusian State Philharmonic Society also walked out in protest over police violence and the election results. Holding placards that spelled out "My voice was stolen," the group performed a stirring rendition of "Mighty God," a hymn that was once proposed to be the official anthem of Belarus.

The demonstrations of defiance came as the first cracks began to show in the regime of Lukashenko, famously dubbed by the West as "Europe's last dictator." In an unprecedented move, a deputy head of his administration reportedly resigned in protest over police violence against demonstrators, and several officers and military personnel shared photos and videos on social media showing them throwing out or destroying their uniforms and credentials.

One former officer wrote on Instagram beneath a photo of his police badge and awards, "17 years of service over. My conscience is clear. Police with the people." At the time of publishing, it had more than 380,000 likes.
The defections have also spread to Belarus's powerful state-run media machine, with several popular talk show hosts and news presenters announcing their departures over the government-ordered abuse of protesters.
"As a wife, mother, media employee, and citizen, I cannot calmly look at what is happening in the country now," Marina Mishkina, a state-run radio station reporter, told Radio Free Europe's Belarusian service. "I'm afraid of everything now. I walk down the street and I'm afraid. I open social networks and I'm afraid [of what I'll see]."
Riot police officers numbering in the thousands have been deployed across the country, transforming public streets and squares where families once strolled into bloody battlegrounds. The largest concentration of them is in Minsk, where the protests are now in their fifth day, and the clashes on the streets the most violent.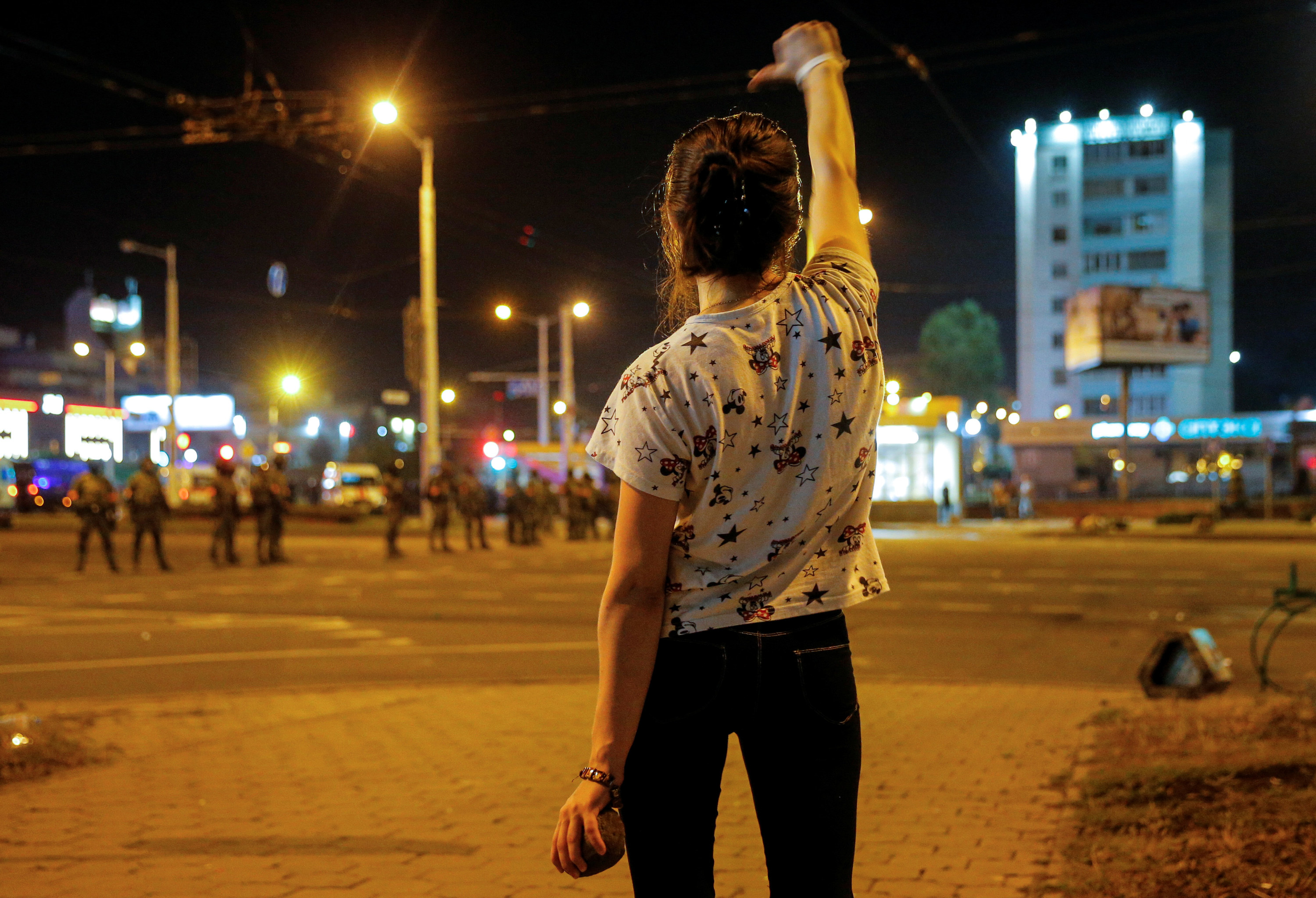 Police forces have used stun grenades, tear gas, rubber bullets, and as of Wednesday even live ammunition to suppress crowds of protesters. They have confiscated ambulances and used them to disguise their approach while hunting people down in the streets. And they have targeted journalists covering the events, beating them and destroying their equipment.
At least 68 journalists, including foreign journalists, have been detained, and 23 of those remain in detention facilities, the Russian MediaZona news site reported.
Minsk-based journalist Hanna Liubakova, citing her own sources, reported on Thursday that police had begun searching hotels for foreign correspondents. On Tuesday, the head of the immigration department in Belarus's Foreign Ministry warned that reporters working without government accreditation would be arrested, deported, and banned from entering the country for 10 years.
The ministry refused to grant press accreditation to dozens of media outlets, including BuzzFeed News, that applied in the run-up to the election.
Meanwhile, authorities released dozens of the more than 6,000 demonstrators who have been arrested during the protests. They staggered out of detention facilities across Belarus and were met by anxious family and friends. Some of them recounted their horrific experiences while in detention.
Videos have surfaced in recent days of police abuse against demonstrators. In one widely shared video, dozens of them are seen being beaten by police with batons as they lay facedown in a compound surrounded by high walls and razor wire. In another, filmed from outside detention facilities, demonstrators can be heard screaming and pleading with police not to beat them. In a video aired on state television, a disguised voice off camera tells a group of young protesters, their faces badly bruised and hands tied behind their backs, to apologize and vow not to participate in more demonstrations.
Russian journalist Nikita Telizhenko, who was detained by police and held in a jail cell for 16 hours before being released, described enduring and witnessing vicious beatings as well as the horrific conditions in which people are kept.
At the police station, he said, "The guy in front of me, they purposely hit his head on the doorframe of the entrance to the police department. He screamed in pain. In response, they began to beat him on the head and shout: 'Shut up, bitch!'"
He continued, "The first time they hit me, it was when they took me out of the police van. I didn't bend down low enough and got hit with a hand to the head, and then with a knee in the face."
Telizhenko described the room where protesters were being held as covered with "a living carpet" of people he had to walk on top of. Then he said police ordered him to lie facedown. "And there was nowhere to lie. People are lying around in pools of blood."
Correction: Alexander Lukashenko has served as president of Belarus since 1994. The year was misstated in an earlier version of this post.