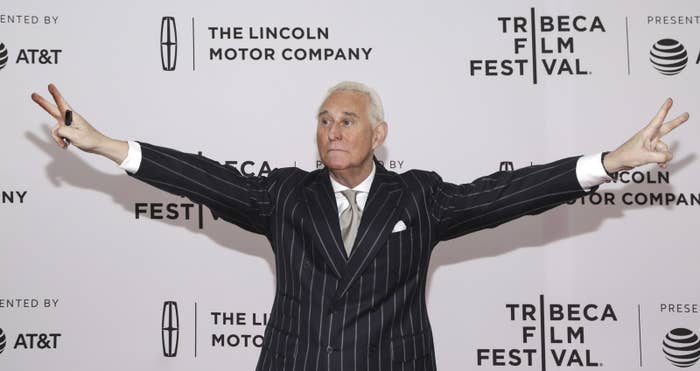 "I'm trysexual," Roger Stone recently told an activist who goes by the name Jeff 4 Justice, who had asked him about his sexual orientation. "I've tried everything."
Like much of what comes out of Stone's mouth, it was a memorable line. But it wasn't the first thing he said after being asked about it. His initial response was: "why is that anyone's business?"
The answer to that, as written up by LGBT magazine The Advocate, is that questions about Stone's sexuality are relevant because he supports forces that want to harm the gay community. The activist said Stone has used his "time, talent and treasure to elevate people to power who utilize the religious right to go and do horrible things to other people."
Eliel Cruz, another activist, said Stone's "ideology and policies are dangerous to large swaths of people – including the LGBT community."
Neither of these outrageous claims are even vaguely supported by the facts. But they're a common refrain on the left, both when discussing Stone and the man he worked hard to send to the White House, Donald Trump. Each has a long history as an ally of the LGBT community — histories that are now dismissed by their opponents for purely partisan reasons.
Here is the Roger Stone that I know.
When I co-founded GOProud, an advocacy group for gay conservatives and their allies, Roger Stone was one of the first big-name Republicans who I asked to join its Advisory Council. Roger – unsurprisingly – joined immediately, and offered to do whatever he could to help.
I worked with Roger on New Mexico Governor Gary Johnson's campaign for President in 2012, and it was Roger who consistently urged Governor Johnson to make his support for marriage equality the centerpiece of his campaign. Indeed, Roger left the Republican Party in 2012 because of the party's opposition to marriage equality and drug legalization.
None of this was surprising to me, because I knew Roger Stone and I knew how committed he had been during his entire professional and personal life to advancing individual rights and individual liberty – especially for LGBT people.
I understand he may not be everyone's cup of tea. Roger is tough, he is outspoken and he fights like hell for what he believes in. I also understand that most liberals don't like Donald Trump. Like Roger, Trump is aso tough, outspoken and fights like hell for what he believes in.
You can disagree with Roger on his approach to politics, but it is outrageous to smear him as anything but an advocate, ally and friend to the LGBT community. Roger was for marriage equality long before Hillary Clinton or Barack Obama figured out it was a political winner for them to support it.
The same goes for President Trump. You can oppose him on plenty of issues, but it is equally outrageous to smear the first President to ever take office supporting marriage equality — with a long and stellar business record of supporting LGBT Americans – as an enemy of the LGBT community.
As President, Trump hasn't been perfect on LGBT issues. But he has been a great leap forward compared to previous Republican nominees and presidents.
I have spent almost all of my adult life fighting to make the conservative movement and the Republican Party more welcoming to LGBT Americans. I have never been afraid to call out bigotry within the GOP when I see it — indeed it was my willingness to actually call bigotry out that once got me banned from the Conservative Political Action Conference (a badge of honor that I will always wear proudly).
I have watched previous Republican candidates for President explicitly exploit fear and bigotry against LGBT Americans for cheap political gain — as President George W. Bush did in his re-election campaign in 2004.
I have watched as previous Republican candidates for President refused to even utter the phrase LGBT or make any effort to win LGBT votes — as Mitt Romney did in 2012.
Trump, hasn't been perfect — I believe his ban on trans people in the military is unwise — and I am concerned about what is happening at the Jeff Sessions led Department of Justice. But Donald Trump not only took office being the first President to say he was fine with marriage equality, he openly sought out LGBT votes, promising to protect LGBT Americans, including openly gay speakers at the RNC in prime time and even spoke about LGBT people in his acceptance speech. Trump is not Bush or Romney when it comes to LGBT rights — not by a long shot.
It has always comforted me to know that President Trump has counted Roger as a friend and advisor, because I have always known exactly where Roger has stood on LGBT issues.
LGBT people across the country should thank Roger for his commitment to our rights – I know I do.


Christopher R. Barron is the President of Right Turn Strategies and the co-founder of GOProud.