Actor Sean Penn secretly communicated with and traveled to Mexico to interview Joaquín "El Chapo" Guzmán for a Rolling Stone article published Saturday, a move that would ultimately lead to the hunted drug kingpin's capture.
Penn, whose name is the byline of the article "El Chapo Speaks," wrote that he flew to Mexico in early October 2015 to meet with Guzmán — who was recaptured on Friday after escaping from prison last July.
Hours after the Rolling Stone article appeared online, a Mexican official said Penn's interview with Guzmán led Mexican forces to his location, the Associated Press reported.
Now, Mexican officials reportedly want to question Penn about the interview, CNN reported.
Penn's publicist declined to comment to BuzzFeed News. The Department of Justice declined to comment when asked if it has been in touch with Penn.
When asked if El Chapo will be sent to the U.S. to face charges, a DOJ spokesman told BuzzFeed News "it is the practice of the United States to seek extradition whenever defendants subject to U.S. charges are apprehended in another country." He added, "We can confirm that, at the request of the United States, Mexico issued such a provisional arrest warrant more than a decade ago, and that subsequent to the previous arrest of Guzmán, the United States did submit full extradition requests to Mexico."
Friday night, Mexico's Attorney General Arely Gómez González said the key to finding Guzmán was the fact that he had been contacting directors and actors while on the run, in hopes of making a movie about his life.
Penn's piece begins with a disclosure that names were changed and locations were left out, and "the subject," Guzmán, had to approve the article before publication.
"I take no pride in keeping secrets that may be perceived as protecting criminals, nor do I have any gloating arrogance at posing for selfies with unknowing security men," Penn wrote. "But I'm in my rhythm. Everything I say to everyone must be true. As true as it is compartmentalized. The trust that El Chapo had extended to us was not to be fucked with."
The leader of the Sinaloa drug cartel was caught by elite Marine forces in a predawn raid. He will now return to the same maximum-security prison from which he escaped.
Mexican authorities have previously stated "El Chapo" would not be sent to the U.S., but Mexico's Attorney General's office said in a statement Saturday the extradition process for Guzmán will resume now that he is behind bars again.
On Sunday, Guzmán was formally notified of the U.S. arrest warrants, the first step in the extradition process, the AP reported.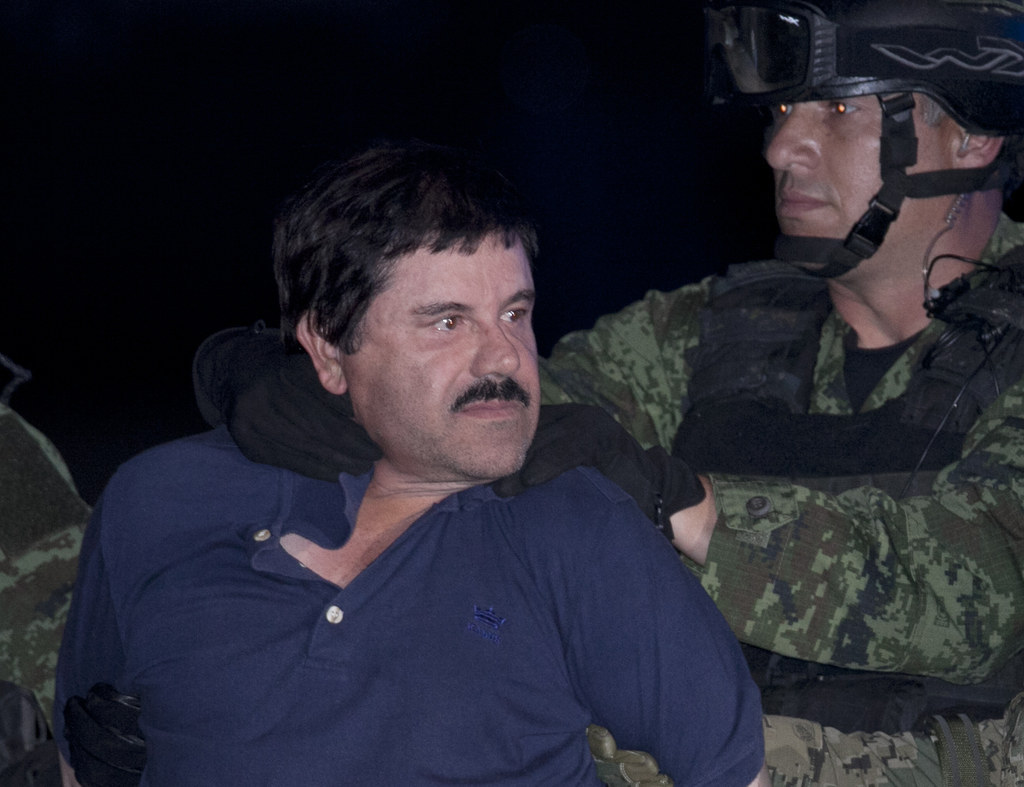 According to the article, Mexican actress Kate del Castillo, who had at one point wanted to make a film about Guzmán, met with Penn in Los Angeles and agreed to help facilitate a meeting in Mexico.
Castillo's correspondence began with Guzmán, according to the article, some time in 2014 after a lawyer found her "through the Mexican equivalent of the Screen Actors Guild," to discuss a potential film about Guzmán.
"He [Guzmán] was interested in seeing the story of his life told on film, but would entrust its telling only to Kate," Penn wrote.
During the planning stages of Penn's trip to see Guzmán, he described going through a burner phone a day, and speaking "in whispered code" with a colleague, Espinoza.
Soon after Penn's meeting with Castillo, he joined her along with Espinoza and another colleague, El Alto Garcia, on a flight to Mexico. Penn said he was then taken in SUVs, another plane, and more SUVs into the jungle to meet with Guzmán.
Upon Penn's arrival in the jungle, Guzmán greeted him with a smile and a "compadre" hug.
"He's wearing a casual patterned silk shirt, pressed black jeans, and he appears remarkably well-groomed and healthy for a man on the run," Penn wrote, adding that he was offered tacos and enchiladas from a local family.
Guzmán then reportedly told Penn that while he doesn't usually drink, "I want to drink with you."
He spoke to Penn of his empire built on selling drugs and the time he met Pablo Escobar.
The pair took a photo shaking hands, and parted ways after a brief amount of time together. Plans to meet again fell through amid cartel raids, according to the article. But Guzmán agreed to answer more of Penn's interview questions in a videotape interview.
In what Penn described as a 17-minute video, Guzmán talks about his childhood and family life, terrorism, and violence, and describes himself as a person "who's not looking for problems in any way."
A two-minute video clip of the interview is posted in Penn's article: