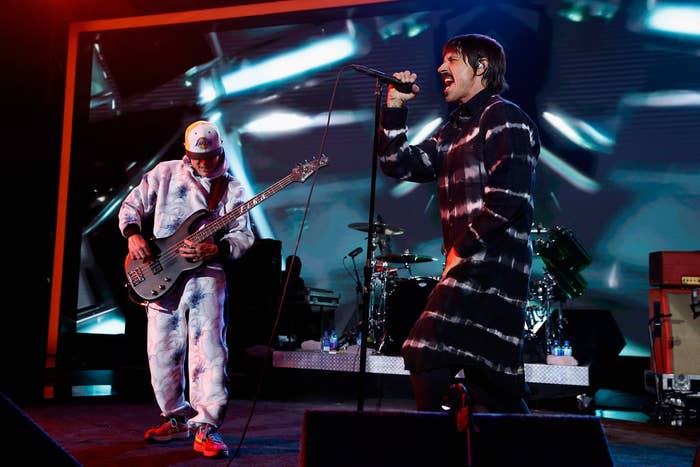 Singer Anthony Kiedis was hospitalized Saturday night, forcing the Red Hot Chili Peppers to cancel a concert in Irvine, California and postpone another performance scheduled for Tuesday.
The band was set to play KROQ's Weenie Roast event Saturday at Irvine Meadows Amphitheatre. A cell phone video taken by someone in the audience showed bassist Flea telling the crowd they were "unable to play this evening" because Kiedis, 53, was "on his way to the hospital right now."
The band later said on their website that Kiedis was fighting complications from intestinal flu.
"They would like to extend their gratitude to the fans for the outpouring of well wishes," a statement said. "Anthony is expected to make a full recovery soon."
On Saturday, Flea told the Weenie Roast crowd that the band was devastated to cancel their performance.
"We're really sad, we love you so much," Flea said.
"Unfortunately, there's a medical thing that happened and he needed to deal with it," Flea added in the cell phone video.
Drummer Chad Smith tweeted late Saturday he was hoping for his bandmate's "speedy recovery" but did not elaborate on what happened.
KROQ told Billboard that the singer was taken from Irvine Meadows Amphitheater in an ambulance after suffering from "extreme stomach pain."
On Sunday, the band announced that they would also be postponing a concert scheduled for Tuesday at the iHeartRadio Theater in Burbank, California.
Kiedis has been the band's frontman since it formed in 1983.
Attempts to contact the venue and representatives for Kiedis were not immediately returned to BuzzFeed News.