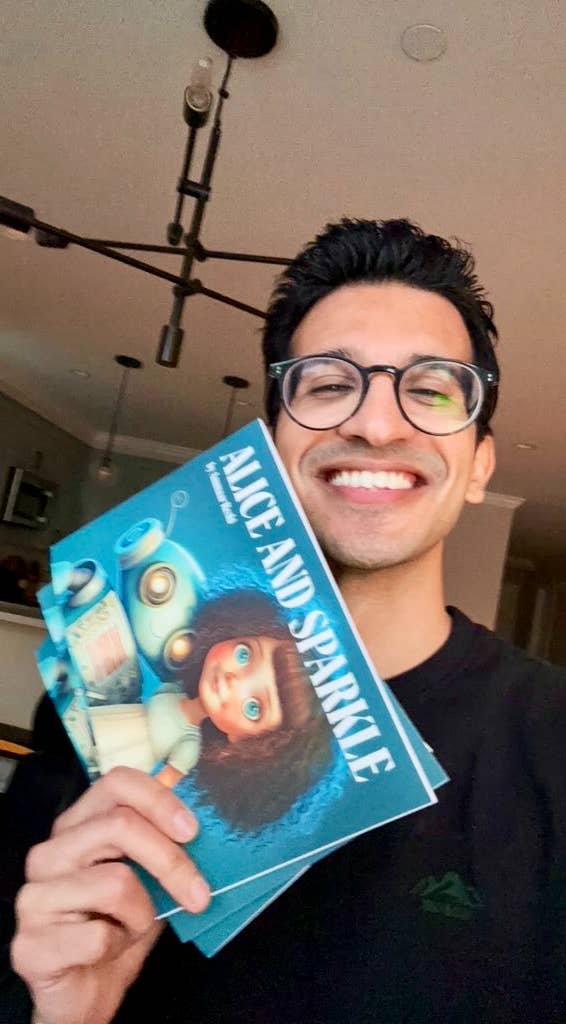 Ammaar Reshi, 28, has been fascinated by technology since he was a child. "I was always curious, and my dad let me play with his computer when I was 5 years old," he said. He grew up in Pakistan before his family moved to the UK, where Reshi studied computer science in London. A job at Palantir Technologies led Reshi to Palo Alto, California, and since 2020 he's worked at fintech company Brex, where he's now a design manager.
When a raft of generative AI tools started to hit the market over the last few months, Reshi began tinkering with them. Earlier this month, he had the idea to make a book for his best friends' kid, who was born this year, using AI. "I said I was going to take a weekend to try to put this out there," he recalled.
First, Reshi used ChatGPT to come up with a tale about Alice, a young girl who wants to learn about the world of tech, and Sparkle, a cutesy robot who helps her. "That gave me a base of a story," Reshi said. "It was OK. It had its issues, of course. So then I started tweaking it."
He asked ChatGPT to make Alice a bit more curious and Sparkle more self-aware. Reshi then used the AI app Midjourney to create the images he wanted. "I just started putting prompts like 'young girl' and some descriptors: 'blue eyes,' 'simple dress,' 'excited,' 'curious,'" he said. "That yielded some results. Now, let me tell you, some of those results were absolutely wack. It would have become a horror book if I put those early illustrations in."

He spent hours tweaking the prompts given to Midjourney, estimating that he rejected "hundreds" of illustrations in order to get the 13 that fill the 14-page book. "I almost gave up because I was like, I don't know if it's possible, but then I just pushed through at the end," he said.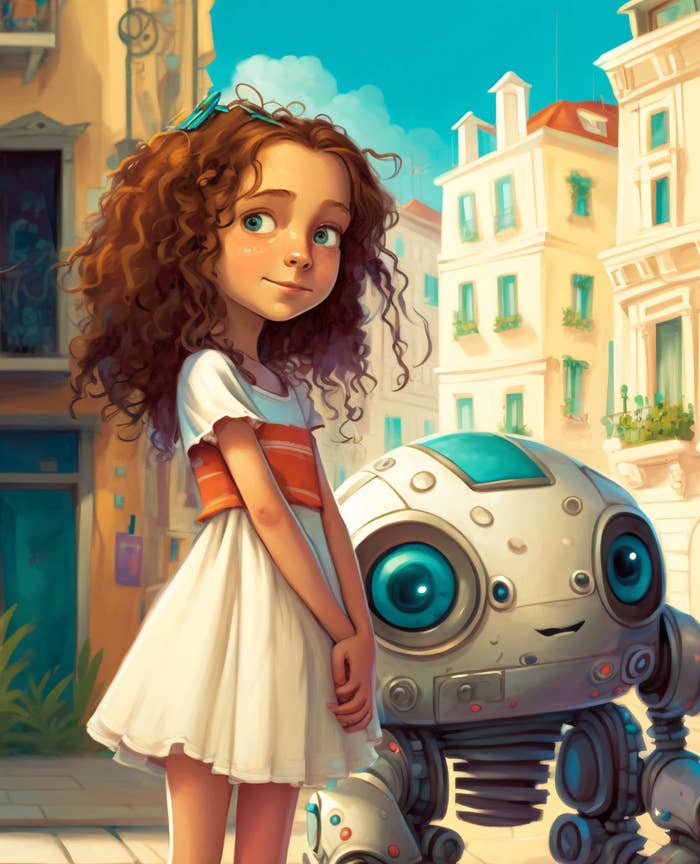 Reshi uploaded the results to Amazon's Kindle Direct Publishing, which put Alice and Sparkle on Amazon on Dec. 4, just 72 hours after he had first come up with the idea. Initially, Reshi intended only on making the book for his friends' child. But when he shared the news on Instagram that he'd created a book using AI, his wider circle of friends began asking if they could buy it. (So far, he said he's sold more than 70 books and gifted about "40 to 45.")

Others encouraged him to share news of the release more widely. But when Reshi posted about the book on Twitter, people, including children's book illustrators, criticized him for automating the process at the expense of human creativity.

One critic is Anupa Roper, a children's book author based in the UK, who said she had a "sinking feeling in the pit of [her] stomach," when she saw Reshi's tweet. "I'm thinking, Is it really that easy to create something that I had to pour my heart and soul into?" Roper said.

Fellow UK children's author Josie Dom refused to download Reshi's book. "I don't feel he deserves to earn any money from the book, because he has not actually put much work into it," she said. However, based on reading the sample pages on Amazon, Dom said, she is "concerned that the use of AI in creating stories will create a proliferation of poor-quality stories, both on the writing and the illustration side."
Dom said that Alice and Sparkle has "quite a few anomalies" in the illustrations — some of which Reshi himself admitted to on social media.

She's also concerned with the fact that generative AI platforms are trained on other people's work, an issue that many artists have previously highlighted as a concern. "Artists are often underpaid, and this won't help them," Dom said. "Their work is being stolen, basically."
The children's author said the story was "formulaic" — a natural result of being produced by a computer program. "It's also flat and boring," Dom added. "All readers deserve rich, imaginative stories — with children's stories, especially. They serve to entertain, as well as educate." She said that Reshi's book failed in those regards.
Meanwhile, Corey Brickley, an illustrator who works on book covers, criticized Reshi's AI-generated artwork with this tweet:

Brickley did not respond to a request to comment for this story.

Reshi said that he didn't anticipate the backlash. "The thing that upsets me the most is, I totally think it's very valid that these artists have real concern and have a passionate response and feel threatened," he said. "I totally understand as an artist if you see this as an existential threat to your livelihood. This makes absolute sense." (He added that a number of people have contacted him to say how impressed they were by the output of the AI models.)
Reshi said that he has received death threats and messages encouraging self-harm. "If we can't have discourse without being civil, then we're not going to make progress," he said. He added that the strength of the reaction had made him think more about the issues at hand. "It'll make me do more homework, for sure," he said. "I want to do the right thing. I want to help support the artists if I can."

Reshi said he now believes that platforms like OpenAI need to be transparent about what data their models are trained on. "I don't know why we can't say, 'Here's all the art that was ingested into making this,'" he said, "so that we can clarify if art is really being stolen or if they're taking copyrighted material." He said he believes that such platforms need to work with artists affected by the AI revolution.

Overall, he's seen the experience as a learning one — and a chastening one. "I am grateful that it's publicized a very critical debate and discussion that's to be had," he said. "I'm honestly just saddened by how that debate has played out. The hateful rhetoric and the abuse is really not fun to read."

As to whether there'll be a second chapter in the story of Alice and Sparkle, Reshi is less certain. "I think I'm going to hold off on that until I learn more about how this art is being used and if there are ways to use it while also protecting artists," he said. "I don't just want to preach that — I want to practice it."