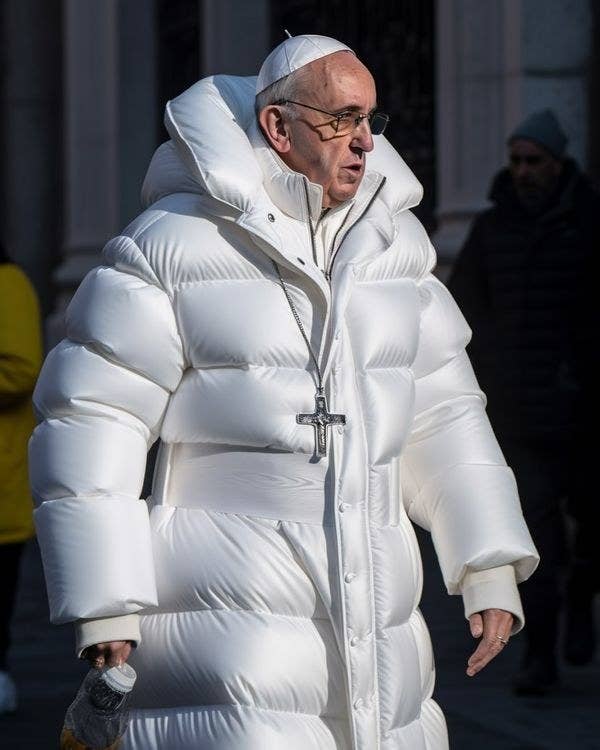 Over the weekend, a photo of Pope Francis looking dapper in a white puffer jacket went mega-viral on social media. The 86-year-old sitting pontiff, it appeared, has some serious drip. But there was just one problem: The image is not real. It was made using the AI art tool Midjourney.
As word spread across the internet that the image was generated by AI, many expressed surprise. "I thought the pope's puffer jacket was real and didnt give it a second thought," Chrissy Teigen tweeted. "no way am I surviving the future of technology." Garbage Day newsletter writer and former BuzzFeed News reporter Ryan Broderick called it "the first real mass-level AI misinformation case," following hot on the heels of faked images of Donald Trump being arrested by police in New York last week.
Now, for the first time, the image's creator has shared the story of how he generated the photograph that fooled the world.
Pablo Xavier, a 31-year-old construction worker from the Chicago area who declined to share his last name over fears that he could be attacked for creating the images, said he was tripping on shrooms last week when he came up with the idea for the image.
"I'm trying to figure out ways to make something funny because that's what I usually try to do," he told BuzzFeed News. "I try to do funny stuff or trippy art — psychedelic stuff. It just dawned on me: I should do the Pope. Then it was just coming like water: 'The Pope in Balenciaga puffy coat, Moncler, walking the streets of Rome, Paris,' stuff like that."
He generated the first three images around 2 p.m. local time last Friday. (He first took up using Midjourney after one of his brothers died in November. "It pretty much just all started with that, just dealing with grief and making images of my past brother," he said. "I fell in love with it after that.")

When Pablo Xavier first saw the Pope images, he said, "I thought they were perfect." So he posted them to a Facebook group called AI Art Universe, and then on Reddit. He was shocked when the images quickly went viral. "I was just blown away," he said. "I didn't want it to blow up like that."
Pablo Xavier, who grew up in a Catholic family but doesn't feel part of the religion today, said he felt "no ill will toward" the pontiff: "I just thought it was funny to see the Pope in a funny jacket." He said he was banned from Reddit hours after posting the image there. "I figured I was going to get backlash," he said. "I just didn't think it was going to be to this magnitude."
He said it was "definitely scary" that "people are running with it and thought it was real without questioning it." He said he's already seen posts in which his images have been co-opted by those looking to criticize the Catholic Church for lavish spending. "I feel like shit," he said of his images being used in such ways. "It's crazy."
The controversy helped him realize the potential impact of AI-generated images. "I didn't even think about that [before]," he said. "It's definitely going to get serious if they don't start implementing laws to regulate it.
"As far as using it for regular images, if you want to do a Vincent van Gogh, I feel that kind of stuff is fine," he continued. "Using it for public figures, that might be the line." He paused. "That might be the line."