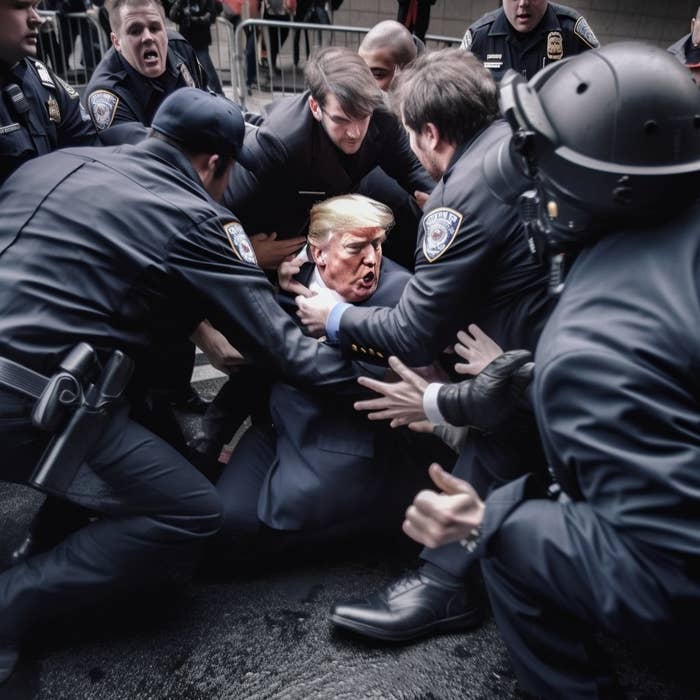 Prosecutors in New York are thought to be on the brink of filing an indictment against Donald Trump over a hush money payment to former adult film star Stormy Daniels. It would mark the first time in US history that a president, past or present, would face criminal charges.

Many are envisioning — some gleefully — what a Trump arrest would look like. Among them is Eliot Higgins, best known as the founder of open-source investigative journalism website Bellingcat. This week, Higgins used the AI image generator Midjourney to depict Trump's arrest. He shared 50 images on Twitter, and they quickly went viral.
As a result, he said on Wednesday, Midjourney appeared to have banned him from the service. Midjourney did not immediately respond to a request for comment. (The word "arrested" is now banned on the platform.)
Higgins, 44, told BuzzFeed News that he's "been playing around with various prompts to see what's possible and how complex you can make it. " He prompted Midjourney to capture what it would look like if Trump were swept up by police on the streets of New York outside of a building that looks eerily like Trump Tower, how his children would react, and what his life would be like in jail.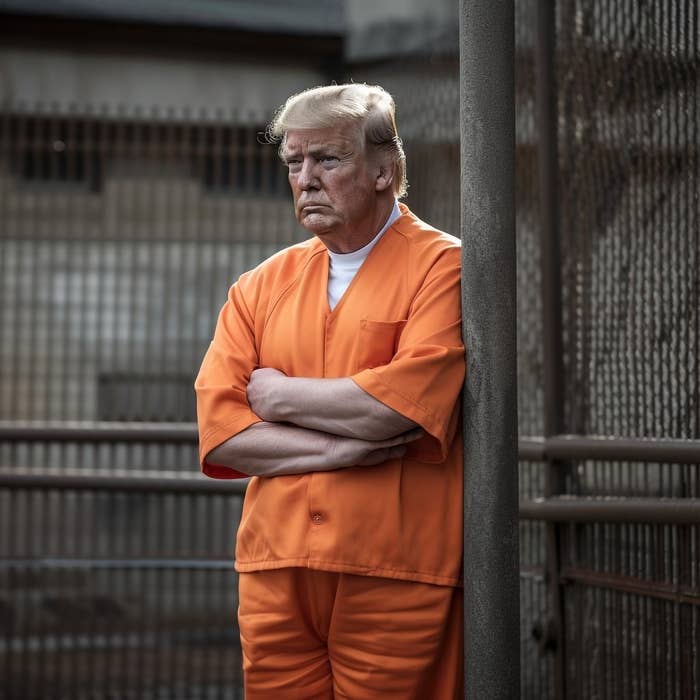 "They kind of formed a narrative and I thought it was really amusing," said Higgins, who is based in the UK. "I put it out there. I didn't intend to do any clever criticism or anything like that. But then it kind of took on a life of its own." The tweets have since been picked up by various media outlets, including Infowars: "Bellingcat Journo Uses AI to Fantasize About Trump Getting Arrested Before His Crying Family." Others on Twitter were fooled into thinking they were actual images from Trump's arrest.
Meanwhile, Higgins was still testing Midjourney's prowess. "Then I decided to complete the Shawshank story of Trump in prison and breaking out," he said. Trump's escape included a sojourn to what looks suspiciously like a McDonald's, where the former president morosely wolfs down burgers. That sequence of images is Higgins's favorite.
He said he doesn't begrudge Midjourney for the apparent ban. "I suspect it was pushing my luck when I did the thread," he said, "let alone when it went viral."
Higgins — as part of an investigative website that seeks to find the truth in events where narratives are disputed by the likes of Russia — also is not concerned at this point about the potential danger of bad actors using generative AI to muddy his fact-finding work. "It can't do a good job of re-creating real faces," Higgins said of Midjourney. "They always look a bit weird."