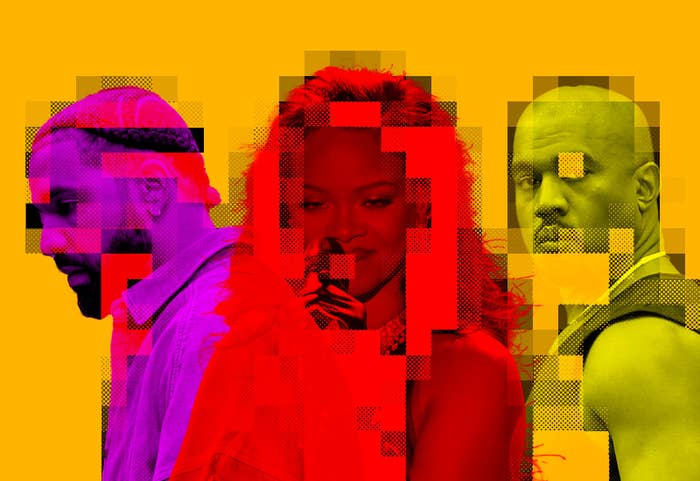 Thanks to powerful new generative artificial intelligence tools, it's getting difficult to tell if your favorite artist is actually singing — or in a great many cases, rapping — on tracks floating around YouTube, Instagram, and TikTok.
In February, superstar DJ David Guetta posted a video clip of himself live in concert, playing a song that he created using AI-generated Eminem vocals, clearly without the rapper's permission. Then there's "Savages," a track by French hip-hop act AllttA that uses AI-generated vocals of Jay-Z, whose "familiar voice adds something ineffably compelling to the track," according to New Yorker writer Kyle Chayka. More recently, "Heart on My Sleeve" — an impressive AI-created Drake/The Weeknd collaboration that some suspect is a startup's marketing ploy — went viral on social media.
More tracks like these keep appearing every day, many of them faux cover songs made by relative unknowns. And not everyone is pleased. Last week, Drake posted on his Instagram that an AI-generated version of him rapping Ice Spice's "Munch (Feelin' U)" was "the final straw." Rihanna, however, has yet to respond to AI-generated versions of her performing songs by Beyoncé, Katy Perry, Maroon 5, and more.
Meanwhile, Universal Music Group — which counts Drake and Rihanna among its many artists — has reportedly asked music streaming services, including Spotify and Apple Music, to work with them to stymie the scraping of content that can enable music generative AI tools to work.
The music giant may have been acting in response to the thoughts of an influential analyst for BNP Paribas Exane who recently said that AI-generated music was a "new disruptive threat" to the way the industry works. The technology raises a host of legal questions that no one seems to have answers for yet.
For now, fans seem to be enjoying the ambiguity. Take YeezyBeaver, a 22-year-old from Oklahoma whose YouTube channel features Kanye West performing a range of songs, the most popular of which is a surprisingly charming cover of "Hey There Delilah" by Plain White T's. YeezyBeaver, who asked that BuzzFeed News not use his real name, said that he started creating AI-generated music thanks to a post on a Ye Discord fan server that linked to a voice model of the rapper and provided instructions on how to insert the model into generative AI tools that can create new music.
YeezyBeaver and many others use a tool called So-Vits-SVC, which has become so popular that it has its own hashtag on TikTok that has 2 million views. He first tried it out by putting Ye's voice on Drake's track "Jungle," an experiment that went mildly viral on TikTok. "I just started looking for other artists, songs that I think Kanye would sound good on," he said. "And then that's pretty much how we got to here."
Another user called pieawsome, an American college student who spoke with BuzzFeed News on condition that his real name not be used, is also playing around with Ye's voice. He's a member of the internet's "Kanye unreleased community," dedicated to Ye's unfinished work. "I realized we had enough Kanye material where we could probably make an AI model out of it to finish some of the songs," pieawsome said.
So he chopped up a capella sections from the available but not officially released Ye audio and fed it into So-Vits-SVC. After a few days of training, the result was impressive, so he pushed his Kanye voice model out onto Discord. "People started working with it, and [the music produced] got passed around a bunch of people," pieawsome said. It wasn't long before Travis Scott liked an Instagram post featuring a track — Ye covering Ice Spice's "Munch" — made using the model.
The first AI music video that Jered Chavez, a 19-year-old student at the University of South Florida, posted to Instagram was a mind-bending one: Drake, Ye, and Kendrick Lamar singing "Fukashigi no Karte," the closing song to Rascal Does Not Dream of Bunny Girl Senpai, an anime series popular on the internet. "I thought it was a cool concept," Chavez said. "I'm clearly not the first one to start it, but what makes my page stand out is I try to put a little twist on it and add a comedy aspect."
The student said that the comedic approach is designed in part to insulate him from risks associated with creating the work. "With this area of AI, there's a lot of controversy and ethical concerns," Chavez added. "Obviously, people that make this music and use this AI are taking someone's likeness and, most of the time without permission, creating something that's essentially putting words in people's mouths."
Chavez pointed out that this could be especially troublesome when it comes to the use of generative AI to replicate the voices of dead artists. "They're not around to give their approval, and we don't truly know what they would want," he said. That doesn't seem to bother those behind BohemianRhapsod.ai, which allows users to conduct a choir of 16 AI-generated versions of Freddie Mercury through perhaps Queen's most famous hit.
While a consensus is forming that generative AI is potentially troublesome, no one really knows whether hobbyist creators are on shaky legal ground or not. pieawsome said he thinks of what he does as the equivalent of modding a game or producing fanfiction based on a popular book. "It's our version of that," he said. "That may be a good thing. It may be a bad thing. I don't know. But it's kind of an inevitable thing that was going to happen."

Jonathan Bailey, former chief technology officer of Soundwide, a music technology company, has a different take. "I think you can make a persuasive argument that using AI to reanimate Jay-Z's voice to have him rap or sing something he never created is kind of a form of identity theft," he said.
"I'm not a lawyer," Bailey added. Lawyer Donald Passman of Gang, Tyre, Ramer, Brown & Passman, Inc., who has represented major artists such as Adele and Taylor Swift throughout his storied career, declined to weigh in on the use of AI to imitate artists for this story. He said that he didn't want to say anything inconsistent with a position he might later take in court. "It's way too new," Passman said of the tech.
Some music labels appear to already have made their minds up. Discord servers focusing on AI have reported that many YouTube channels that post AI-generated music have been hit with copyright takedowns. "I guess that's one way of tackling it," Chavez said. "But honestly, now this technology is out there, I don't think people are ever going to stop using it.
"The responsibility lies in the judgment of the people that are making [AI-generated music]," he continued. "I try to use my best judgment. This is kind of new territory for everyone."