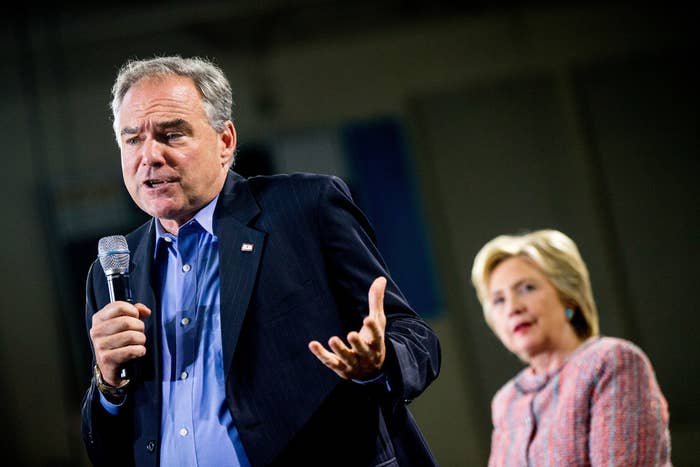 By selecting Virginia Sen. Tim Kaine as her running mate, Hillary Clinton chose one of the few Democratic governors who has put people to death. In his four years as governor of Virginia, Kaine carried out 11 executions.

Over the course of the 2016 campaign, Clinton has said that she has concerns about how the death penalty is implemented in the states, and that she would "breathe a sigh of relief if either the Supreme Court or the states themselves began to eliminate the death penalty."
But Clinton has reiterated that she supports the death penalty being an option for the federal government in cases like terrorism.
Of current governors, the only Democrats to have carried out executions are Missouri Gov. Jay Nixon and one of Kaine's successors, Virginia Gov. Terry McAuliffe.
Although Kaine carried out 11 executions, his stance on the death penalty is much more complicated than that. Before he became governor in 2006, Kaine served as a civil rights lawyer, and represented several capital defendants.
In 1987, he told the Washington Post that "[m]urder is wrong in the gulag, in Afghanistan, in Soweto, in the mountains of Guatemala, in Fairfax County ... and even the Spring Street Penitentiary."
Kaine was attacked for his work as a pro-bono attorney for death row defendants when he ran for governor. His opponent, Jerry Kilgore, wanted to expand the use of the death penalty — and ran attack ads with families of victims in cases Kaine represented.
"Tim Kaine says that Adolf Hitler doesn't qualify for the death penalty," one victim's father said in one of the ads.
Kaine, a devout Catholic, responded in a follow-up ad.
"My faith teaches that life is sacred," Kaine said in the ad. "That's why I personally oppose the death penalty. But I take my oath of office seriously, and I'll enforce the death penalty ... because it's the law."
Once in office, Kaine did so, declining to grant clemency and allowing his first execution to proceed as governor in his third month on the job, April 2006.
Kaine commuted only one death sentence as governor, citing inmate Perry Walton's mental deficiencies. Walton had pleaded guilty to killing three people in 1997.

"One cannot reasonably conclude that Walton is fully aware of the punishment he is about to suffer and why he is to suffer it," Kaine said in a statement at the time.

Kaine believed there was "significant evidence that Walton had schizophrenia," and that "there was more than a minimal chance that Walton no longer knew why he was to be executed or was even aware of the final punishment he was about to receive."
Of the 11 people — all men — executed under Kaine, six were black.
In a 2012 interview after he had left the governor's office, Kaine told the Washington Post he was conflicted over the executions.
"I really struggled with that as governor. I have a moral position against the death penalty," he said. "But I took an oath of office to uphold it. Following an oath of office is also a moral obligation."
"I hope I can give a good accounting of myself on Judgment Day."