In late January 2015, agents with India's drug enforcement agency raided a small drug supplier operating out of a mall between a jewelry store and an ice cream shop in India's western state of Gujarat.
They arrested five men in their twenties, who Indian authorities say were selling psychotropic drugs and opioids illegally to people in the US and Europe.
Agents seized a massive amount of drugs that included generic versions of drugs including Xanax, Viagra, Ritalin, Ambien, and opioids similar to morphine. The company, Provizer Pharma, was selling drugs online.
India's Narcotics Control Bureau called the raid a "significant seizure." Prosecutors alleged that the men "were caught on the spot" at a FedEx office in the city of Surat "while taking back their returned parcels" of drugs.
The men — who were equal partners in a company called Provizer Pharma — were detained by authorities for more than nine months for alleged violations of India's Narcotic Drugs and Psychotropic Substances Act. The men were released on bail in November 2015, according to Indian court documents obtained by BuzzFeed News.

But teens and twenty-somethings weren't the only Americans who were allegedly trying to score drugs from this company in India.
The state of Texas was also looking to buy execution drugs from them.
In early January 2015, weeks before the raid, Texas was on the market for a new execution drug supplier.
Although the state already had a supply of pentobarbital in stock, the current thinking for many death penalty states — including Texas, the most prolific executioner in the United States — is that you can never have too many execution drugs. For years, sources of lethal injection drugs had been getting harder and harder to find.
In January 2015, facing a market where reputable options have dried up after manufacturers forced sellers to agree to never sell to executioners, Texas looked overseas and found willing sellers in India.
It was the first step in a series of events that have snowballed into a high-stakes standoff between death penalty states and the federal government over how executions are carried out.
In July 2015, a different supplier in India sent Texas 1,000 vials of sodium thiopental.
Texas and other death penalty states are looking to re-litigate a years-old battle over importing the drug sodium thiopental. After years of using the anesthetic in executions, the sole supplier approved by the Food and Drug Administration stopped making the drug to keep it out of the hands of death penalty states. After that, states tried to buy the drug overseas. But in 2012, a federal judge ruled the FDA had "a mandatory obligation … to refuse to admit the misbranded and unapproved drug, thiopental, into the United States."
Under that ruling, which was upheld by a federal appeals court, the FDA detained the thiopental shipment from India for a year and a half. Under President Obama, the FDA held onto the drugs and rebuffed repeated calls for the drugs to be released — but withheld a final call on whether they'd ever be admissible.
A decision on the drugs will now have to come under President Trump, and Texas is looking to force the FDA's hand sooner rather than later. Just this month, Texas sued the FDA, calling the lengthy detention "gross incompetence or willful obstruction" and asking that the FDA be forced to make a final decision.
In their lawsuit, Texas glossed over the facts of where the drugs came from, referring to it only as a "foreign distributor." The state has also fought the FDA on attempts to release information on the drugs, threatening to sue the department if it releases information that identifies the supplier.
The failed execution drug deal came less than a year after Texas Attorney General Ken Paxton advised the state to change course and begin keeping the identity of the supplier a secret.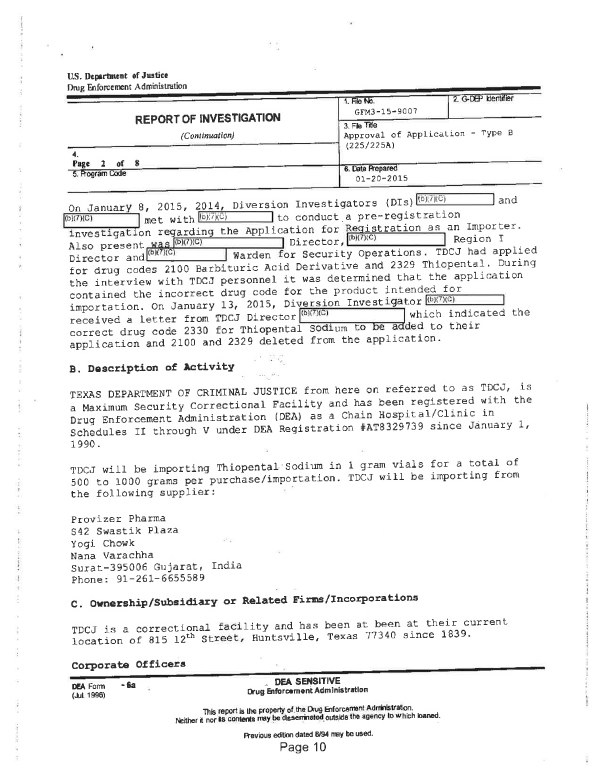 But using internal documents obtained through a handful of Freedom of Information Act requests, BuzzFeed News pieced together the backstory of how the illegal drug deal went down.
The story is a rare insight into how difficult it is for states to get ahold of execution drugs — even for Texas, the state other death penalty states try to emulate.
On Jan. 8, 2015, Texas' Department of Criminal Justice Executive Director Bryan Collier and a few of his employees gave the Drug Enforcement Administration a heads up: They would be purchasing a massive supply of a drug called sodium thiopental from a company in India.
"TDCJ will be importing Thiopental Sodium in 1 gram vials for a total of 500 to 1,000 grams per purchase/importation," a DEA agent wrote in an investigative report obtained by BuzzFeed News.
"TDCJ will be importing from the following supplier: Provizer Pharma."
But Texas never got the drugs — at least not from that company. Before the sale could happen, Provizer Pharma was raided by the Indian government, its facility shut down, its drugs seized, and five of its employees arrested.

India's Narcotics Control Bureau called the raid a "significant seizure." According to a government report, they seized:
272 kg of generic Xanax tablets

417 g of generic Ritalin powder

14,310 tablets of generic Ambien

22 kg of tramadol powder, an opioid

340 g of tramadol tablets

1.6 kg tablets of generic Viagra

2.3 kg tablets of tapentadol, an opioid

Authorities said the drugs were on their way to America and Europe.
Five men in their 20s were arrested.
The men "saw more money in selling banned medicines in the US, where these substances are in high demand," Hari Om Gandhi, a regional director with the Narcotics Control Bureau, told an Indian outlet after the raid.
"These medicines are used for relieving stress. They are also used as party drugs, as it stimulates senses."
"[The men] saw more money in selling banned medicines in the US, where these substances are in high demand. These medicines are used for relieving stress. They are also used as party drugs, as it stimulates senses."
The five men remained in police custody for more than nine months, according to an Indian court document obtained by BuzzFeed News. In November 2015, the men — Tarun Butani, Ashok Chovatia, Dipak Mangukiya, Ankit Patel and Jenis Viradiya — were released on bail, according to the document.
In asking for bail, an attorney for the men claimed that some of the drugs seized were not theirs, and said that they had cooperated with the investigation. An Indian prosecutor argued that the alleged crime is serious in nature, "is established from the record," and could carry a sentence of 20 years.
The men, the Narcotics Control Bureau, and the prosecutors did not respond to repeated questions from BuzzFeed News on where the case currently stands. An attorney who only represented the men during their bail proceedings said he could not get in contact with his former clients.
It's unclear how far along the deal between Texas and Provizer Pharma was before it fell through. In a statement, the Texas Department of Criminal Justice said they never "engaged in any transaction" with Provizer Pharma.
"Your story is highly speculative and inaccurate," spokesperson Jason Clark said. "The agency has not engaged in any transaction with this company."
"TDCJ has a statutory responsibility to carry out court ordered executions in Texas. All drugs used in the lethal injection process are legally purchased and are tested by an independent lab for both potency and purity to ensure they meet national standards."
Texas Attorney General Ken Paxton's office declined to comment, saying they took no part in the decision on where to buy drugs.
BuzzFeed News spoke with an American man who bought a Modafinil from Provizer Pharma, who spoke on condition of anonymity. The drug is a stimulant used to treat some sleep disorders, but some use it for improving productivity.
The man said his experience with the company was generally positive — the company shipped promptly and was cheap. Plus, they never asked for a prescription. He said the drug's label indicated it was manufactured by another Indian company.
"I would like to participate in a group buy, however, I am uncomfortable being the one to import 1kg for fear of legal issues."
Some message boards for Americans looking to buy drugs without a prescription mention Provizer Pharma.
In one forum, ironically for users interested in immortality and devoted to conquering "the blight of involuntary death," commenters discussed going in on a group buy of Modafinil from Provizer — even if some had concerns that it's a scam or would get them arrested. The posts are punctuated by casual language, frequent misspellings, and grammatical errors.

"I would like to participate in a group buy, however, I am uncomfortable being the one to import 1kg for fear of legal issues," ByAnyMeansNecessary wrote in June 2014.
"If this were within the US, I would be less wary, but customs can be a real pain in the ass. Given that we'd be shooting for 1kg, wouldnt this increase the risk associated with the buy (eg. being seized by customs, facing legal reprecussions, etc)?"
Another user expressed some caution.
"I dont think doing a group buy for controlled substance would be good idea for this forum," username Maraver responded. "legal issues."
On another site, a customer review of Provizer Pharma called them a scammers and claimed that the drugs are fake. "They will send you some that look exactly like the real deal, but once you take them you will soon find out that it is extremely weak."
On Reddit, a user looking to buy Tramadol in October 2014 asked if Provizer Pharma was legitimate or not. Someone identifying himself as an employee of the company jumped in.
"dear sir," username TarunProvizer wrote. (Tarun Butani was one of the employees arrested in the raid.)
"Provizer pharma is legit and they are not scammer..if you get quotation quickly than they will ship you also quickly ..if you ask them unusual question than No one will reply and lost them interest to sale you."
It's unclear how the Texas Department of Criminal Justice found this small company in India that made the rounds on Internet message boards for teens and 20-somethings looking to buy drugs without a prescription. The company also marketed its drugs on sites like Alibaba and IndiaMart.
While used widely in India as an anesthetic, the drug is currently unapproved in the United States, and under a federal appeals court injunction, cannot be allowed into the country.
But even if the drug were approved (which it is not), Provizer Pharma has never registered a facility with the FDA — a requirement for selling drugs into the US — meaning the sale would still be illegal.
But when the first option was shut down and its employees arrested for selling illegal drugs, Texas didn't stop trying to find a thiopental source.
Weeks later, the state found another willing seller in India — named Chris Harris — and sent him $25,000.
This wasn't the first time Harris has sold drugs to death penalty states. Over the years, he's made more than $100,000 selling states illegal execution drugs. Each time, his drugs have gone unused after questions were raised about where they came from.
In 2015, BuzzFeed News investigated several of Harris' claims of being a drug manufacturer. A facility he lists with the DEA turned out to be a former apartment he left owing rent on. The facility he registered with the FDA is a small office space he rents; a secretary at the building said manufacturing couldn't be done there.
"We don't know what he does with the product."
Instead, according to documents and interviews, Harris purchased the drugs from another company in India and then sold them to Texas, Arizona and Nebraska for a profit. Harris bought his drugs from a company called Health Biotech Limited. An employee with the company confirmed that Health Biotech made the thiopental, and that they sold it to Harris, who then sold it under his own name.
"We don't know what he does with the product," an employee who only identified himself as Vinod said.
The FDA warned Texas and its supplier in July 2015 — along with Arizona and Nebraska, who also purchased drugs from Harris — that attempting to import the drugs would be illegal and that the product would be detained.
Weeks later, Harris shipped the drugs to Arizona and Texas anyway. The federal government, true to its word, detained the shipments at the airport in late July 2015. The drugs have remained in a government warehouse ever since.
Harris also attempted to FedEx the drugs to Nebraska but the shipment was stopped before it could even leave the country. The state eventually abandoned the sale and attempted to get a refund.
Harris declined.
"Hope this issue does not spoil the relationship between our organisations and we are able to do business in the future," Harris responded.