Taxpayers Sue Missouri, Alleging Officials Obtain Execution Drugs Illegally
Private citizens are challenging Missouri's execution methods, arguing that their tax dollars are being used to violate the law.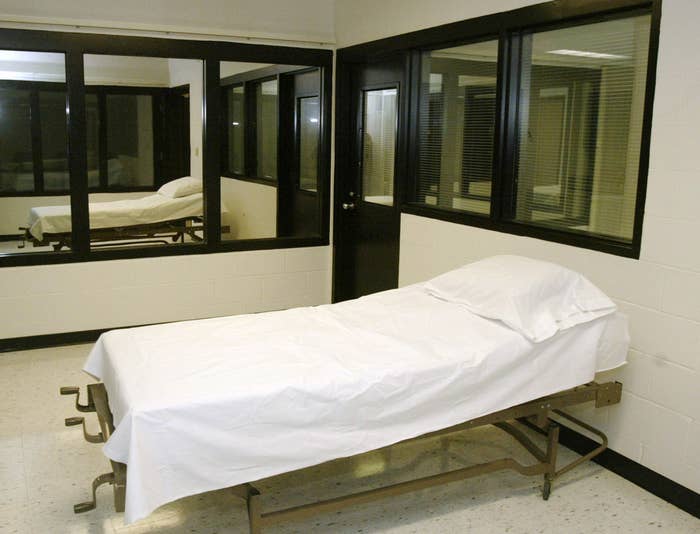 A new lawsuit filed Thursday accuses the state of Missouri of violating state and federal law in how it carries out executions. The suit alleges the Department of Corrections is violating FDA regulations in how it obtains its lethal drugs.
Unlike other suits challenging a death penalty method, however, this lawsuit isn't brought by death row inmates challenging their executions. Instead, it's brought by private citizens who don't want their tax dollars used on what they say is illegal activity.
Missouri, like some other death penalty states, is believed to obtain its lethal injection drugs from a secret compounding pharmacy. Compounding pharmacies, unlike drug manufacturers, mix up drugs based on a specific prescription. Without a valid prescription, the compounding pharmacy can't legally make or sell the drug, according to the lawsuit.
"This case is not about the general legality of the death penalty in Missouri or elsewhere," the suit says. "Nor is this case about the constitutionality of the death penalty. Rather, the question before this court is whether the Missouri Department of Corrections and other public officials responsible for overseeing and carrying out executions may violate the law using taxpayer funds."
The case is brought by two former members of the state legislature, a Baptist minister and a Catholic nun. They argue the prescription can't be valid because the doctor that writes it doesn't inspect the inmate, and isn't writing it for any medical need.
They are asking a state judge to enter a temporary restraining order to keep the state from violating the law. Missouri has an execution set for next week.
It's an interesting tactic for those against the death penalty to take, after the recent U.S. Supreme Court ruling that said death row inmates have to propose a better method of execution if they are going to challenge the state's choice. Capital attorneys in Missouri have argued in court filings that doing so would be a violation of their ethics.
In a lawsuit like this though, the parties would not have to do so.
"The epitome of a taxpayer standing lawsuit is to enable ordinary citizens … to make their government officials conform to the dictates of the law when spending public money," the lawsuit states.
The plaintiffs point to a Missouri Supreme Court ruling that said such lawsuits "provide the door through which taxpayers may enter the courts to seek enforcement."
In a response, Attorney General Chris Koster's office says the plaintiffs are acting as surrogates for the man Missouri is about to execute. He also argues that they are attempting to privately enforce FDA regulations. "But precedent dictates that [those regulations] are not privately enforceable," his office wrote. "Further, [they] are not meant to apply to, and do not apply to, carrying out lawful executions."
"Over the past decade, the Missouri lethal injection protocol has withstood years of challenges of the offenders on constitutional and statutory grounds. Although [they] assert they are not challenging the legality of Missouri's lethal injection protocol, that is really what they are doing."
A judge held a hearing on the case Friday afternoon. She requested more information on taxpayer standing and indicated that she will make a decision on the temporary restraining order on Monday, the attorney general's office said.