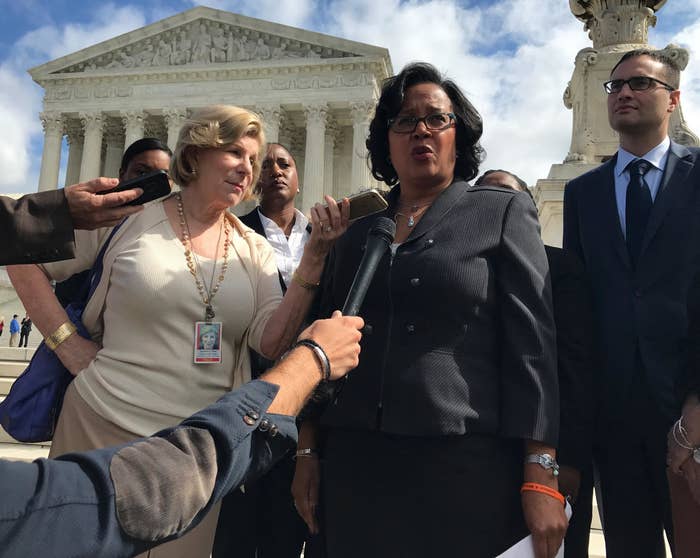 WASHINGTON — The U.S. Supreme Court appeared likely on Wednesday to side with Duane Buck, a black death row inmate challenging his sentence after an expert testified at his trial that he was more of a danger because of his race.
A finding of "future dangerousness" is required under Texas law in order for the death penalty to be imposed, and Buck's lawyers argue that a federal appeals court did not properly allow for review of his challenge to his death sentence after several similar cases ended in re-sentencing.
Even Justice Samuel Alito — who railed against death penalty opponents in arguments during a 2014 case — called what happened to Buck "indefensible."
The eight justices, however, spent much of the time during oral arguments discussing how far the ruling should go and what its impact would be on other cases. Justice Clarence Thomas, as is his usual practice, asked no questions on Wednesday.
Buck was sentenced to death 20 years ago for killing his ex-girlfriend and a man he thought was sleeping with her. During the sentencing phase of his trial, an expert hired by Buck's own attorney testified that Buck would be more likely to be dangerous in the future because he's black.
The expert, Dr. Walter Quijano, was later harshly discredited for his testimony — which appeared in a number of death penalty cases. In six cases in which Quijano had testified, the state of Texas admitted error in the cases and re-sentencing was ordered for five of the men. After initially including Buck's case among those in which it admitted error, the state then reversed course, forcing Buck to fight for resentencing through federal courts.
Buck, who had previously challenged his sentencing in federal courts, sought to reopen his challenge on the basis that his lawyer was ineffective. A federal judge agreed that the defense lawyer — by seeking Quijano's testimony and report — was deficient, but disagreed that Buck was prejudiced by the decisions.
The judge found that the case did not meet the federal requirements for reopening a federal challenge to his sentence — a requirement that "extraordinary circumstances" be involved. Further, the court did not believe that "reasonable jurists" could debate the court's conclusion — preventing an appeal of Buck's case. Buck appealed that ruling — called a "Certificate of Appealability" (COA) — and the 5th Circuit Court of Appeals agreed with the trial court that the case did not merit a COA.
On Wednesday, there appeared to be little question about whether Buck's trial counsel was ineffective. One of Buck's attorneys was Jerry Guerinot, an attorney infamous for never winning a capital case.
"Doesn't the fact that [Buck]'s own counsel introduced this show how abysmal his representation was?" Justice Ruth Bader Ginsburg asked. "This evidence, everyone agrees, should not have come in. What competent counsel would put that evidence before a jury?"
Alito echoed the concerns, saying, "This is a very unusual case, and what occurred at the penalty phase of this trial is indefensible."
Even Texas' attorney, Solicitor General Scott Keller, said the state isn't defending the actions of Buck's attorneys or his expert. Instead, he argued the case is unique because it was Buck's attorney and not the prosecutor that invited the racist testimony.
The larger question the court grappled with, though, is how wide the effect of the opinion will be.
Buck's attorneys point out a huge discrepancy in the rate of COAs being issued among the circuit courts. The 5th Circuit, which denied Buck a certificate, denies them in nearly 60 percent of cases. The 11th Circuit and 4th Circuit courts deny them in 6 percent and 0 percent of requests, respectively.
Chief Justice John Roberts questioned whether Buck's case was a poor one to address larger issues about the appeals court's handling of these cases.
"To the extent it is a unique case, it really doesn't provide a basis for us to say anything at all about how the 5th Circuit approaches Certificates of Appealability, does it?" Roberts said. "It's a unique case, so this would be an odd platform to issue general rules."
Justice Elena Kagan, however, jumped in to frame the situation another way.
"[I would assume] you think this is such an extraordinary case, and that the 5th Circuit got this so wrong, that it's the best proof that there is that the court is approaching the COA inquiry in the wrong way," Kagan suggested, prompting agreement from Buck's attorney, Christina Swarns.
Justice Stephen Breyer has questioned the constitutionality of the death penalty for its arbitrariness, as well as other factors. He pointed out that in all of the other cases where Dr. Quijano offered racist testimony, Texas allowed the inmates to be re-sentenced.
"And now in this ... case, you're taking the opposite position," Breyer said. "And I have to admit, like what the Chief Justice [said], I don't understand the reason. It seems to me it proves the arbitrariness of what's going on."