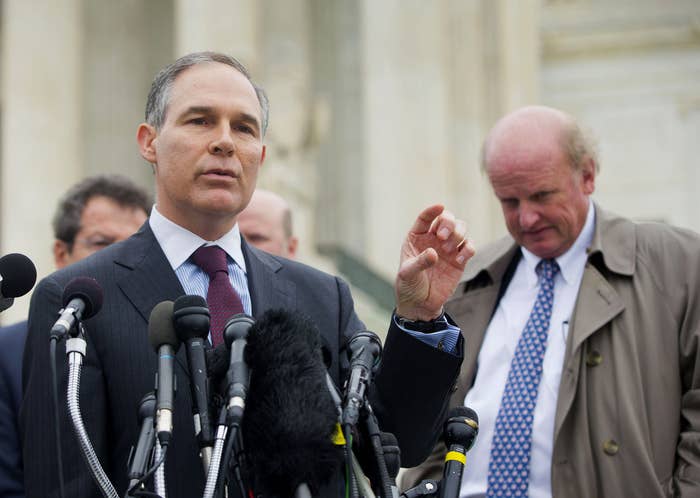 The Oklahoma attorney general's office misrepresented the facts behind a key argument about the availability of certain execution drugs in its filings at the U.S. Supreme Court, BuzzFeed News has determined.
In the state's brief to the justices, Oklahoma Attorney General Scott Pruitt's office highlights a letter that the lawyers describe as having been sent to state officials. That letter is real — but it was sent to an entirely different state.
The false statement — which relates to discontinued availability of the drug pentobarbital — is clear from a review of previous court filings and comments from the lawyer for a pharmacy that the state claimed had previously supplied for its lethal injections.
Since Oklahoma lawyers argued before the Supreme Court on April 29 in defense of the constitutionality of its execution methods, BuzzFeed News has been looking into whether Oklahoma misled the court in its brief.
The state contends that they resorted to using the controversial execution drug midazolam because their other options dried up. At oral arguments, some of the more conservative judges posed questions about this issue.
In Oklahoma's brief, they state that the source of pentobarbital stopped supplying the drug to the state because the source faced "intense pressure" to stop.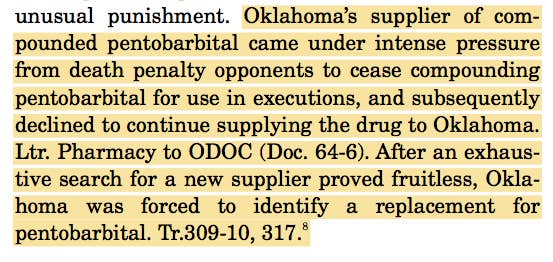 As proof of their claim, Oklahoma's lawyers presented a heavily redacted letter they claim was sent to "ODOC" — the Oklahoma Department of Corrections.

But according to the pharmacy that wrote that letter, that never happened.
In fact, a lawyer representing the Woodlands Compounding Pharmacy said that stating Woodlands supplied execution drugs to Oklahoma would be "an act of libel and/or slander."
For a week, the Oklahoma Attorney General's office ignored numerous requests for comment on whether the letter from Woodlands was actually sent to them as they claim in the brief. On the eighth request, spokesperson Aaron Cooper declined to comment.
The Woodlands letter was actually sent to the Texas Department of Criminal Justice; an unredacted version of the letter was filed in federal court in Arizona in a lawsuit challenging that state's execution protocol. In that letter, Woodlands asks Texas to return pentobarbital that it sent, saying it had believed their relationship "would be kept on the 'down low.'"
Redactions that the Oklahoma Attorney General's office made to the letter would not cover a long state name like Oklahoma, but would cover a short state name like Texas.
Here are the redacted and unredacted versions of the letters: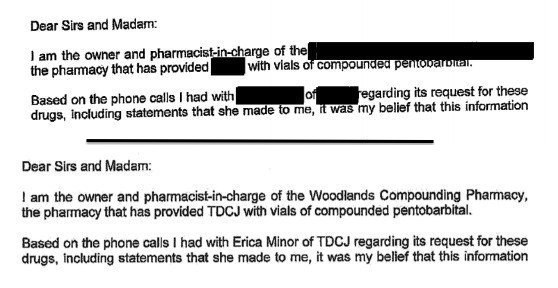 And, later: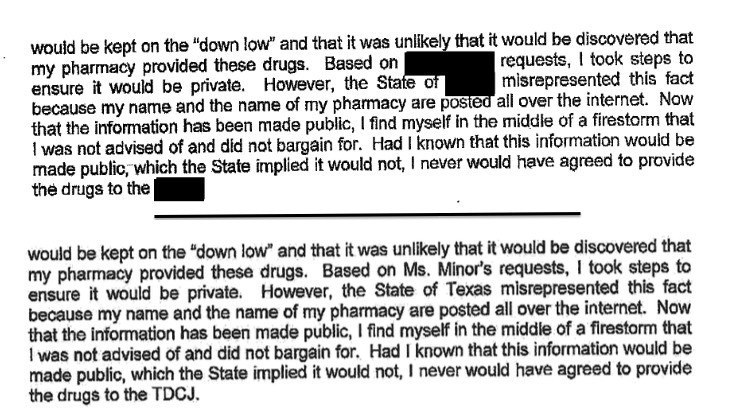 When the Oklahoma case was at the district court level, Oklahoma had acknowledged that the letter came from Woodlands. Although only referred to as an "out-of-state pharmacist" in the motion where the letter was submitted as an exhibit, the letter was identified in the docket as being sent from Woodlands.

On Wednesday, one of the attorneys representing Oklahoma's death row inmates called the misrepresentation "deeply troubling."